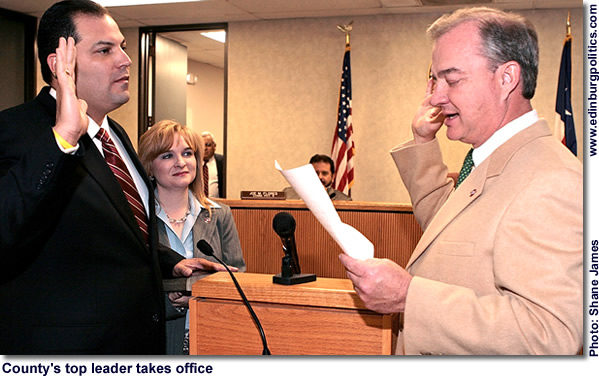 With his wife, Janie, looking on – and holding the Bible used in the ceremony – Hidalgo County Judge J.D. Salinas, left, takes his oath of office on Monday, January 1, from his mentor and friend, former Texas Comptroller of Public Accounts John Sharp. "Embracing change means accepting risk, taking bold steps, using failure as a lesson and not as an excuse," Salinas, a former Hidalgo County County Clerk, said during the event. Among his first acts as judge was to reject a pay raise given to the county judge's position late last year by the Hidalgo County Commissioners Court, which also received salary boosts. Ramón García, who was county judge at the time, did not request the $20,000 annual pay raise, which went into effect on January 1. On January 2, Salinas expanded the operating hours of the county's judge's office to better serve the public. His office hours are now 7:30 a.m. to 5:30 p.m. Monday through Friday. More information on Salinas' first week is included later in this posting.
••••••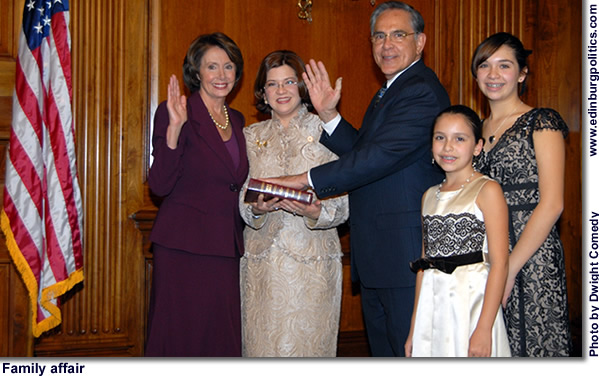 Congressman Rubén Hinojosa, D-Mercedes, takes the oath of office for his sixth term from Speaker of the House Nancy Pelosi, D-San Francisco, as the congressman's wife, Martha, holds the Bible with their two daughters, Kaity and Karen, proudly looking on. More information on Hinojosa's swearing-in is included later in this posting.
••••••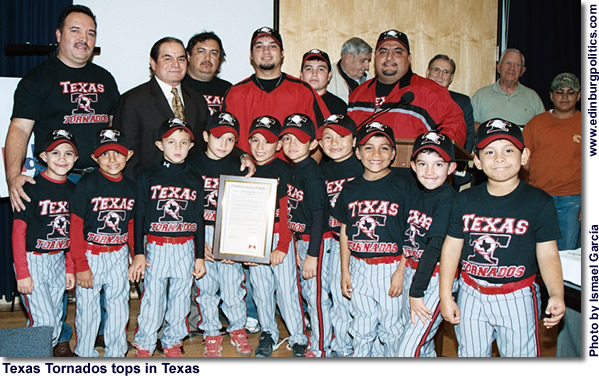 The Texas Tornados baseball club, which features some of Hidalgo County's best young athletes from Palmview, Sharyland, Pharr, and Edinburg, were honored recently by the Edinburg City Council for winning the state championship in mid-November in Round Rock against teams from Houston, the Woodlands, San Antonio, and Round Rock. The baseball squads feature players age 5 to 7 years. The area team, which was presented a congratulatory proclamation on behalf of the Edinburg City Council by Mayor Joe Ochoa, will play in the first World Series for that age group in July 2007. Area businesses who served as financial sponsors for the team were Big Engineering, Deseo Construction, Tejas Reprographics, ECISD board member Greg García, Inter National Bank, Triple C Transport, JLV Utility Construction, Phoenix Agency, Vital Health Care, Superior Oil Express, Rapid Mortgage Company, and Gilbert Enríquez. Featured in this portrait with the mayor (listed in alphabetical order, not in physical order) are: Coach Ramiro Amador of Edinburg; Ramsey Amador of Edinburg; Adam Alviso of Edinburg; Alec García of Sharyland; Coach Michael Granados of Edinburg; Ismael López III of Edinburg; R.J. Ochoa of Edinburg; Rubén Ortega IV of Pharr; Félix Ramírez of Edinburg; Coach J.R. Ramírez of Edinburg; Coach Juan Ramírez of Edinburg; Alex Rodríguez of Edinburg; Eli Rodríguez of Palmview; Coach Ronnie Rodríguez of Edinburg; and Jaime Silva of Edinburg.
••••••
New Hidalgo County Judge Salinas rejects higher salary approved last year by county commissioners court
In his first week as Hidalgo County Judge, J.D. Salinas seen his share of housekeeping chores, helping office visitors and slashing budgets.
But one of the more significant actions he took, which received little media play, is that while presiding over his first commissioners' court meeting on January 1, Salinas rejected a high salary offered to him.
"The position of county judge was budgeted at $105,000," Salinas said. "I have officially rejected that salary and filed the proper paperwork with the auditor's office."
Instead, Salinas will earn a salary of about $86,000, saving taxpayers $19,000.
"It was the right thing to do," Salinas said of his action.
During his first week in office, Salinas saw 16-hour days, with 15-minute lunch breaks taken inside the office.
"We have had a lot of visitors," Salinas said. "So many residents have come by asking for help with housing problems, road problems and with questions.
"It's our job to help them resolve these issues," he added, "And we're getting it done."
Visitors to the county administration building last week were able to see Salinas at work through huge windows looking into his conference room and inner office.
"The offices are being cleaned, the blinds have been pulled back and they will remain open," Salinas said. "We want the people of Hidalgo County to know we are here working hard for them, and we want them to feel welcome to come in and ask for help."
••••••
City of Austin web site to provide live coverage of Texas House of Representatives during regular session
The City of Austin's Office of Communications and Public Information announced on Friday, January 5, that cable Channel 6 will provide coverage of the House of Representatives during the 80th session of the Texas Legislature.
Channel 6 is available to Austin-area viewers on both the Time Warner and Grande cable systems. In addition, Channel 6 programming is accessible via live streaming on the City of Austin Web site: http://www.cityofaustin.org/channel6
Coverage from the State Capitol will begin with the session's opening gavel at noon Tuesday, Jan. 9.
Channel 6 will air live House proceedings every day representatives are in session, except on those Thursdays when the Austin City Council meets. Travis County Television (TCTV) Channel 17 will offer coverage of House every Thursday. And as they have done since 1999, the Austin Independent School District's Channel 22 will again offer coverage of the Texas Senate.
The Texas Legislature meets in regular session for 140 days every odd-numbered year. This year's legislative session is scheduled to run through May 28, 2007.
Created in 1985, Channel 6 is responsible for televising gavel-to-gavel coverage of Austin City Council meetings. In addition, the municipal government channel offers coverage of City-related news conferences and events, as well as various boards, commissions and task force meetings.
Contact: Communications and Public Information Office, (512) 974-2220
••••••
Congressman Rube?n Hinojosa sworn in for 6th term by Speaker Pelosi
Congressman Rube?n Hinojosa, D-Mercedes, on Thursday, January 4, was sworn into office for his 6th term by House Speaker Nancy Pelosi, D-San Francisco, shortly after she was elected the first woman Speaker of the U.S. House of Representatives.
Pelosi, the nation's first female Speaker of the House, returns Democrats back in the leadership chair for the first time in more than a decade.
"I am excited about the new era that was just ushered into action in Washington, DC. With Democrats back in charge, the people's priorities will come first once again," said Hinojosa.
Hinojosa commenced his 11th year as the U.S. Representative for the 15th Congressional District of Texas, which includes Edinburg.
"With each new session comes new opportunities, but the 110th Congress will yield more than most. The first 100 hours will bring integrity and honesty back to Congress with the passage of the new rules package," he said.
"Within the first full week of session, Democrats will enact the 9/11 Commission recommendations, increase the minimum wage, allow stem cell research, and authorize the U.S. Department of Health and Human Services to negotiate for lower prescription drug prices," added Hinojosa. "Rounding out the first month, Congress will also cut interest rates on student loans making higher education attainable to an even greater degree of Americans."
To help advance the goal of making a quality education available to every American student, before the end of January, Hinojosa plans to introduce several key bills that will curb the student dropout rate, help schools improve their science laboratories, and provided needed resources for English language learners.
"To help our colleges and universities, I will work to establish a grant program that will help increases graduate programs at Hispanic Serving Institutions. In the coming year, I will also work to expand adult education programs at all levels to help make education a lifelong endeavor," said Hinojosa.
As a senior member of the House Education and Labor Committee, Hinojosa will bring these ideas to the table and work with committee chairman George Miller, D-San Francisco, to get them addressed in the 110th Congress. For the first time in my career, I will seek a Subcommittee Chairmanship in the House Education and Labor Committee," continued Hinojosa.
To help rural communities, within the first month, Hinojosa will introduce legislation that: crafts a $30 million national grant program to help create and improved rural rental housing units; authorizes the Rural Housing and Economic Development grant program; makes permanent a yearly $15 million funding stream for the Housing Assistance Council; expands financial literacy training and resources; and recognizes April as financial literacy month and a financial planning week in October.
••••••
Edinburg economy continues key advances, with more than 5 percent growth since 2005
Edinburg's economy, as measured by the amount of local and state sales taxes generated by a wide range of local businesses, was up 5.26 percent over the previous 12-month period, the Edinburg Economic Development Corporation has announced.
The EEDC is the jobs-creation arm of the Edinburg City Council.
It's five-member governing board, which is appointed by the Edinburg City Council, includes Mayor Joe Ochoa, former Mayor Richard García, who serves as board president, Fred Palacios, Mike Govind, and George Bennack.
The figure translates into more than $12.1 million generated in local sales taxes that went into the city government's treasury, which is used to help pay for dozens of major city services, ranging from new streets to city personnel.
During 2005, the city's economy generated slightly more than $11.5 million in local sales taxes.
For November, the latest month for which local sales tax figures are calculated by the Texas Comptroller of Public Accounts, Edinburg's economy generated $930,412.70 in local sales taxes.
That figure is up 1.89 percent over November 2005, which reported $913,388.39 in local sales taxes.
Texas Comptroller Carole Keeton Strayhorn said on December 8 that the state collected $1.73 billion in sales tax in November, up 9.4 percent compared to November 2005. The comptroller sent local governments $403.8 million in December sales tax allocations, up 8.4 percent compared to December 2005.
Edinburg remained firmly entrenched as the second strongest economy in Hidalgo County.
According to the comptroller's office, Hidalgo County also showed continued prosperity. For 2006, all cities in Hidalgo County generated more than $109 million in local sales taxes, up almost 10.75 percent over 2005, which reached $98.5 million.
For the month of November, all cities in Hidalgo County registered almost $8.4 million in local sales taxes, up almost 8 percent over the November 2005 figure of more than $7.7 million.
Neighboring Cameron County also registered economic growth, according to the state figures.
For 2006, all cities in Cameron County generated $57.9 million in local sales taxes, up 10.81 percent over last year's figure of $52.3 million. For November, all cities in Cameron County reported $4,247,450.46 in local sales taxes, up 7.57 percent over the November 2005 figure of $3,948,017.53.
"The final sales tax allocation of 2006 brings total local sales tax revenue for the calendar year to a record $5.2 billion," Strayhorn said. "This marks the first time local sales tax revenues have reached $5 billion in a single year."
"In 1999, in my first year as comptroller, I distributed $3.5 billion in local sales tax. Compared to that year, annual local sales tax revenue is up 47.8 percent," Strayhorn said.
"Texas' population growth, diversity and economic strength have helped the state recover from the '02-'03 economic slowdown that followed the triple economic whammy of 9/11, the Enron and WorldCom scandals and the high tech bubble bursting. Local communities have bounced back from economic setbacks and natural disasters like Hurricane Rita," said Strayhorn.
Strayhorn sent Texas cities December sales tax allocations of $273.1 million, up 8 percent compared to December 2005. City sales tax allocations during calendar year 2006 totaled $3.5 billion, up 13.5 percent compared to calendar year 2005. Counties' December sales tax allocations were $24.8 million, up 13.9 percent compared to December 2005. Counties received $312.7 million in sales tax during calendar year 2006, up 16 percent compared to last year.
Ten local transit systems received December sales tax allocations of $93.2 million, a 7 percent increase over December 2005. Sales tax allocations to transit systems in 2006 totaled $1.2 billion, up 14.1 percent compared to the 2005 total. December sales tax allocations of $12.5 million went to 115 special purpose taxing districts, an increase of 17.6 percent compared to last December. Special purpose districts received $153.1 million during 2006, up 17.1 percent compared to 2005.
For details of December sales tax payments to individual cities, counties, transit systems and special purpose districts, locate the Monthly Sales and Use Tax Allocation Comparison Summary Reports on the Comptroller's Web site http://www.window.state.tx.us/taxinfo/allocsum/compsum.html
The Comptroller's next local sales tax allocation will be made on Friday, Jan, 12.
By DAVID A. DIAZ
[email protected]
For more information on the people and politics that impact Edinburg, please log on to http://www.EdinburgPolitics.com
••••••
Passports required for air travel to United States as of January 23, 2007
The Departments of State and Homeland Security announced today that the requirement for citizens of the United States, Canada, Mexico, and Bermuda to present a passport to enter the United States when arriving by air from any part of the Western Hemisphere will begin on January 23, 2007.
This change in travel document requirements is the result of recommendations made by the 9/11 Commission, which Congress subsequently passed into law in the Intelligence Reform and Terrorism Prevention Act of 2004. These new travel document requirements make up the Departments' Western Hemisphere Travel Initiative (WHTI). In order to obtain national security benefits as quickly as possible, and to expedite the processing of arriving passengers, the plan will be implemented in two phases.
The first phase involves travel by air and requires all citizens of the United States, Canada, Mexico, and Bermuda to have a passport or other accepted document that establishes the bearer's identity and nationality to enter or re-enter the United States from within the Western Hemisphere. The final rule for the air phase of the WHTI rule will be published in the Federal Register on November 24, where it can be viewed at http://www.regulations.gov. That rule is also available on the Department's consular web site, travel.state.gov and on the Department of Homeland Security's web site, http://www.dhs.gov
A separate proposed rule addressing land and sea travel will be published at a later date proposing specific requirements for travelers entering the United States through land and sea border crossings. As early as January 1, 2008, U.S. citizens traveling between the United States and Canada, Mexico, Central and South America, the Caribbean, and Bermuda by land or sea could be required to present a valid U.S. passport or other documents as determined by the Department of Homeland Security. While recent legislative changes permit a later deadline, the Departments of State and Homeland Security are working to meet all requirements as soon as possible.
The Department has dedicated additional resources and personnel to meet the increased demand for passports generated by these requirements. In Fiscal Year 2006, the Department issued a record 12.1 million passports to American citizens, and anticipates issuing 16 million passports in Fiscal Year 2007. U.S. citizens can find information about how to apply for a passport at travel.state.gov or by calling 1-877-487-2778.
••••••
Attorney General Abbott, takes oath of office, begins second four-year term
Texas Attorney General Greg Abbott, a Republican, last week formally began his second term as the state's chief law enforcement official when Texas Supreme Court Chief Justice Wallace Jefferson administered the oath of office at a ceremony performed at the Office of the Attorney General in the presence of agency employees.
After swearing to defend the laws and constitution of the State of Texas, Abbott renewed his commitment to tough law enforcement and thanked agency employees for their service to Texas citizens.
"Texans are blessed to have hard-working men and women who have committed their lives to serving the Office of the Attorney General and the State of Texas," said Abbott. "Whether arresting child sex predators, collecting child support, cracking down on senior abuse, or preserving taxpayer dollars, our dedicated employees make a difference in the lives of their fellow Texans in countless ways. It is truly an honor to work side-by-side with these public servants as we strive toward a safer, more just Texas."
Accomplishments during Abbott's first term as Attorney General include:
$7 billion collected in child support
$300 million awarded to or on behalf of crime victims
$175 million recovered in Medicaid fraud, waste, and abuse
500 child predators arrested
Abbott added: "The entire agency can be proud of our accomplishments, but our successes are not measured by numbers, arrests or money recovered. Rather, the greatest measure of our success is the Texans whose lives are improved by our service to the state."
Prior to his election as Texas' 50th Attorney General on November 5, 2002, Abbott served as a Justice on the Texas Supreme Court and as a State District Judge in Harris County.
A native Texan, Abbott was born in Wichita Falls and raised in Duncanville. After graduating from the University of Texas with a B.B.A. in Finance, he received his law degree from Vanderbilt University.
Shortly after graduating from law school, he was partially paralyzed by a falling tree while jogging.
He and his wife, Cecilia, a former school teacher and principal, have been married for 25 years. They live in Austin with their nine-year-old daughter, Audrey.
For more information, visit the Attorney General's Web site at http://www.oag.state.tx.us or call (800) 252-8011.
••••••
Texas Comptroller Susan Combs succeeds former Comptroller Strayhorn, takes oath of office in House of Representatives chamber
Susan Combs, a Republican, was sworn in on Tuesday, January 2 as Texas Comptroller of Public Accounts in a public ceremony in the House Chamber by Governor Rick Perry. Combs was sworn in privately on January 1.
She succeeds Carole Keeton Strayhorn, also a Republican, who did not seek reelection, instead running as an independent candidate for governor against Perry, a Republican.
In her inaugural speech, Combs stated that she was honored by the great privilege of holding public office and humbled by this trust.
"All of us in public office are elected to serve the public interest and to do what is right for the citizens of this great state. Their vote is the gift of their trust and confidence and we must be true to that.
"This office is a unique state agency with a legendary reputation for outstanding service. We will preserve that reputation and build on it."
Combs saluted the employees of the agency. "I have been privileged to already meet many of the wonderful people at the agency, and have stated that it is my policy there, as it was at the Department of Agriculture, that family is first. State employees create a family within each agency, but they also have families outside, and our policies must reflect that understanding."
On policy, Combs said that she would bring 21st century technology to the agency. "Technology will increase efficiency and effectiveness," Combs said. "It will help deliver information and service, make government more transparent and help provide data for economic development across the state.
"We will also work hard to protect your tax dollars from fraud by employing sophisticated technologies to deter those who would cheat the public," Combs said. "We will make it easy to pay taxes and hard to cheat."
In closing she added, "Every Texan will be welcomed. Every Texan will be treated fairly. Issues will be studied and evaluated based on their merits."
••••••
Legislative Budget Board reschedules session on local property tax relief until January 14
Lt. Governor David Dewhurst and Speaker Tom Craddick released the following statement on Wednesday, January 3, regarding the Thursday, January 4 scheduled Legislative Budget Board meeting:
"We are firmly committed to delivering the nearly $14 billion in local school property tax relief approved by the legislature last May and promised to the people of Texas for the next biennium. It is clear, however, that we need more time to discuss the options for setting a new spending limit to allow for this tax relief with members returning to Austin next week. For this reason, we have decided to postpone tomorrow's Legislative Budget Board meeting until January 11, at which time we will adopt the lowest spending limit recommended by the LBB."
The LBB is authorized to meet during the legislative session to set a new spending limit as long as no budget action has been taken.
••••••
Gov. Perry named one of nation's most influential leaders in the Latino community
Gov. Rick Perry has been named one of America's 101 most influential leaders in the Latino Community, according to Latino Leaders magazine.
In its December-January edition, the national publication noted that Gov. Perry "regularly reaches out to Hispanic voters" and "has the ability to influence the lives of millions of Hispanics, many of whom live in terrible conditions in 'colonias' along the U.S.-Mexican border."
"Perry's inclusive cultural approach to politics will work in his favor. His recognition of the Latino presence in Texas builds bridges in an age of increasing tension towards immigrants and border cities."
Perry, who ranked 72, was one of ten Texans included on the magazine's list of 101, and was the highest ranked of three border state governors.
Latino Leaders is a nationally distributed bimonthly magazine that focuses on the contributions of notable U.S. Hispanics.
••••••
PEW survey: Hispanics favor troop withdrawals from Iraq even more strongly than general public
Two out of every three Latinos now believe that U.S. troops should be brought home from Iraq as soon as possible and only one in four thinks the U.S. made the right decision in using military force, according to a new survey released Thursday, January 4, by the Pew Hispanic Center.
Hispanics have generally expressed more negative views toward the war compared with the rest of the population. The latest survey, however, shows even stronger opposition on the part of Latinos, especially when it comes to keeping troops in Iraq.
Two-thirds of Hispanics (66 percent) now favor bringing troops home as soon as possible, up from 51 percent in January 2005. Conversely, Latinos who favored keeping troops in Iraq until the situation there has stabilized have declined from 37 percent to 19 percent.
Native-born Hispanics are generally more supportive of the war than are their foreign-born counterparts. But in the latest survey, the native born are almost as adamant about bringing troops home as the foreign born (62 percent vs. 68 percent respectively).
The general public also is more inclined to bring the troops home, but not to the same extent as Hispanics. A survey of the general population by the Pew Research Center for the People & the Press in December found that one in two Americans (50%) favored bringing troops home as soon as possible, up from 41 percent in January 2005.
The changing attitude toward the war is also evident in the answer to a basic question: Do you think the U.S. made the right decision or the wrong decision in using military force against Iraq? Since 2004, a third or more of Latinos responded that using military force was the right decision. In the latest survey, only 24 percent of Latinos agreed with that assessment. That is down from 39 percent in April/June 2004 and from 31% in August/October 2006.
By comparison, 42 percent of the general public believes the U.S. made the right decision in using military force, according to the survey by Pew Research Center.
••••••
Freedom of Information Foundation of Texas elects officers, directors for 2007
The Freedom of Information Foundation of Texas, a First Amendment organization that educates, protects and advances the rights and responsibilities of the public to access government information and meetings, elected its 2007 officers and added five new board members on December 22.
The following officers were elected: Timothy M. Kelly, editor of The Beaumont Enterprise, president; Laura Lee Prather, a partner in the law firm of Sedgwick, Detert, Moran & Arnold, L.L.P., vice president; and Dale Leach, chief of bureau for The Associated Press, treasurer. Keith Shelton, retired journalist in residence for the University of North Texas, was re-elected secretary.
New directors elected to the board included: Donnis Baggett, editor and publisher of The Eagle in Bryan-College Station; Russ Coleman, vice president, general counsel and assistant secretary for Belo Corporation; Brian Collister, investigative reporter for WOAI TV in San Antonio; Bill Cornwell, publisher of The Facts in Clute; and Jennifer LaFleur, computer-assisted reporting editor for The Dallas Morning News
The following directors were re-elected to the board: Libby Averyt, editor of the Corpus Christi Caller-Times; David H. Donaldson, attorney with Graves, Dougherty, Hearon & Moody, P.C.; Joe Larsen, attorney with Ogden, Gibson, Broocks & Longoria, L.L.P.; Tony Pederson, Belo distinguished chair of journalism at Southern Methodist University; James Sibley, president of Title Data, Inc.; Nick Voinis, senior associate athletics director for communications at the University of Texas at Austin; Paul Watler, attorney with Jenkins & Gilchrist, P.C.; Joel White, with the law firm of Joel White & Associates; and Thomas Williams, attorney with Haynes and Boone, L.L.P.
The FOIFT is a nonprofit 501(c)(3) organization supported through grants from private citizens, corporations, foundations and tax-deductible donations. For more information, call 214.977.6658, visit our Web site at http://www.foift.org or write to FOIFT, 400 S. Record St., Suite 240, Dallas, Texas 75202
••••••
Dr. Lino García, Jr., speaks January 14 to explain Don Quixote's influence
For 38 years Dr. Lino García, Jr., has taught college classes about the world's greatest novelist and his literary work Don Quijote de la Mancha (the Spanish spelling), and on January 14 at 2 p.m. he will make a presentation in Spanish on this novel and on the author Miguel de Cervantes Saavedra at the Museum of South Texas History in Edinburg.
His talk will connect the human qualities of the early Tejanos who came into South Texas in 1749, colonizing it and established the prevalent culture and traditions, with the internal human qualities of the character Don Quijote de la Mancha.
Since the novel was first published in Spain in 1605, and it arrived in New Spain in 16i08, it is presumed that the early Tejanos had read this monumental work and were motivated by this fictional yet universal character to seek new adventure in a brave new land—South Texas.
"The book 'Don Quijote de la Mancha' (the Spanish spelling) is connected with the Rio Grande Valley," García said. "This talk will attempt to connect the human qualities of the early Tejanos who came into South Texas, colonizing it and establishing the prevalent culture and traditions."
"The title of my talk, Los Tejanos Y Don Quixjote de la Mancha, will connect the trajectory of early settlers of South Texas, which was then called New Spain (La Nueva España).
García is a Professor of Spanish Literature, with specialization on the Golden Age of Spain, and on the novel, "Don Quijote de la Mancha," a literary work he has taught at the University of Texas-Pan America for over 36 years. He has done extensive lecturing on this work of Miguel de Cervantes Saavedra here and in Mexico. He has published on this work and is a founding member of the Academia Cervantina Internacional of the Universidad de Guanjuato, Mexico. He holds a doctorate from Tulane University, and has taught at UTPA for 40 years.
An eight-generation Tejano, García is a direct descendent of Don José Matías Longoria Chapa of Porción 93, received in 1767, and of the Longoria and Chapa families, original founders of what is now Matamoros, when all of Tejas and Mexico were then part of New Spain. He has done research on early Spanish Texas History and genealogy.
His talk will connect the human qualities of the early Tejanos who came into South Texas, colonizing it and establishing the prevalent culture and traditions. His talk will connect the early settlers of South Texas, with many of them presumably having read the monumental literary work by Cervantes Saavedra published in 1605-15 in Spain. It was possible that these early Tejanos settlers were motivated by this fictional yet universal character to seek new adventures a brave new land.
"It is said Don Quixote made the world a little bit more compassionate," García said, "because of his chivalry, courtesy, good manners, reverence for females regardless of who they were, one extreme to the other, plus the treatment of human beings including his enemies."
This lecture will be in the Courtyard Gallery at the Museum in downtown Edinburg. There is no extra charge for the program as it is included in the regular admission fee, $4 for adults, $3 for seniors 62 and over, $2.50 for students (with I.D. for college students) 13 and over. Children 12 and under are $1.50 and children 3 and under are free.
Phone 383-6911 for more information about the Museum located in Downtown Edinburg, or visit the Museum's website:
••••••
Federal Trade Commission reaches "New Year's" resolutions with four major weight-control pill marketers
The FTC has filed complaints in four separate cases alleging that weight-loss and weight-control claims were not supported by competent and reliable scientific evidence. Marketers of the four products –Xenadrine EFX, CortiSlim, TrimSpa, and One-A-Day WeightSmart – have settled with the FTC, surrendered cash and other assets worth at least $25 million, and agreed to limit their future advertising claims.
"You won't find weight loss in a bottle of pills that claims it has the latest scientific breakthrough or miracle ingredient," said FTC Chairman Deborah Platt Majoras. "Paying for fad science is a good way to lose cash, not pounds."
Xenadrine EFX
Two marketers of Xenadrine EFX will pay at least $8 million and as much as $12.8 million to settle FTC allegations that Xenadrine EFX's weight-loss claims were false and unsubstantiated. The funds will be used for consumer redress. In a bankruptcy case not involving the Commission, the defendants have also agreed to pay at least an additional $22.75 million to settle claims brought by creditors and consumers, including personal injury claims for an earlier ephedra-based product.
Xenadrine EFX, which contains, among other ingredients, green tea extract (EGCG), caffeine, and bitter orange (Citrus aurantium), was advertised heavily in print and on television, including in such publications as People, TV Guide, Cosmopolitan, and Men's Fitness. Xenadrine EFX advertising also appeared in Spanish-language publications.
The FTC's complaint alleged that the defendants made false or unsubstantiated claims for Xenadrine EFX, including that it was clinically proven to cause rapid and substantial weight loss and clinically proven to be more effective than leading ephedrine-based diet products. According to the complaint, Robert Chinery commissioned several studies of Xenadrine EFX, none of which showed substantial weight loss. The complaint alleged that in one of these studies, subjects taking Xenadrine EFX lost an average of only 1.5 pounds over the 10-week study, while a control group taking a placebo lost an average of 2.5 pounds over the same period.
The complaint also alleged that Xenadrine EFX advertisements falsely represented that persons appearing in the ads achieved the reported weight loss solely by using Xenadrine EFX. According to the FTC complaint, consumer endorsers lost weight by engaging in rigorous diet and/or exercise programs. In addition, the endorsers were paid from $1,000 to $20,000 in connection with their testimonials; according to the complaint, Xenadrine EFX advertisements failed to disclose those payments.
The stipulated federal court order with Robert Chinery, Jr. and RTC Research & Development, LLC ("RTC") prohibits certain claims regarding Xenadrine EFX and prohibits all claims regarding the health benefits, performance, efficacy, safety, or side effects of any weight-loss product, dietary supplement, food, drug, or device, unless the representation is true, not misleading, and substantiated by competent and reliable scientific evidence. The settlement also prohibits misrepresentations about any test or study. In addition, the order prohibits misrepresentations of the actual experience of any user or endorser and requires clear and prominent disclosure of any relationship that would materially affect the weight or credibility given to a user testimonial or endorsement. Finally, Robert Chinery and RTC cannot use their settlement with the Commission as a basis for seeking a cash refund of Xenadrine EFX-related income taxes that they previously reported as paid.
CortiSlim and CortiStress
The seven marketers of CortiSlim and CortiStress will surrender, in total, assets worth at least $12 million to settle FTC charges that they made false and unsubstantiated claims that their products can cause weight loss and reduce the risk of, or prevent, serious health conditions. In the final three settlement agreements announced today, the FTC will recover $8.4 million in cash, along with proceeds from the sale of a residence acquired with CortiSlim profits. The settlements also require the two individual defendants to liquidate tax shelters and transfer to the Commission any funds that remain after paying taxes and penalties. In two earlier settlement agreements, the defendants turned over $1.5 million in cash, a boat, a truck, a real estate interest, and proceeds from a tax shelter. The funds recovered from the seven defendants will be used for consumer redress.
The advertising campaign for CortiSlim ran nationwide, including ads on broadcast and cable television, radio, print media, and the Internet. The FTC's complaint alleged that advertising claims about CortiSlim's ability to cause rapid, substantial, and permanent weight loss in all users were false or unsubstantiated, as were claims about CortiStress's ability to reduce the risk of osteoporosis, obesity, diabetes, Alzheimer's disease, cancer, and cardiovascular disease. The FTC also alleged that CortiSlim and CortiStress infomercials were deceptively formatted to appear as talk shows rather than advertisements.
The final settlements announced today are with Stephen F. Cheng and his company, Window Rock Enterprises, Inc., and with Gregory S. Cynaumon and his company, Infinity Advertising, Inc. All of the settlements bar misrepresentations of any tests or studies and prohibit claims about the performance, effects on weight, or other health benefits of any dietary supplement, food, drug, cosmetic, or device unless the claims are true, not misleading, and substantiated by competent and reliable scientific evidence. The stipulated orders prohibit the use of deceptively formatted television and radio advertisements. In addition, the defendants cannot use their settlement with the Commission as a basis for seeking a cash refund of income taxes that they reported as paid.
TrimSpa
The marketers of TrimSpa will pay $1.5 million to settle FTC allegations that their weight-loss claims were unsubstantiated. According to the FTC's complaint, the marketers had inadequate scientific evidence to support their advertising claims that TrimSpa causes rapid and substantial weight loss and that one of its ingredients, Hoodia gordonii, enables users to lose substantial amounts of weight by suppressing appetite.
Many ads for "TrimSpa Completely Ephedra Free Formula X32" featured testimonials. Celebrity Anna Nicole Smith claimed to have lost 69 pounds in eight months by using TrimSpa.
Other advertising claims included "Your high speed dream body diet pill" and "It makes losing 30, 50, even 70 pounds (or however many pounds you need to lose) painless."
TrimSpa ads appeared on television, in magazines, on radio, and in local newspapers. TrimSpa was also promoted on a Web site, at some NASCAR events, and other live events.
The FTC consent agreement requires TrimSpa's marketers – Goen Technologies Corp., Nutramerica Corp., TrimSpa, Inc., and Alexander Szynalski, also known as Alexander Goen – to pay $1.5 million. The agreement also prohibits the marketers from making any claims about the health benefits, performance, efficacy, safety, or side effects of TrimSpa, Hoodia gordonii, or any dietary supplement, food, drug, or health-related service or program, unless the claims are true, not misleading, and substantiated by competent and reliable scientific evidence.
One-A-Day WeightSmart
The Bayer Corporation will pay a $3.2 million civil penalty to settle FTC allegations that advertisements for One-A-Day WeightSmart multivitamins violated an earlier Commission order requiring all health claims for One-A-Day brand vitamins to be supported by competent and reliable scientific evidence.
Bayer ran a national advertising campaign for One-A-Day WeightSmart, which contains EGCG (epigallocatechin gallate), a green tea extract. Bayer also advertised on television, radio, and the Internet, and in newspapers and magazines, such as RedBook, Family Circle, and TV Guide
Advertising claims included statements such as:
"Just in! Most women over 30 can gain 10 pounds a decade, due in part to slowing metabolism.… So eat right, exercise, and take One-A-Day WeightSmart. The complete multi-vitamin with EGCG to enhance metabolism."
"One-A-Day WeightSmart. The first and only complete multivitamin with an ingredient to enhance your metabolism. EGCG, a natural green tea extract, to help you while you manage your weight."
The complaint alleges that Bayer Corporation marketed One-A-Day WeightSmart with unsubstantiated claims that it
increases metabolism;
enhances metabolism through its EGCG content;
helps prevent some of the weight gain associated with a decline in metabolism in users over age 30; and
helps users control their weight by enhancing their metabolism.
The FTC alleges that these unsubstantiated claims violate a 1991 Commission order against Bayer's predecessor, Miles Inc., that require all claims about the benefits of One-A-Day brand products to be substantiated by competent and reliable scientific evidence.
In addition to the $3.2 million civil penalty, Bayer is prohibited from violating the FTC order and from making unsubstantiated representations regarding the benefits, performance, efficacy, safety, or side effects of any dietary supplement, multivitamin, or weight-control product.
The FTC acknowledges the National Advertising Division of the Council of Better Business Bureaus for its referrals of some of these cases.
The Commission vote to accept the Bayer settlement was 5-0. At the Commission's request, the Department of Justice filed the complaint and proposed consent decree on January 3, 2007, in the U.S. District Court for the District of New Jersey.
The Commission vote to accept the TrimSpa consent agreement, subject to public comment, was 4-0, with Commissioner Rosch recused. The FTC will publish an announcement regarding the agreement in the Federal Register. The agreement will be subject to public comment for 30 days, beginning today and ending February 5, 2007. Comments should be addressed to the FTC, Office of the Secretary, Room H-135, 600 Pennsylvania Avenue, N.W., Washington, DC 20580. The FTC requests that any comment filed in paper form be sent by courier or overnight service, if possible, because U.S. postal mail in the Washington area and at the Commission is subject to delay due to heightened security precautions.
The Commission votes to authorize staff to file the CortiSlim stipulated final orders were both 5-0. The stipulated final orders for permanent injunction were filed in the U.S. District Court for the Central District of California on October 3, 2006 for Stephen Cheng and Window Rock Enterprises, Inc. and on January 3, 2007 for Gregory Cynaumon and Infinity Advertising, Inc.
The Commission vote to authorize staff to file the Xenadrine EFX stipulated final order was 5-0. The stipulated final order for permanent injunction was filed in the U.S. District Court for the District of New Jersey on December 26, 2006.
NOTE: The proposed consent decree and the stipulated final orders are for settlement purposes only and do not constitute admissions by the settling defendants of law violations. They are subject to court approval and have the force of law when signed by the judge. Likewise, the administrative consent agreement is for settlement purposes only and does not constitute an admission of a law violation. When the Commission issues a consent agreement on a final basis, it carries the force of law with respect to future actions. Each violation of such an order may result in a civil penalty of $11,000.
Copies of the documents for these cases are available from the FTC's Web site at http://www.ftc.gov and also from the FTC's Consumer Response Center, Room 130, 600 Pennsylvania Avenue, N.W., Washington, D.C. 20580. The FTC works for the consumer to prevent fraudulent, deceptive, and unfair business practices in the marketplace and to provide information to help consumers spot, stop, and avoid them. To file a complaint in English or Spanish (bilingual counselors are available to take complaints), or to get free information on any of 150 consumer topics, call toll-free, 1-877-FTC-HELP (1-877-382-4357), or use the complaint form at http://www.ftc.gov . The FTC enters Internet, telemarketing, identity theft, and other fraud-related complaints into Consumer Sentinel, a secure, online database available to thousands of civil and criminal law enforcement agencies in the U.S. and abroad.