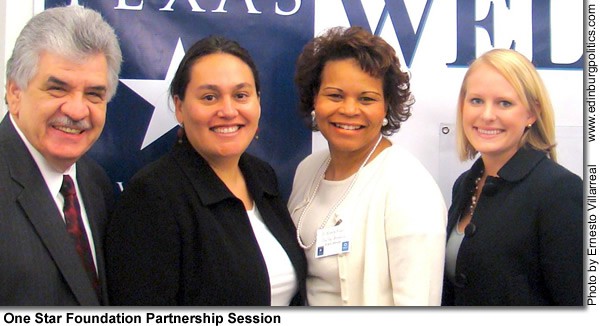 State and local leaders met in Edinburg on Wednesday, August 27, as part of a two-hour session sponsored by the Texas Valley Communities Foundation to help area nonprofit groups apply for $45 million in AmeriCorps grants that will be awarded in Texas during the next three years. Featured, from left: Dr. Roland S. Arriola, Ph.D., president of Texas Valley Communities Foundation; Rosa Moreno-Mahoney, Associate Director of Service and Volunteerism for the One Star Foundation; Dr. Beverly Ashley-Fridie, Ph.D., a gubernatorial appointee from Edinburg who serves on the board of directors for the One Star Foundation; and Courtney Suhrs, Senior Strategic Communications Specialist for the One Star Foundation. "One Star Foundation is looking for partners to invest an anticipated $45 million in grant funding to support programs for the educational success of Texas' youth over a three year period through AmeriCorps funding," said Arriola. "One Star will partner with organizations that focus on quality early childhood education, school-readiness programs, improving literacy rates, increasing the obtainment of high school equivalencies, increasing grade level achievement, and increasing post-secondary attendance and completion."  See story later in this posting.
••••••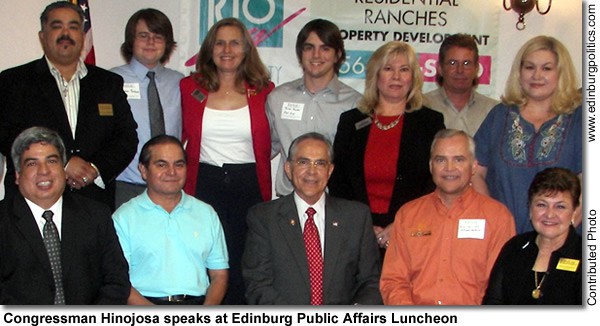 Congressman Rubén Hinojosa was the special speaker on Thursday, August 21 for the legislative luncheon hosted by the Edinburg Chamber of Commerce's Public Affairs Committee, led by Ramiro Garza, executive director for the Edinburg Economic Development Corporation. Hinojosa talked about recent legislative issues, including education priorities, that will emphasize financial literacy, encourage financial partners in student loan programs, increasing need-based grant aid through Pell grants, and other measures. Sponsors for the event were Rio Valley Realty, and Edwards Abstract and Title Co.  Featured, back row, from left: Johnny Rodríguez; Hayden Prater; Flo Prater; Jared Prater; Elva Jackson Garza; Marty Martin, and Imelda.  Front row, from left: Rep. Aaron Peña, D-Edinburg; Mayor Joe Ochoa;Hinojosa; Byron J. Lewis; and Maggie Kent.
••••••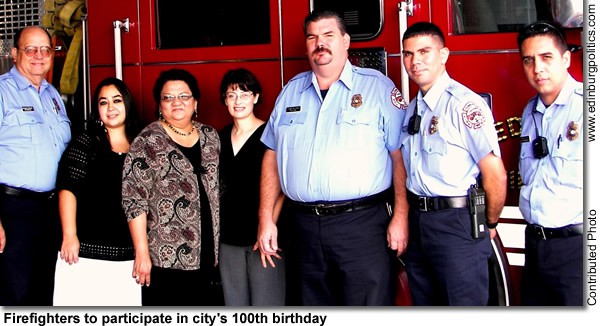 The Edinburg Volunteer Fire Department will collaborate with the Edinburg Chamber of Commerce, and the Dustin Michael Sekula Memorial Library in celebrating Edinburg's Centennial on Monday, October 6, at the Edinburg Municipal Park. As part of its participating, the fire department will host National Fire Department Week, and provide – for free – live entertainment, music, dancers, a karate show and demo, fire safety, cokes and hot dogs, as well  ice cream, courtesy of the Edinburg Chamber of Commerce,  and Edinburg's biggest birthday cake, courtesy of the Dustin Michael Sekula Memorial Library.  The event will be from 7 p.m. to 10 p.m., with a Fire Prevention/Caravan/Parade to kick off the celebration at 5:30 p.m.  The fire department will also work in partnership with the Museum of South Texas History, on Sunday, October 5, and kick off the week with "Museum Day".  Residents will be welcomed to visit the Museum of South Texas History on McIntyre and Closner, and then walk one block west to the Edinburg Volunteer Fire Department Museum located on McIntyre and 10th street.  Both museums will be open to the public from 10 a.m. to 3 p.m., with free admission. Featured, from left, are: Fire Marshal Richard Drewery; Centennial Chair Evana Vleck; Library Director Letty Leija; Lucy Robinson; Fire Chief Shawn M. Snyder; Fire Inspector John R. Ovalle; and Assistant Fire Marshal Omar Garza.
••••••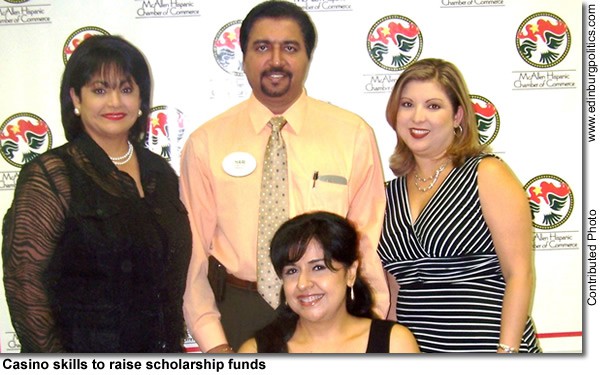 Dust off those boots and sharpen your casino skills as the McAllen Hispanic Chamber of Commerce has scheduled their 2nd annual "Back to School Casino and Dance Scholarship Fundraiser" for Saturday, September 6, at The Tower Club, located in the Chase Tower, 200 South 10th Street in McAllen. The event is from 7 p.m. to midnight, with Country Western band Crossfire performing, food and refreshments, and a Casino with Black Jack tables, Craps, Roulette and Poker.  Local merchants are also providing gifts and certificates for the silent auction. MHCC's Education Committee schedules several fundraisers during the year to help raise funds for scholarships.  Sponsorships for the Back to School Casino and Dance are: Title $5,000, High Roller $3,000, Dealer $2,000, Bookie $1,000 and Casino Table $300.  Reserved Tables are $750 for a table of 10 with individual tickets $50. For more information, to inquire on sponsorships and tickets call the McAllen Hispanic Chamber at 928-0060. Featured, sitting: Diana Gonzáles, Vice Chair of Education. Standing, from left: Cynthia M. Sakulenzki, MHCC President/CEO; Hari Namboodiri, Chair-elect, and Verónica Vela, Vice Chair of Women's Issues.
•••••• (more…)