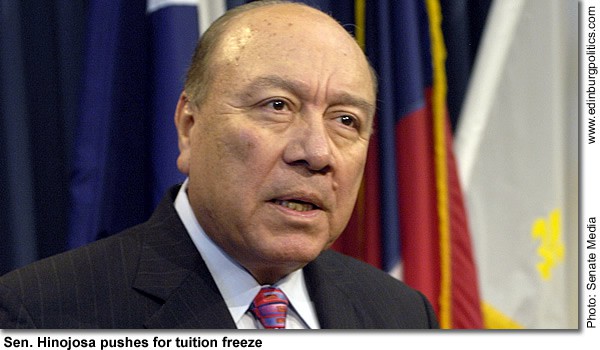 On Monday, November 10 – the first day of pre-filing for the 81st Legislative Session – Sen. Juan "Chuy" Hinojosa, D-McAllen, filed Senate Bill 105, a tuition moratorium bill. Hinojosa's proposal would establish a two-year moratorium on tuition rate hikes and limit future increases to key economic indices. Hinojosa believes the current tuition rate-setting scheme fails Texas' college hopefuls. "There is something fundamentally wrong with the current system. We tell high school students that hard work earns them passage to a public university in Texas," he said. "Once these graduates meet that standard, they are priced out of the very opportunity that motivated them in the first place. The 'work hard and get ahead' story has become a false promise for Texas high school seniors."  Also on Monday, Rep. Aaron Peña, D-Edinburg, Sen. Eddie Lucio, Jr., D-Brownsville, and Rep. Eddie Lucio, III, D-Brownsville, introduced measures to create a University of Texas medical school, UT law school, in the Valley.  See top four stories later in this posting.
•••••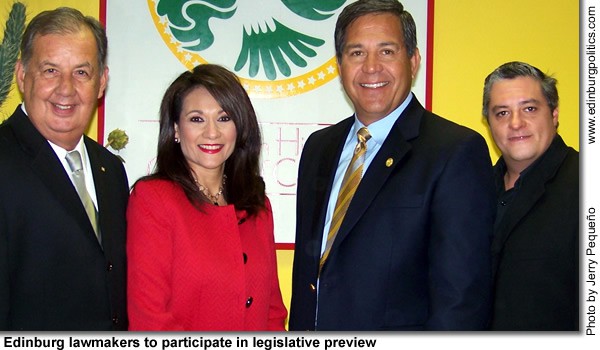 With the Texas Legislature set to convene in January for its five-month regular session, the McAllen Hispanic Chamber of Commerce has scheduled a legislative dinner for Tuesday, November 11, from 6:30 p.m. to 8:30 p.m. at the Club at Cimarron in Mission. Area state lawmakers will get to discuss issues that remained unresolved from the 2007 regular session, as well as address new legislation that they will be presenting. Attendees will get to ask questions and/or inform them of their concerns as well. Individual tickets for the event are available for purchase at $25 each. Major sponsors will get a legislator sitting at their table during dinner. Sponsorships levels are $5,000, $2,000, $1,000 and $500. So far sponsoring the event are CP&L, the McAllen Economic Development Corporation, TXU, McAllen–Hidalgo Bridge, and Coca-Cola. For sponsorship information and/or to buy tickets, call the MHCC office at 928-0060. Featured, from left: McAllen Mayor Richard Cortéz; Rep. Verónica Gonzáles, D-McAllen  Rep. Ismael "Kino" Flores, D-Palmview; and Carlos J. Gutiérrez, legislative aide representing Sen. Juan "Chuy" Hinojosa, D-McAllen. Not present, but scheduled to attend the legislative affair are: Congressman Henry Cuellar, D-Laredo/McAllen; Sen. Eddie Lucio, Jr., D-Brownsville; Rep. Armando Martínez, D-Weslaco; and Rep. Aaron Peña, D-Edinburg.
••••••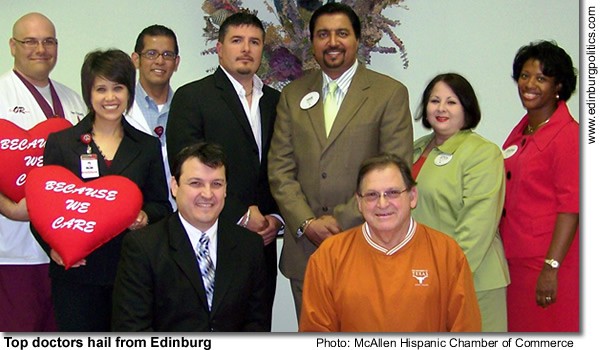 Two Edinburg physicians – Dr. Ben Garza, a family practice doctor and Dr. Carlos Manrique, an ophthalmologist – are the winners to 2008 Medical Awards bestowed by the McAllen Hispanic Chamber of Commerce. The two men, along with other area health professionals, will be honored by the McAllen Hispanic Chamber of Commerce during the 2nd Annual Medical Awards Banquet on Saturday, November 15, at The Embassy Suites in McAllen.  "We recognize that the medical community plays a very important part in our lives, thus the McAllen Hispanic Chamber wanted to recognize the leaders in the certain categories as per the community." noted Rose Ramírez, MHC Vice Chair of Health Issues. "The purpose of the award is to identify and honor the professional or organization who exemplifies the dedication and continued growth of the professional and/or organization in a specialized field and the contributions of that person/organization to the continued good health of the people of the Rio Grande Valley. Seated, from left, are Manrique, named best Specialty Physician of 2008, and Garza, recognized as this year's top General Physician. Back row, from left, are other winners in their respective categories: José Galaviz, Heart Hospital Director of CV Surgery; Gilda Romero, Heart Hospital Marketing Director; Elmer Esguerra, Heart Hospital, Director of PCCU; Orlando Vázquez, Physician Assistant with Dr. Enrique Griego; Hari Namboodiri, Las Palmas Administrator; Letty López Hernández, Las Palmas Marketing Director; and Cynthia Tucker Wilcox, Las Palmas DON.  Not shown are: Alejandra Ritchie, Las Palmas Assistant Director of Nursing; Leticia Chávez, Las Palmas Rehabilitation Program Manager; and Jean Calvert, Nurse of the Year.
•••••
Sen. Judith Zaffirini, D-Laredo, who represents Senate District 21, which includes the western portion of the Valley, on Wednesday, November 5, celebrated her re-election with many of her supporters. The senator carried her home county, Webb, with 78 percent, and reached totals as high as 90 percent in Starr and Zavala counties. Featured, from left, are: Sergio Mora, Webb County Democratic Party chair; her son, Carlos Zaffirini, Jr.; and Zaffirini.  See story later in this posting.
••••••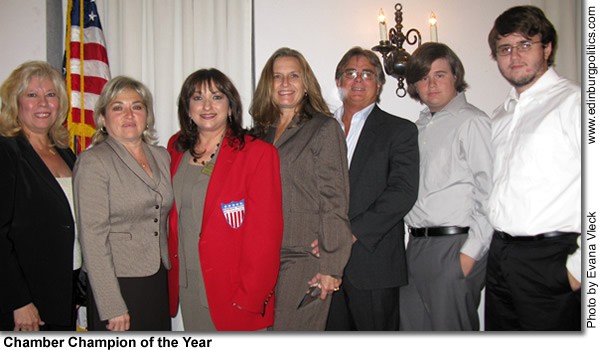 Flo Prater, featured fourth from left, was named Chamber Champion of the Year at the 2008 Edinburg Chamber of Commerce Annual Banquet held on Thursday, October 30, at the the Echo Hotel and Conference Center. Prater is a co-owner of Rio Valley Realty and has been involved with the Chamber of Commerce for several years. Prater served on the Edinburg Centennial Committee, Chamber Champion Committee, Texas Cook'Em Committee, Fiesta Edinburg Committee, Tourism Committee, and also volunteers her time with other various chamber events. Sharing in the big day for her were, from left: Elva Jackson Garza; Letty González; Cris Torres (outgoing chamber chairman); Flo Prater; Keith Prater; Hayden Prater; and Brandon Prater.  See story later in this posting.
•••••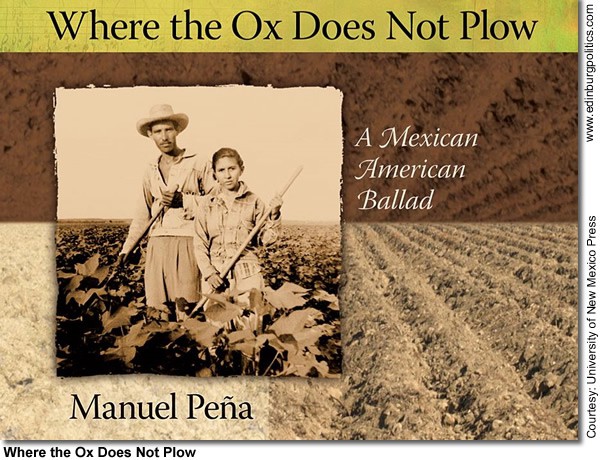 Where the Ox Does Not Plow, an autobiographical ethnography, consists of twenty-six life episodes that chronicle Manuel Peña's transformative journey from an impoverished migrant worker to a career in academia. An ethnograpy is the branch of anthropology that deals with the scientific description of specific human cultures. Inspired by his experiences and those of the people around him in Texas and California, Peña, a Weslaco native, reflects on a wide range of issues arising from the historically marginalized condition of Mexicans and other Latinos in the United States. The narrative will engage readers with a broad range of human experiences, from race relations and economic exploitation to the intimacy of familial and romantic love. See story later in this posting.
••••••