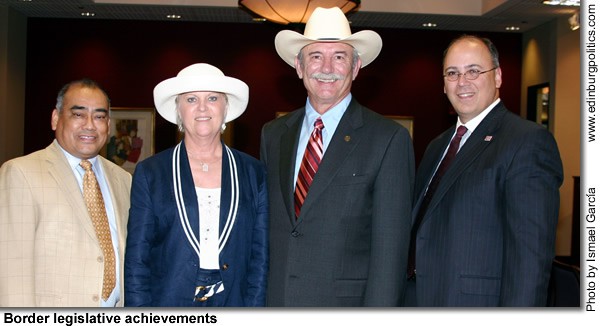 Healthcare, workforce and education, transportation, immigration and border security issues crucial to all Texans – and representing hundreds of millions of dollars in state funds for more than two million residents – were successfully championed during the 2007 state legislative session by the Texas Border Coalition. Featured following TBC's August 2 meeting in Brownsville are, from left, are the following TBC leaders: Blas Castañeda, chief development officer of Laredo Community College; Wanda Garza, executive officer for workforce development and external affairs for South Texas College; TBC chairman and Eagle Pass Mayor Chad Foster; and Eddie Aldrete, senior vice president for International Bancshares Corp. (IBC). See story later in this posting.
••••••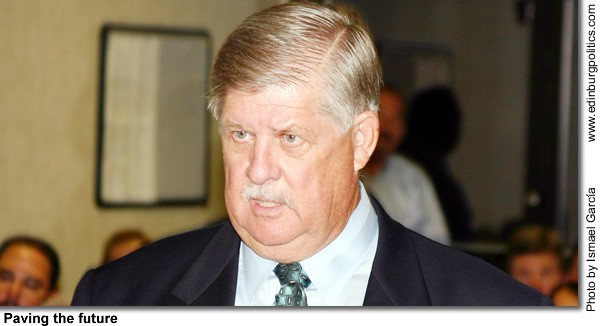 Gerry E. Pate, P.E., managing partner for Hidalgo County Road Builders, outlines his vision for improving Hidalgo County's major roadway system during the August 9 meeting of the Hidalgo County Regional Mobility Authority. The RMA selected Hidalgo County Road Builders as the agent in charge of developing and designing an estimated $643 million highway loop for southern Hidalgo County. See story later in this posting.
••••••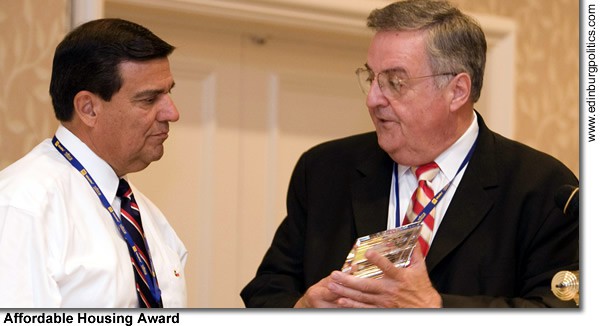 Sen. Eddie Lucio, Jr., D-Brownsville, (featured left), on August 1 received the 2007 Texas Affiliation of Affordable Housing Providers Award from Executive Director Jim Brown for his work in providing affordable housing to Texans during the organization's Texas Housing Conference in Austin. See story later in this posting.
••••••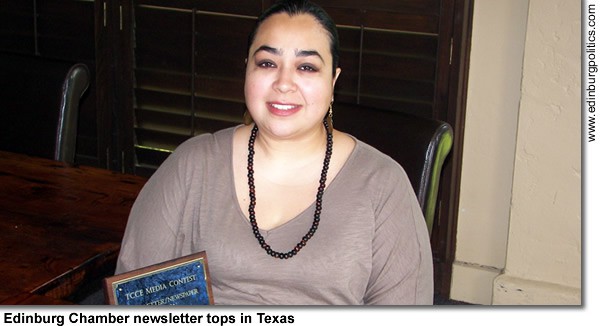 The Edinburg Chamber of Commerce was recognized as the 1st place winner in their division at the TCCE State conference held in July in Temple, Texas. Evana Vleck has been employed with the Edinburg Chamber of Commerce for a year and a half, and since then has produced 8 Newsletters. Each bi-monthly publication focuses on Edinburg Chamber events or accomplishments, and is filled with community news covering the chamber, the city of Edinburg, the Edinburg Economic Development Corporation, local organizations, local business, and more. Vleck says "I feel that we have a down to earth approach with our Newsletter; we concentrate on stories that will reach the attention of businesses, but more overly reach the vast community; we cover expos, chamber nominees, special events, meetings and more. It's a pleasure writing for Edinburg, and I feel honored to receive recognition for the chamber's newsletter." The Depot Express offers unique advertising opportunities that reach all Edinburg Chamber of Commerce members. For more information on the Edinburg Chamber of Commerce, or to advertise in the Depot Express please contact Evana Vleck at 956-383-4974.
••••••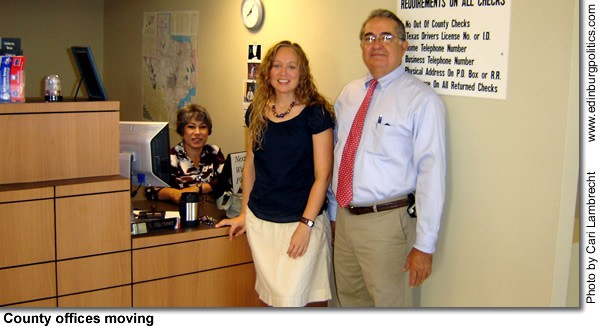 Relocation of key Hidalgo County office to the "Old K-Mart building," located at 2802 S. Business Hwy 281 (corner of Canton and Business 281), has already begun. On Thursday, August 9, Tax Assessor-Collector Armando Barrera saw his first customer, Julie Kracht, who said she once shopped at the old K-Mart building. It was interesting to see it renovated into the new Hidalgo County Administration Offices, she told Barrera. See story later in this posting.