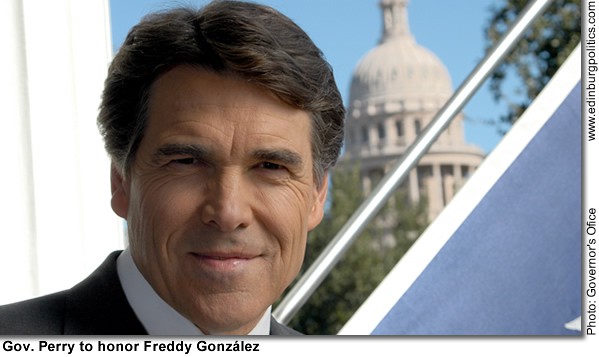 Gov. Rick Perry will be in Edinburg on Monday, February 4, to posthumously bestow the Texas Legislative Medal of Honor in memory of Alfredo "Freddy" González. Perry, who served four and a half years in the air force, will be in the three-time All-America City for the much-anticipated state ceremony, where he will deliver the Texas' highest medal of valor to Dolia González of Edinburg, the mother of the famous hometown U.S. Marine sergeant who was killed in action in Vietnam. The governor's appearance will come on the 40th anniversary of the young man's death. On February 4, 1968, despite being seriously wounded in an early battle with communist troops, González aggressively moved against heavily fortified enemy emplacements, knocking them out of action, thus saving his platoon of about three dozen American marines. He was killed in action. See story later in this posting.
••••••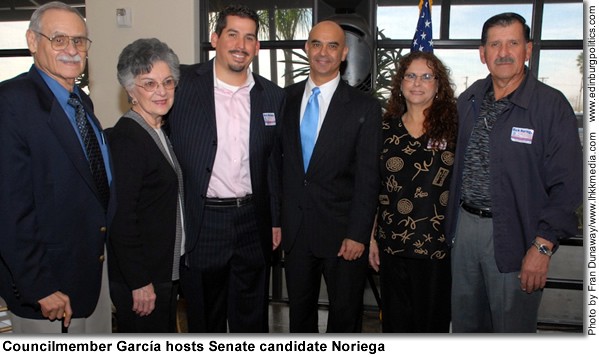 Edinburg City Councilmember Gus García, Jr., featured third from left, was one of the hosts on Tuesday, January 29, for Rep. Rick Noriega, D-Houston, shown next to the local political leader. Noriega is seeking the March 4 Democratic Party nomination for U.S. Senate for the right to challenge Sen. John Cornyn, R-Texas, in the November statewide general election. Noriega's appearance at The Social Club in Edinburg was part of his "Answering the Call to Service – South Texas Barnstorming Tour", a three-day swing through the Rio Grande Valley to introduce himself to voters. Three other men are in the race for the Democratic Party nomination: Gene Kelley, Ray McMurrey, and Rhett R. Smith.
••••••
As part of Board Appreciation Month, South Texas College honored its trustees at the January board meeting. The board's seven members were recognized for their ongoing support of the college's vision and mission to create a college-going culture in the Valley. "During the 2007-2008 school year, we have focused on creating a college-going culture in the Valley and this vision and mission has been endorsed by our visionary trustees, who can truly see a day when every student in Hidalgo and Starr counties will attend college," said Dr. Shirley A. Reed, president of South Texas College. "Our seven dedicated members have each overcome obstacles in their lives and understand the value of an education and so they have made a promise to our future generations that college will not just be an option – it will be a guarantee. There are no words to fully express our gratitude for their support and continued dedication to the college and our communities." STC Board of Trustees members were presented framed pictures from future STC students representing communities across the Rio Grande Valley. From back row left are Roy de Le?n, Manuel Benavidez Jr., Dr. Alejo Salinas Jr., Jesse Villarreal, Reed, Mike Allen and Garry Gurwitz. From front row left are Gus McKay, Vincent Olivarez, Eric Castillo, Cassie Muñoz and Abby Talbot.
••••••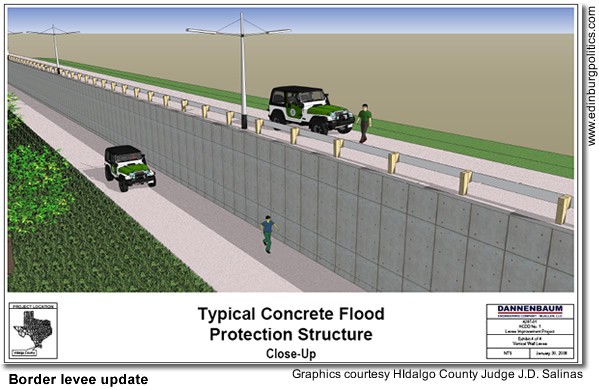 U.S. Senator Kay Bailey Hutchison, R-Texas, on Wednesday, January 30, wrote a letter to President Bush asking the White House to fund a South Texas project developed by local elected officials in Cameron and Hidalgo Counties that will repair the levees along the Rio Grande while securing the border. Also on January 30, Hidalgo County Judge J.D. Salinas released an artist's rendition of how the planned levees. Hutchison is specifically urging that Bush request sufficient funding through the International Boundary and Water Commission (IBWC) to repair the levees and construct strategic fencing "in accordance with the proposal offered by locally elected officials" working with the U.S. Department of Homeland Security (DHS). "We have an outstanding project developed at the local level that will secure our border while protecting Texas residents from the dangers of flooding caused by natural disasters," said Hutchison. "I will work with the President, the Office of Management and Budget, IBWC, Congress, and local officials to repair the levees and secure the border." See story later in this posting.
•••••• (more…)