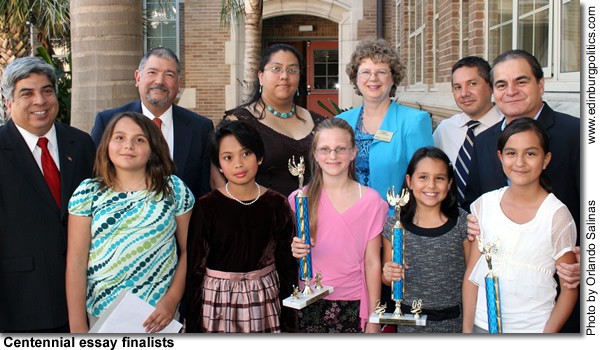 The Edinburg school district on Wednesday, October 8, celebrated the Edinburg Centennial by hosting a special program and an essay contest detailing the city and school district's history. The fifth grade finalists are shown from left: Brianna C. McCormick, Freddy González Elementary (honorable mention); Jean Almonte, Guerra Elementary (honorable mention); Brooke Baus, Canterbury Elementary (1st place); Julissa Alexandra Mendoza (2nd place), Esparza Elementary (2nd place); and Kiana Ramírez, Travis Elementary (3rd place). Also featured, from left: Rep. Aaron Peña, D-Edinburg; Paul Rodríguez; Patricia Galindo; Shirley Clancey; ECISD School Board President Omar Palacios; and Edinburg Mayor Joe Ochoa.
••••••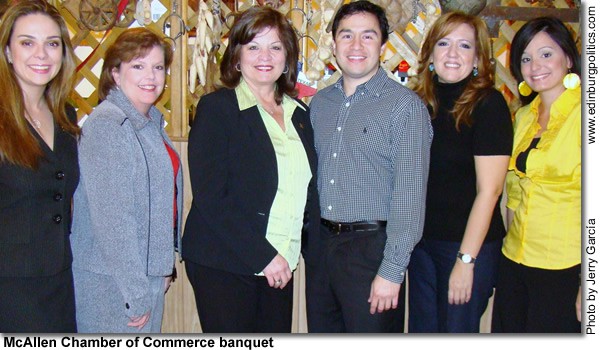 The McAllen Chamber of Commerce has announced that it will hold its 54th Annual Banquet on Friday, November 14, from 7 p.m. to midnight at the McAllen Convention Center. The event also will include the prestigious Man & Woman of the Year awards program. The Man & Woman of the Year awards are presented to individuals who have gone above and beyond routine civic service activities to promote the McAllen community and its residents.  Organizing the event are, from left: Edna De Saro; Tammie Risica; Dora Brown; Ricardo Portillo; Blanca Cárdenas; and Andreina Milpaca.  See story later in this posting.
•••••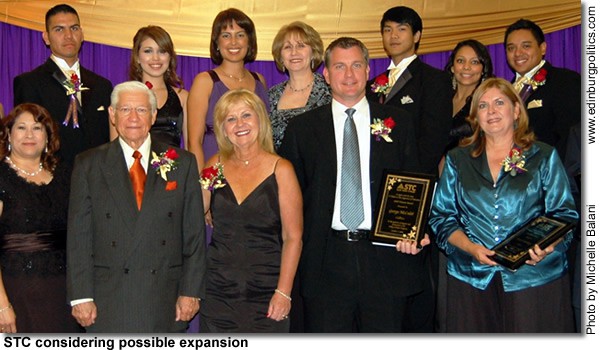 With area leaders gathered in Mission on October 7 to celebrate the 15th anniversary of South Texas College, the STC Board of Trustees has commissioned a major study which could lead to the creation of one or several new campuses in the coming years. STC President Shirley Reed, featured first row, third from left, says the study could come up with preliminary projections at the beginning of 2009, with the final report due by mid-2009. Featured with Reed during STC's 15th anniversary celebration were, from left: Sylvia Bernal from STC's Office of Academic Excellence; former Rep. Roberto Gutiérrez, D-McAllen, the House sponsor of the legislation that created STC in 1993; Reed; George McCaleb; and Jenny Cummings. Standing, from left, were: Valley Scholar students Adrian Rivera and Melanie Silva; Program Coordinator Marie Olivarez; Anahid Petrosian, assistant to the vice president of instructional services; and Valley Scholars Raymond Manguera, Delilah Castillo and Isaac Pérez. See lead story on STC expansion plans later in this posting.
••••••