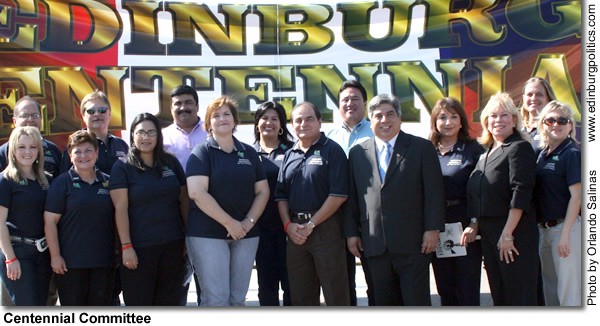 Members of the city's Centennial Committee, who helped organize a series of celebrations commemorating Edinburg's 100th anniversary, were publicly recognized on Friday, October 10, by city and state officials.  The group participated in a reenactment ribbon cutting with Rio Grande Switching at the Edinburg Depot, where passenger railroad services once played a vital role in the fledgling community's transportation system. Elected leaders in the photograph include Mayor Joe Ochoa, Mayor Pro Tem Gene Espinoza; Councilmember Alma Garza, and Rep. Aaron Peña, Jr., D-Edinburg.  Also in this photograph were Cynthia Bocanegra; Gus Casas; Elva Jackson Garza; Letty Gonzalez; Maggie Kent; Flo Prater; City Manager J.J. Rodríguez; Johnny Rodríguez; and Cris Torres.
••••••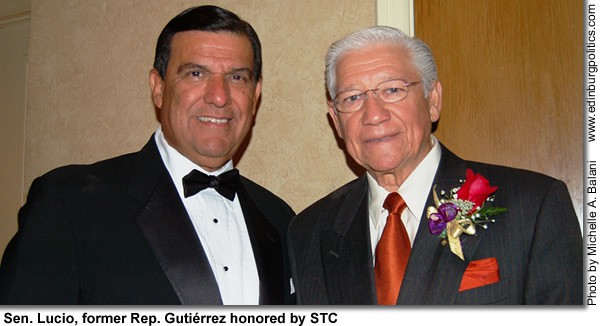 South Texas College's Valley Scholars Program, a scholarship program supporting academically gifted students, celebrated STC's 15th anniversary in stellar style with its annual A Night with the Stars fundraiser on Tuesday, October 7, at the Cimarron Country Club in Mission.  The special event honored Sen. Eddie Lucio Jr., D-Brownsville (featured left), and former Rep. Roberto Gutiérrez, D-McAllen, for their support of STC from its creation by the Texas Legislature in 1993. Lucio was the author of the legislation that converted the former Texas State Technical College branch campus in McAllen into South Texas Community College.  Gutiérrez was the sponsor of the measure. See story later in this posting.
••••••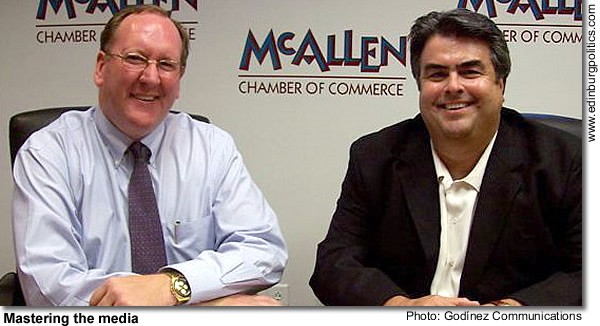 Brian Godínez (featured right), Senior Consultant with Godínez Communications, will be the featured speaker before the McAllen Chamber of Commerce on Tuesday, October 28, with his presentation, Bang For The Buck Marketing Strategies!  The session, hosted by the McAllen Chamber of Commerce, will focus on low-cost, high-value marketing techniques and their importance in a successful promotional strategy. The seminar, which will be held in the chamber's headquarters, located at 1200 Ash Ave in McAllen, will run from 11:30 a.m.  to 1:15 p.m., and lunch will be provided for registered attendees. The session carries a $10 fee per attendee. Featured with Godínez  is Steve Ahlenius, President and CEO of the McAllen Chamber of Commerce. See story later in this posting.
••••••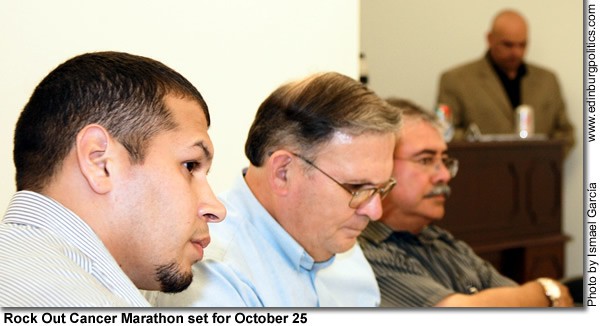 John Taméz, featured left, on Tuesday, October 7, updated the leadership of the UT-Pan American Alumni Association of plans by his group, the UT-Pan American Student Alumni Association, to organize a Rock Out Cancer Marathon at the Edinburg campus on Saturday, October 25. "The intention of hosting this event is to start new traditions that will continue to spread cancer awareness across UTPA and the community for many years to follow," he said. "The SAA will take an initiative to increase awareness for one of society's most common and life affecting diseases – cancer. This event is very dear to my heart because I am currently battling cancer and I know that there are many others in this struggle. This marathon will definitely help everyone." His presentation came before more than two dozen UT-Pan American alumni leaders meeting at the Wells Fargo Bank in Edinburg. Included in that session with Taméz were, from left: David Garza, president of the Houston chapter of the UT-Pan American Alumni Association; Dan Martínez, also with the Houston chapter; and Dr. Anthony Acosta, Ph.D., Multi-Media Program Director for Entravision Communications. The UT-Pan American Alumni Association has a website located at http://www.utpaalumni.com See related story later in this posting.
•••••• (more…)