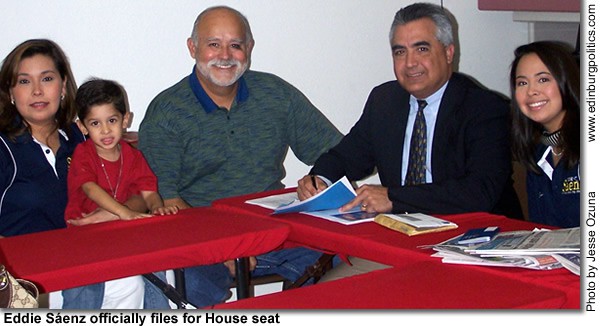 Eddie Sáenz, featured second from right, on Monday, December 31, officially filed for state representative, House District 40, to challenge Rep. Aaron Peña, D-Edinburg, in the March 4 Democratic Party primary. Sáenz was joined by his family and by Juan Maldonado, Hidalgo County Democratic Party chairman, and Maldonado's son, Juan, at the county Democratic Party headquarters in Pharr. Sáenz said that under the legislative terms of Peña and Peña's Austin allies, hundreds of thousands of eligible children have been stripped of their health benefits, college tuition costs have almost doubled at Texas' flagship university, families and small business are charged an average of 54 percent more in utilities, and homeowners are forced to pay more than twice the national average to insure their homes. Peña, meanwhile, criticized Sáenz for failing to appear at a local Democratic Party event onj Wednesday evening, January 2, hinting of some of the attacks Peña, a local trial lawyer, will launch against Sáenz, a civil engineer: "Based on information that has reached our campaign on his residence and his disregard and failure to appear at tonight's important Democratic function for a minimal debate he should really consider dropping out of the race," Peña wrote in his political website. Featured with Sáenz in this portrait are, from left, his wife, Sandra; Juan Maldonado and his father, Juan Maldonado; Eddie Sáenz; and Eddie and Sandra's daughter, Cassie. See story later in this posting.
••••••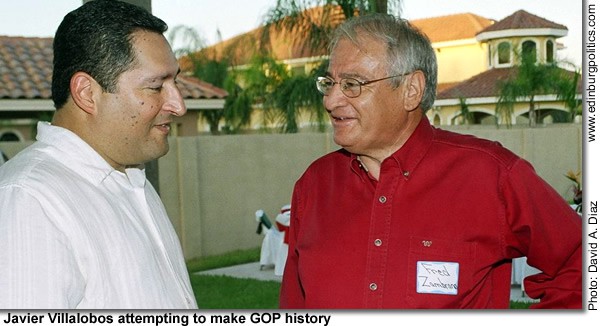 McAllen attorney Javier Villalobos, left, hears from a potential constituent, Fred Zambrano, last summer in McAllen at the onset of Villalobos' campaign run for state representative, House District 41 – currently held by Verónica Gonzáles, D-McAllen – which includes southwest Edinburg. Villalobos filed as a Republican candidate on Wednesday, January 2, marking his official first entry as a political candidate. If elected, Villalobos would be the first Republican to win a state representative seat in Hidalgo County. In addition to Villalobos/ Gonzáles race, which won't be decided until the November 2008 presidential election, there are two other contested battles for the Texas Legislature in Hidalgo County. Eddie Sáenz and Rep. Aaron Peña, D-Edinburg, are involved in the House 40 Democratic Party primary contest, and Rep. Ismael "Kino" Flores, D-Palmview, is being challenged by Sandra Rodríguez for the House 36 legislative post.
••••••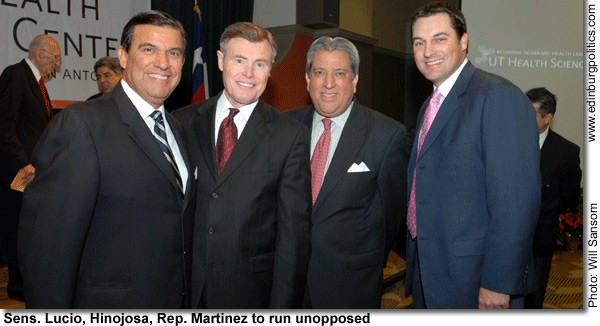 Sen. Eddie Lucio Jr., D-Brownsville, featured left during a recent event at the University of Texas Regional Academic Health Center in Harlingen, was one of three Hidalgo County lawmakers who drew no opponents for their respective legislative seats in 2008. In addition to Lucio, Sen. Juan "Chuy" Hinojosa, D-McAllen, and Rep. Armando "Mando" Martínez, D-Weslaco, also will be unopposed for reelection. Lucio and Hinojosa will begin serving new, four-year terms beginning in January 2009; Martínez will begin serving a new, two-year term in January 2009.
•••••• (more…)