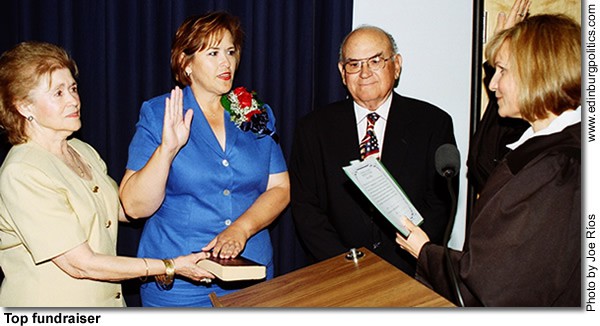 Edinburg City Councilmember Alma A. Garza, flanked by her parents, Dr. Omar and Dora Garza, took her oath of office on Monday, May 12, for a three-year term on the five-member governing body. Alma Garza, who for the first time in her young political career had faced an opponent, generated 63 percent of the vote, a significant margin of victory.  She was sworn in by Hidalgo County 206th District Court Judge Rose Guerra Reyna. Garza also raised more than $29,000 in campaign funds in the second phase of her campaign to help secure her victory, according to her campaign finance report filed with the City Secretary's Office. See story later in this posting.
••••••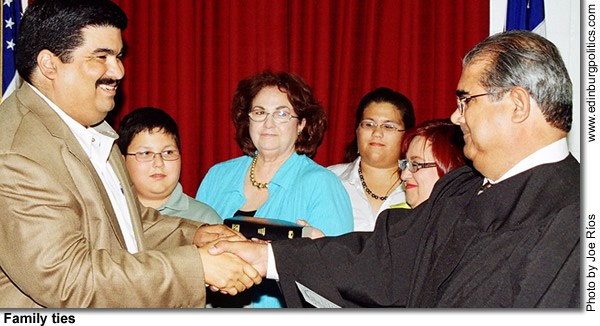 Gene Espinoza, left, who was reelected to a new three-year term on Saturday, May 10, is congratulated by his uncle, Justice of the Peace Charlie Espinoza, after the city councilmember, who was joined by his immediate family, was sworn in to office on Monday, May 12.  In addition to his own many supporters, Espinoza was helped in his reelection bid by generous contributions for several prominent Edinburg-area business leaders.  The most recent list of his contributors, along with the campaign financial supporters for Councilmember Alma Garza, are featured in a story later in this posting.
••••••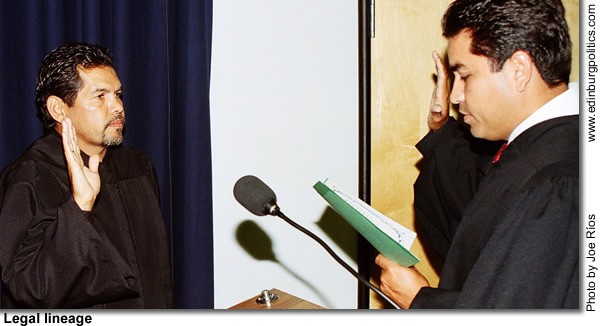 Edinburg Municipal Court Judge Toribio "Terry" Palacios, featured left, on Monday, May 12, was sworn in for another three-year term as presiding judge of the local court by  his nephew, Hidalgo County 92nd District Court Judge Ricardo Rodríguez, Jr.  Palacios, who is also a partner in the law firm of García, Quintanilla and Palacios in McAllen – which includes former Edinburg Mayor Richard García – serves a key role in the administering of justice in the community. Rodríguez was  a former Edinburg City Councilmember before resigning that post in October 2005 to make his own successful bid for district judge. According to CourtReference.com, municipal courts in Texas have original and exclusive jurisdiction over criminal violations of certain municipal ordinances and airport board rules, orders, or resolutions that do not exceed $2,500 in some instances and $500 in others. Municipal courts also have concurrent jurisdiction with the justice courts in certain misdemeanor criminal cases. In addition to the jurisdiction of a regular municipal court, municipal courts of record also have jurisdiction over criminal cases arising under ordinances authorized by certain provisions of the Texas Local Government Code. The municipality may also provide by ordinance that a municipal court of record have additional jurisdiction in certain civil and criminal matters. Municipal judges also serve in the capacity of a committing magistrate, with the authority to issue warrants for the apprehension and arrest of persons charged with the commission of both felony and misdemeanor offenses. As a magistrate, the municipal judge may hold preliminary hearings, reduce testimony to writing, discharge the accused, or remand the accused to jail and set bail.
••••••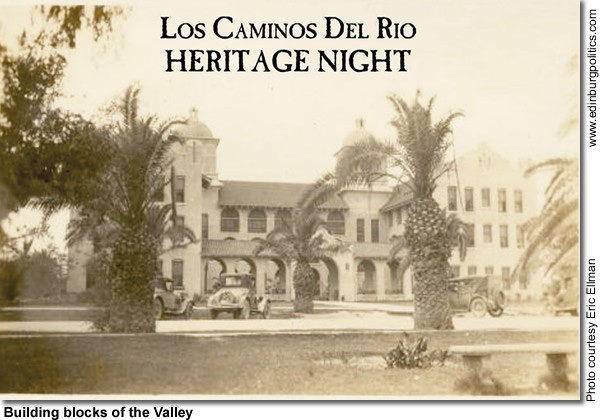 Dr. Scott Cook, one of the world's expert on Mexican brick culture, has a unique window on Valley's history, and he will be in Edinburg on Wednesday, June 11, to share those perspectives at the Museum for South Texas History, located at 200 N. Closner, immediately northeast of the Hidalgo County Courthouse. Accompanying him will be local musicologists and "North of the Border" radio show hosts Joe and Rosa Pérez (singing songs of the brick-makers).  The presentations will be held from 6 p.m. to 8 p.m., and wine and hors d'oeuvres will be provided.  Cook is professor emeritus of anthropology and interim director of the Puerto Rican and Latino Studies Institute at the University of Connecticut. He lives in Willimantic, Connecticut. There is a $5 donation requested, and the event calls for business casual attire. To RSVP or obtain more information, interested persons may call 956/ 776-0100, extension 311.
•••••• (more…)