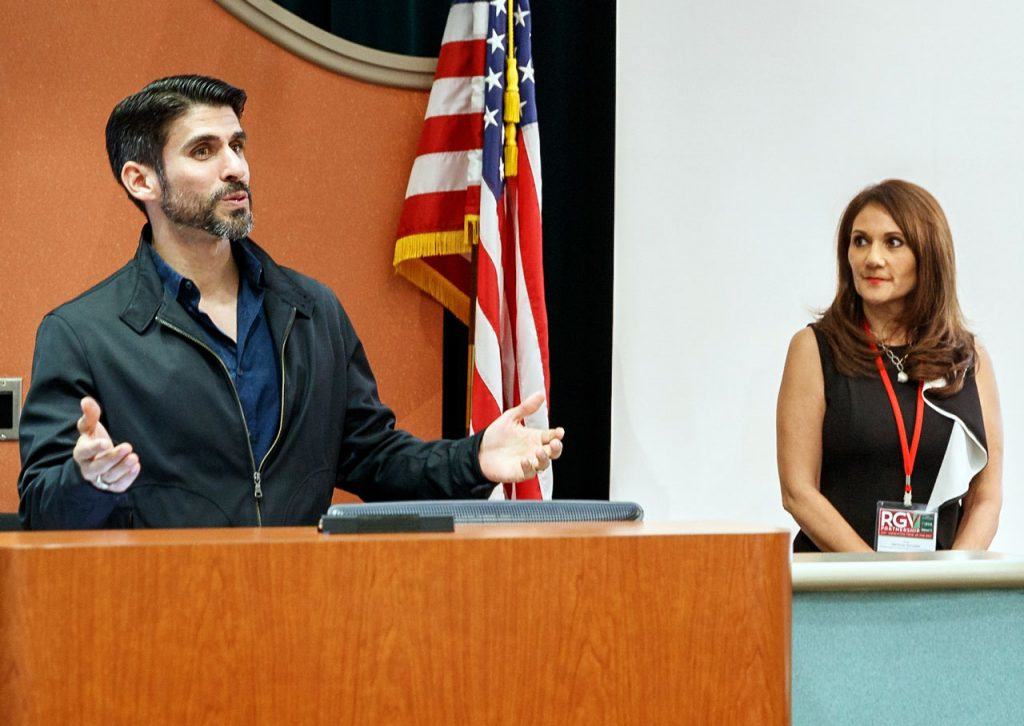 Featured: Rep. Eddie Lucio, III, D-Brownsville, with former Rep. Verónica Gonzáles, D-McAllen, observing, on Thursday, January 26, 2017, addressed lawmakers and their staffs from upstate, renowned Valley health professionals, and area leaders at the University of Texas Rio Grande Valley School of Medicine in Harlingen as part of the Rio Grande Valley Partnership tour for state legislators to answer questions about the state of medicine in the Valley.
Photograph By DAVID PIKE
The Mayor and City Council will part of a delegation that will be meeting with state lawmakers in Austin on Tuesday, February 7, 2017, helping promote the community's and region's top priorities for the ongoing 85th Regular Session of the Texas Legislature at the Capitol, the Edinburg Economic Development Corporation has announced. Since the mid-1990's, the mayor, city council, and Edinburg EDC leadership have played active and successful roles in promoting the legislative priorities for their community at the State Capitol. Their efforts have resulted in passing state laws and policies that have had a huge beneficial economic impact on the city. From lobbying on behalf of the University of Texas Rio Grande Valley and its School of Medicine in Edinburg, to helping secure funding that has converted U.S. Expressway 281 into Interstate Highway 69, the mayor, city council, Edinburg EDC Board of Directors, and their respective staffs, have worked with the city's state legislative delegation on behalf of their constituents. The Edinburg EDC, of which Agustín García, Jr. is Executive Director, is the jobs-creation arm of the Mayor and City Council. The Edinburg EDC Board of Directors is comprised of Mayor Richard García as President, Harvey Rodríguez, Jr. as Vice President, Elías Longoria, Jr. as Secretary/Treasurer, and Richard Rupert and Dr. Peter Dabrowski as Members. Edinburg EDC Board Vice President Rodríguez, Edinburg EDC Executive Director García, and Letty Reyes, Director of Business Development & Public Affairs for the Edinburg EDC, are scheduled to be in Austin as part of Rio Grande Valley Day. Mayor Richard García and Edinburg EDC Executive Director Agustín García, Jr. are not related.
•••••• (more…)