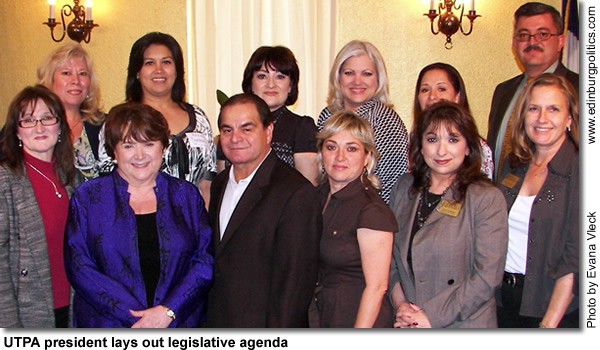 Dr. Blandina "Bambi" Cárdenas, featured first row, second from left, on Thursday, November 20, outlined some of the key measures that she hopes to secure for the University of Texas-Pan American during the upcoming regular session of the Texas Legislature, which convenes on Tuesday, January 13.  Cárdenas, the first female president of UT-Pan American, made her presentation during a legislative luncheon at the ECHO Hotel and Conference Center coordinated by the Edinburg Chamber of Commerce. She noted that graduates from UT-Pan American who apply to medical school have a higher acceptance rate than students from other Texas universities, a key point that will be used by area state lawmakers, who have pre-filed legislation to build a UT medical school in the Rio Grande Valley. In a related move, Mayor Joe Ochoa, featured to the left of Cárdenas, has pledged the city's support for plans by Doctors Hospital at Renaissance, which is considering building a cutting-edge medical conference center that would feature world-class medical professionals who would provide unprecedented seminars, including onsite surgeries, in the three-time All-America City. City Councilmember Agustín "Gus" García, Jr. (not included in this portrait) has been a key player in promoting Edinburg's participation in the discussions about DHR's medical conference center. "I do not want to identify just yet who the players are, but this project, if brought to fruition and marketed properly, could very well put Edinburg in a national spotlight," Councilmember García said. "I have been assured by the investor group that with the city's participation, they would name it the 'Edinburg Medical Conference Center'."  See lead story later in this posting.
••••••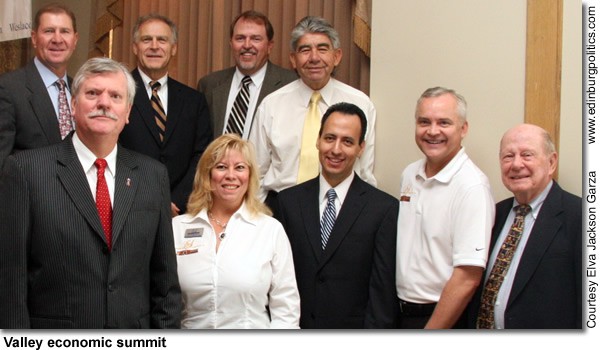 In a time of challenging national economic data, positive news was recently announced at the Edwards Abstract and Title Co.'s annual economic outlook symposium. "Jobs are everything to an economy, and Hidalgo County has delivered for more than a decade," said Ted C. Jones, Ph.D., Senior Vice President and Chief Economist for Stewart Title Guaranty Company. "Hidalgo County and the cities therein have grown jobs at 4.5 times the rate of the U.S. per year, compounded annually for the past 10 years," added Jones. "In the latest twelve months ending September 6, nine hundred net new additional jobs were created in the local economy." Another highlight of the forum was the participation of a panel of economic development experts from the cities of McAllen, Edinburg and Weslaco who shared their views regarding the factors that are contributing to the continued commercial and industrial growth of the region. Participating in the economic development panel were, first row, from left:  Dr. Ted C. Jones;  Elva Jackson Garza, Edwards Abstract and Title Co.; Ramiro Garza, executive director, Edinburg Economic Development Corporation; Byron Jay Lewis, president of Edwards Abstract and Title Co.; Stewart Morris, Sr. with Stewart Title Guaranty Company. Back row, from left: (back) Stewart Morris, Jr. with Stewart Title Guaranty Company; Keith Patridge, President and CEO, McAllen Economic Development Corporation; Pat Townsend, Jr., President and CEO, Mission Economic Development Authority; and Hernán González, Executive Director of the Weslaco Economic Development Corporation. See story later in this posting.
••••••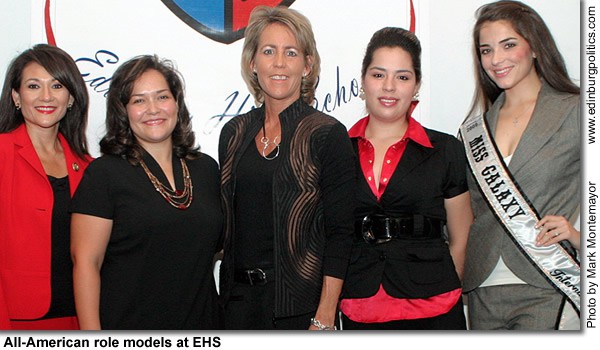 Young ladies who are seniors at Edinburg High School were recently addressed by prominent Texans during the Young Women's Summit, a forum which allows the students to interact with some of the most successful women in their respective fields. The Young Women's Summit developed from research completed by the American Association of University Women (AAUW) which found that Hispanic girls are the most under- represented group of post-secondary graduates. Featured, from left: Rep. Verónica Gonzáles, D-McAllen; Gloria Cotton Wells; Deann Craft; María Piña; and Jennifer Ruiz, Miss Galaxy International 2009.
••••••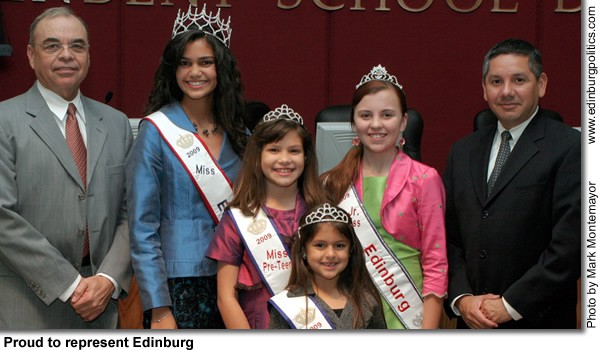 Miss Edinburg 2009 and her counterparts were recently honored by the Edinburg school district for their outstanding efforts in representing the city and school district, and for bringing honor to their respective families. Featured in this portrait during a recent school board public session were, from left: Gilberto Garza, Jr., superintendent of the Edinburg school district; Alexis García, Miss Edinburg 2009; Avery García, Miss Pre-Teen; Anahi García, Little Miss Edinburg; Rachel Tgunberg, Junior Miss Edinburg; and Omar Palacios, president of the Edinburg school board.
••••••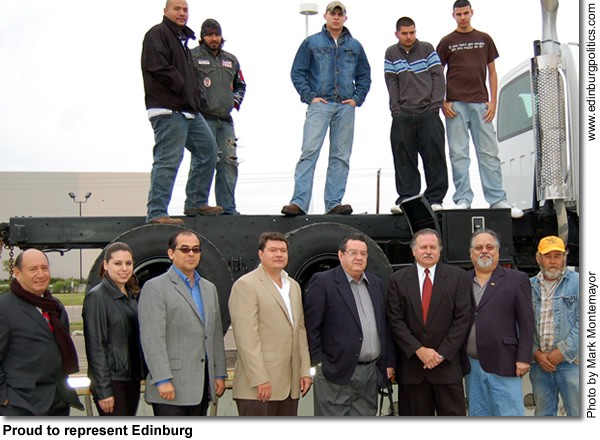 G&C Avanti Trucking LLC in Edinburg is partnering with South Texas College on an experimental project that calls for students in the Precision Manufacturing Technology Program to help fabricate prototypes of several automotive parts that will enable vehicles, such as this GMC 5500 truck, to travel in up to five feet of water. Pictured are (front row, l-r): Chente Aguilar from G&C Avanti Trucking LLC; Leticia Reyes from the Edinburg Economic Development Corporation; Mario Reyna, STC division dean of business and technology; Efrain García, Jr.; Efrain García, Sr.; Rodolfo Sánchez from G&C Avanti Trucking LLC; Alberto Díaz from Santos International; and G&C Avanti technician Marcelo Cantú. STC Precision Manufacturing Technology instructor Harold Bernard and PMT students Zeke Sáenz, Erick Vega, Ricardo García and René Vera are pictured on top of truck. See story later in this posting.
••••••