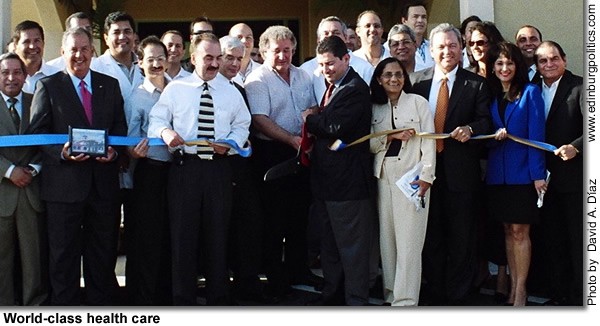 Medical, legislative, and community leaders from Edinburg and Hidalgo County participated in a July 11 ribbon-cutting ceremony welcoming the $15 million Cancer Center at Renaissance to southwest Edinburg, the latest phase in a $150 million expansion of Doctors Hospital at Renaissance. The 54,000-square-foot facility will bring 50 new employees and generate a $30 million economic impact to the city and the surrounding communities, said Mayor Joe Ochoa. "This is only a tip of the iceberg, knowing that we will have, when all of this expansion is finished, more than 1,000 employees and more than $1 billion in economic impact to this region and its economy," Ochoa added. Former Mayor Richard García, who serves as the president of the Edinburg Economic Development Corporation – of which Ochoa is also a member – said the Cancer Center serves as another economic-development prize and recruiting tool for the city. "From an economic development standpoint, a facility such as this helps to retain and attract major employers, because one of the things their employees look for is access, locally, to very high-quality health care," said García. "Many people were having to go to San Antonio and Houston to receive the technology that this hospital now has available." See story later in this posting.
••••••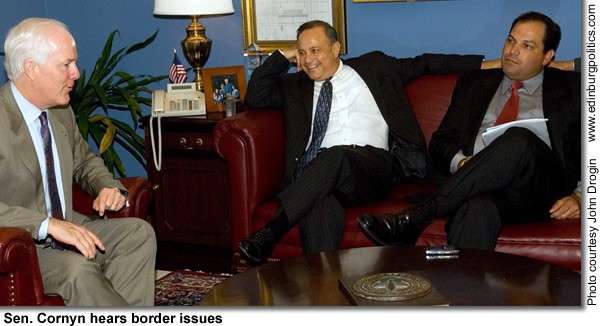 U.S. Sen. John Cornyn, R-Texas, left, meets with Cameron County Judge Carlos Cascos (center) and Hidalgo County Judge J.D. Salinas, III, on Wednesday, July 11, to hear concerns from border leaders over key issues. Among other topics, Cornyn updated Valley leaders on border security and immigration reform. He reiterated his commitment and work to ensure that no border fencing will move forward without local input. He also committed to work with them to find innovative solutions to border security, like enhancing natural barriers and the control of Carrizo cane. See relates story later in this posting.
••••••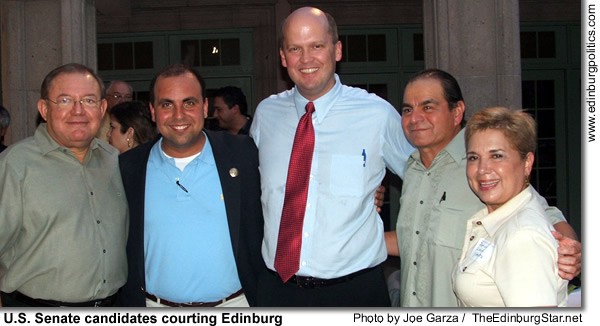 Mikal Watts, center, is one of two Democrats who have announced preliminary plans to challenge U.S. Sen. John Cornyn, R-Texas, in the November 2008 general election. Watts, shown here during a recent fundraiser hosted in Edinburg at the home of former Hidalgo County Judge Ramón García, could be facing Houston state Rep. Rick Noriega, D-Houston, for the March 2008 Democratic Party nomination to face Cornyn. Rep. Aaron Peña, D-Edinburg, has signed a letter urging Noriega to run for U.S. Senate, while Rep. Verónica Gonzáles, D-McAllen, who represents southwest Edinburg, says she is not ready to take a sides in the potential Democratic showdown. Featured with Watts at the local fundraiser are, from left: García; Rep. Armando "Mando" Martínez, D-Weslaco; Watts; Edinburg Mayor Joe Ochoa; and Judge Linda Yañez of the Texas 13th Court of Appeals. See story later in this posting.