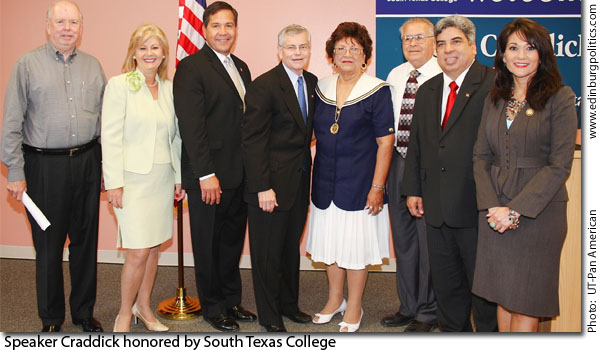 Texas Speaker of the House Tom Craddick on Wednesday, April 30, told area residents in McAllen that he has been a champion for Texas community colleges since his 1969 election as a state representative from Midland. It was his work with Midland College, he says, that led him to realize the important role of community colleges. "Being here today makes time served in the legislature worthwhile," Craddick told a crowd during his late morning visit to the South Texas College Pecan Campus in McAllen. The college honored Craddick at a reception and thanked him for his many contributions to STC and other Texas community colleges. Featured with him in this portrait are, from left: STC Board of Trustees member Mike Allen; STC President Dr. Shirley Reed; Rep. Ismael "Kino" Flores, D-Palmview; Craddick; STC Board of Trustees president Irene García; Palmview Mayor Jorge García; Rep. Aaron Peña, D-Edinburg; and Rep. Verónica Gonzáles, D-McAllen. See story later in this posting.
••••••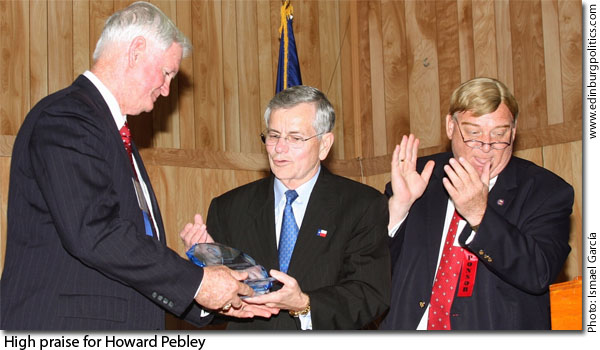 Howard Pebley, featured left, on Wednesday, April 30, in Pharr received a special award from Speaker of the House Tom Craddick, center, honoring Pebley, President of McAllen Construction, for his many years of dedicated service to the Republican Party and the community. Craddick, a Republican from Midland, was the keynote speaker for the Lincoln Day Dinner, which raises funds for the Hidalgo County Republican Party. Hollis Rutledge, featured right, who is chairman of the Hidalgo County Republican Party, told more than 100 supporters at the event of Pebley's considerable professional and community achievements, ranging from serving as chairman of the McAllen Economic Development Corporation, being appointed by then Gov. George W. Bush to the One Call Board of Texas, to holding the leadership role of President of the Associated General Contractors of Texas (Highway, Heavy Utility, and Industrial Branch).
••••••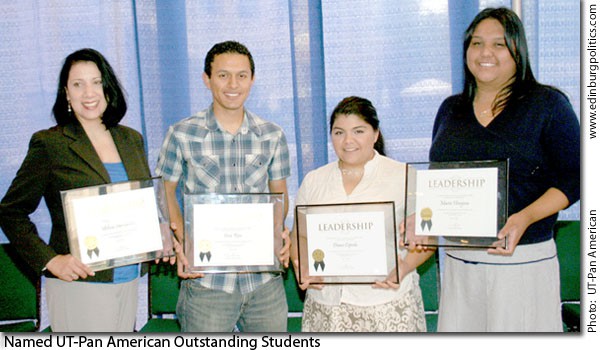 Five student leaders at The University of Texas-Pan American were honored during the Salute the Leaders Award Luncheon held April 17 as part of the annual National Student Leadership Week April 14 – 19. Now in its fourth year, the program hosted by the UTPA Student Leadership Academy and Program, honors outstanding university students for campus and community involvement. Students are nominated based on academic achievement, demonstrated leadership, and/or service to the community. Forty-four students were nominated. Featured are award recipients Melissa Hernández, graduate student in occupational therapy, from Pharr; Cruz Ríos, senior communications major, from Edinburg; Diana Cepeda, senior biology major, from Los Fresnos; and María Hinojosa, senior bilingual education major, from Donna. Not pictured is James Berglund, senior biology major, from Corpus Christi. For more information on the Student Leadership Academy, contact Amy Martin, program coordinator, at 956/381-2262.
••••••