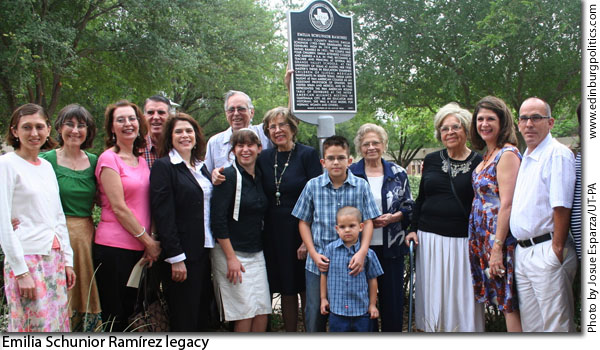 The first historical marker on The University of Texas-Pan American grounds was unveiled April 26 honoring Emilia Schunior Ramírez (1902 – 1960) a South Texas educator with deep roots in Edinburg. More than 40 community members, family and friends attended the celebration commemorating her life. The marker site was erected near Emilia Schunior Ramírez hall, located off of Sugar Road in Edinburg, which is named after Ramírez and once served as a women's dormitory. Pictured at the unveiling of the Hidalgo County historical marker honoring Emilia Schunior Ramírez are her children, along with their families, who came to the event at the UTPA campus. "This is a joyous occasion for the University as we not only celebrate our first historical marker on campus, but also honor the extraordinary life of Emilia Schunior Ramírez, a world-class educator, who made an impact on many lives in South Texas," UTPA President Dr. Blandina "Bambi" Cárdenas said. Emilia's eldest son, Alfonso Ramírez, who was Edinburg's first Hispanic mayor in the 1950s said his mother was a learner and spent most of her time continuing her education, See story later in this posting.
••••••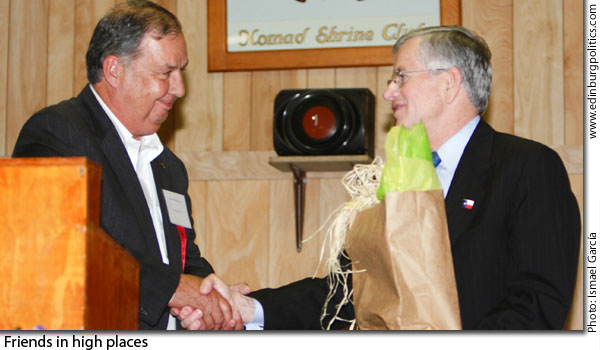 McAllen Mayor Richard Cortéz, featured left, on April 30 welcomed Speaker of the House Tom Craddick, R-Midland, at a major fundraiser in Pharr for the Hidalgo County Republican Party. Cortéz, who presented Craddick with a token of appreciation from McAllen for Craddick's work on behalf of South Texas College, continues to build his relationships with the top legislative leadership in Austin, which will be considering the legislative priorities from the McAllen City Commission beginning in January 2009. One of those efforts may include a plan to bring a University of Texas-Pan American facility into McAllen. Cortéz hopes that his city, local legislators, and the UT System can work out a deal with the Texas Legislature to build a state-of-the-art planetarium, known as a digital dome theatre, in the City of Palms. The idea has been in the development stage for about a year, said Cortéz, who wants the UTPA high-technology component to be one of the focal points of an even more ambitious goal – the creation of a high-end retail, entertainment, and housing district – known as "Central Park" – to be built near La Plaza Mall. The value of such a facility would extend beyond tourism dollars, Cortéz contends – it would inspire thousands of Valley students to seek education and careers in science, engineering, and technology. See related story.
••••••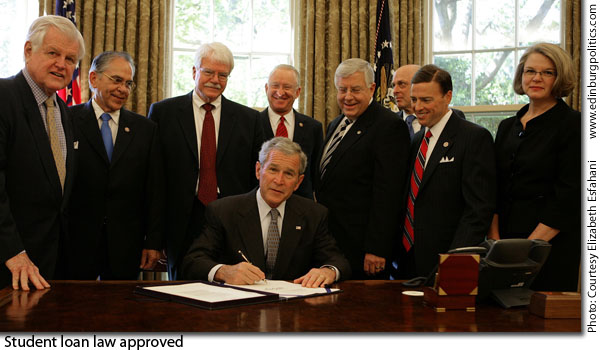 President George W. Bush signs H.R. 5715 into law on Wednesday, May 7, 2008, during a ceremony in the Oval Office. The bill, "Ensuring Continued Access to Student Loans Act of 2008," is designed to provide continued availability of access to the Federal student loan program for students and families. Looking on are, from left: Sen. Ted Kennedy, D-Massachusetts; Congressman Rubén Hinojosa, D-Mercedes; Congressman George Miller, D-San Francisco; Congressman Buck McKeon, R-Santa Clarita, California; Sen. Mike Enzi, R-Wyoming; Secretary of Treasury Hank Paulson; Congressman Ric Keller, R-Orlando, Florida; and Secretary of Education Margaret Spellings. See story later in this posting.
•••••• (more…)