Edinburg school board president Carmen González on Tuesday, April 8, drew pieces of paper containing the names of fellow trustees Greg García, Jr. and Robert Peña, Jr. to determine the new length of their terms of office. The drawing of the names was authorized by a controversial new state law, according to school board attorney Jacques Treviño, that will eventually result in all seven school board trustees having their terms of office increase to four years from its current three-year length, and switch the month for school board elections to November from May. García, Peña and trustee Jaime Chavana have objected, contending the state law was voluntary, not mandatory, and that voters in the school districts should be the only one with the power to make those changes. González and the other three school board trustees say the new state law required the changes, whether they agree with the results or not, and that view has been supported by the Texas Attorney General and the Texas Secretary of State. The school board attorney, seen here, coordinated the drawing, which will be broadcast beginning of Friday, April 11, on the school district's television channel on cable 17. García and Peña did not attend the special board meeting that was scheduled specifically for the drawing. See story later in this posting.
••••••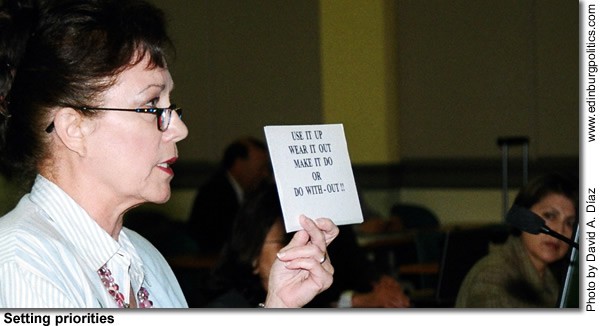 Fern McClaugherty of Edinburg, a community activist who looks out for waste in government, on Tuesday, April 8, urged the Edinburg school board and area voters to reject two school construction bond issues that will be on the May 10 ballot. She express her sentiments with a card bearing the following theme against the two proposals, which involve almost $150 million in new debt: "Use it up, wear it out, make it do, or do without." Supporters of the bond issue contend that the bond election will provide facilities needed to improve educational attainment. Proposition 1 includes building four (4) elementary schools, two (2) middle schools; converting Harwell Middle School into a fourth high school; three (3) multi-purpose fine arts centers at each of the existing high schools; Brewster School addition/renovations, and land acquisition for a total of $111,920,000. Proposition II includes $37,675,000 of 1998 Lease Purchase Bonds to be converted into Series 2008 voter authorized IFA supported bonds.
••••••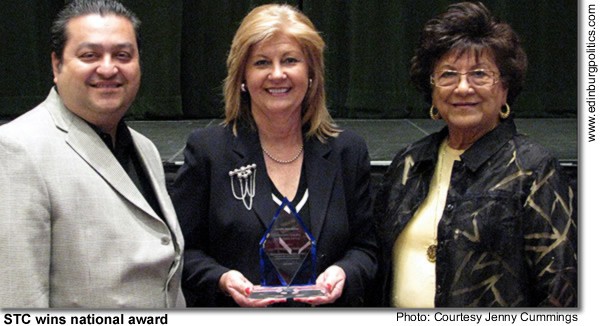 South Texas College is a winner of the 2008 MetLife Foundation Community College Excellence Award. The announcement was made Tuesday, April 8 at the American Association of Community Colleges annual convention held in Philadelphia. The other national winner is The Community College of Baltimore County in Maryland. As part of the award, each college receives a $30,000 grant to continue creating and implementing effective strategies for aiding underrepresented students, as well as using data to target and assess strategies to improve student outcomes. The two colleges were chosen based on their ability to demonstrate determined leadership, innovative programming and attention to outcomes. The result: clear improvements in meeting the varied learning needs of low-income, first-generation, immigrant and working students. Representatives from South Texas College accept the MetLife Foundation Community College Excellence Award. From left are Roy de Leon of the STC Board of Trustees, President Shirley A. Reed, and Irene García, chair of the STC board. See story later in this posting.
•••••• (more…)