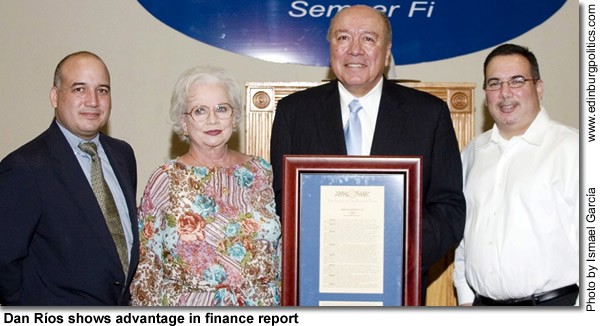 Hidalgo County 449th District Court Judge Daniel G. Ríos of Edinburg, featured left in this file photo from last fall, has raised more than $67,000 in political contributions during the first six months of 2008, according to his campaign finance report filed with the Texas Ethics Commission. Ríos, former Edinburg city attorney, was appointed last November by Gov. Rick Perry to the local district court, which has jurisdiction over juvenile matters.  He joined his family to receive a House Concurrent Resolution, authored by Rep. Aaron Peña, D-Edinburg, which honored the memory of Dr. Luis M. Ríos, Sr., a renowned plastic surgeon and the patriarch of their family, for his many contributions to the region. Featured during this presentation were, from left: Dan Ríos; mother Mary Ann Ríos; Sen. Juan "Chuy" Hinojosa, D-McAllen, who sponsored the legislation; and Dr. Luis Ríos, Jr.  See lead story on Ríos/Contreras campaign finance report later in this posting.
•••••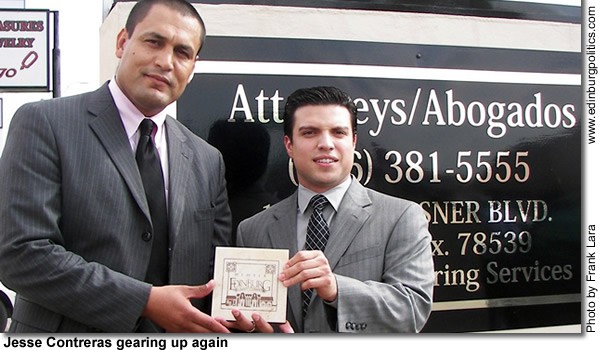 Jesús "Jesse" Contreras, featured left during a recent grand opening of his law office in Edinburg, is gearing up once again for a countywide campaign, this time against Republican Judge Daniel G. Ríos in the November 4 election. Contreras, a longtime Mercedes Municipal Court judge, defeated fellow Democrat Judge Maxine Longoria-Nash in the March 4 party party primary to face Ríos, who was appointed to the bench last fall by Gov. Rick Perry.  Contreras is featured here with law partner Sergio Muñoz at their local office. The 449th District Court focuses on legal cases involving juveniles. See lead story on  Ríos/Contreras campaign finance report later in this posting.
••••••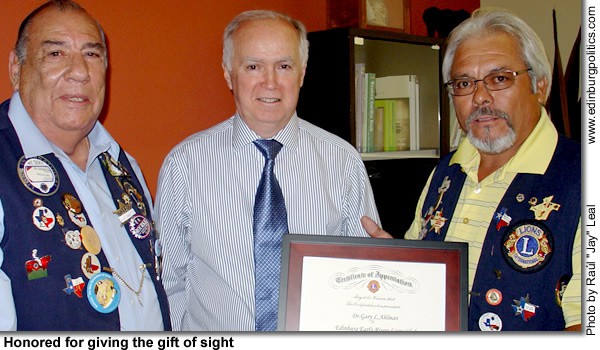 The Edinburg Early Risers Lions Club has awarded Dr. Gary L. Ahlman, featured center, an Edinburg optometrist,  a certificate of appreciation for his many years of providing disadvantaged children with free eye exams and glasses. Ahlman has worked with Lions Clubs in Edinburg and the Hidalgo County Indigent Program to provide free eye exams and eyeglasses to children of families who are economically disadvantaged. Ahlman estimates he has helped provide free eyeglasses for over 5,000 Edinburg-area children. Featured with Ahlman are, to his left, Raúl M. Leal, secretary/treasurer for the Lions Club, and Joe Longoria, president for the Edinburg Early Risers Lions Club. See story later in this posting.
••••••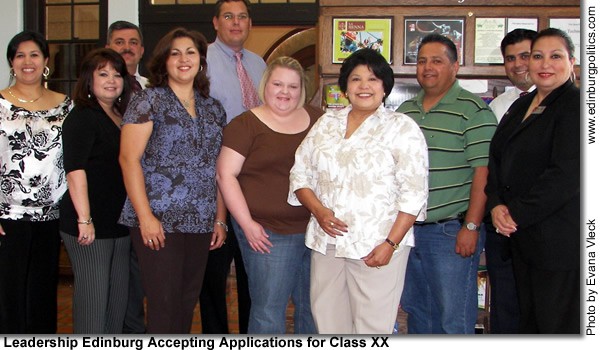 The Edinburg Chamber of Commerce Leadership Edinburg Class is currently accepting applications for Class XX.  Leadership Edinburg is a growing organization that strives to encourage a better Edinburg through strong leadership skills focusing on politics, education, and quality of life.  There are more than 400 graduates who have taken the challenge and completed each program of work with pride and great accomplishment. Graduates of Leadership Edinburg typically continue to apply what they learned and demonstrate it by showing interest in community involvement including serving on committees and at times politics. Tuition is only $400 to participate and is due by August 29.  Applicants should make arrangements to sign up as soon as possible; as there are limited spaces are available.  The retreat will take place at South Padre Island, on September 12th & 13th at La Quinta.  For more information on Leadership Edinburg or to register please call Letty González at the Edinburg Chamber of Commerce at 956-383-4974. Featured from left are the 08-09 Leadership Edinburg Steering Committee: Cynthia Bocanegra, Pilar Corpus, Abel Leal, Naomi Peralez, Steve Crossland, Destiny Campos, Edna Peña, Jay Flores, Jerry Salazar, and  Pamela Dougherty.
•••••