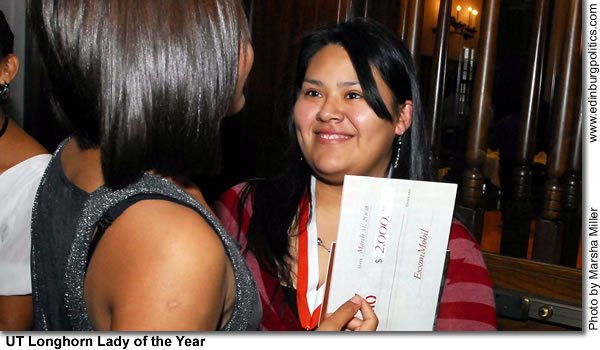 High school students Melissa Castaño of Edinburg, featured center, and Atanacio Gómez of Eagle Pass were named Students of the Year on Monday, March 31 by the Migrant Student Graduation Enhancement Program at The University of Texas at Austin. Castaño, a senior at Johnny G. Economedes High School, is the oldest child of Ricardo and María del Jesús Castaño. She ranks 13th in a class of 537 students and is the highest-ranked migrant student in her school. "She is a student who has a quiet demeanor and who excels in all her classes because she happens to be a very intelligent young lady," said Castaño's migrant counselor, Diana Alejos. "My ideal is to change a life and assist the people in my community," Castaño said. See story later in this posting.
••••••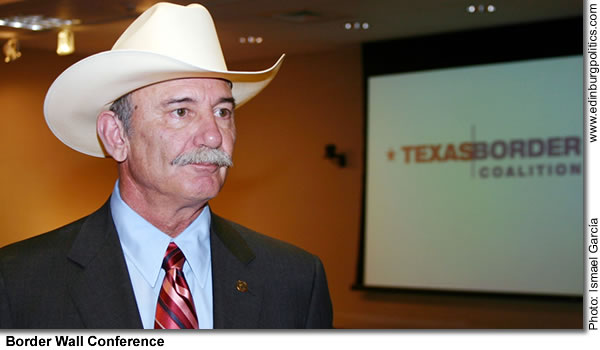 Eagle Pass Mayor Chad Foster, chairman of the Texas Border Coalition, is among the key Texas border leaders scheduled to be in Edinburg on Tuesday, April 15, from 10:30 to noon, for a forum on the controversial planned Border Wall. The session, which is free and open to the public, will be held at the University of Texas-Pan American in the Student Theatre, located in the Student Union Building on campus. "We hope that this event contributes to UTPA's standing as a national resource for the study of Latin America and its borders with the United States," said Dr. Glenn A. Martínez, associate professor of modern languages and literature, who also serves on the board of directors for the Edinburg Economic Development Corporation, which is the jobs-creation arm of the Edinburg City Council. For more information on the forum, contact the Office of International Programs at 956/381-3572. See lead story later in this posting.
••••••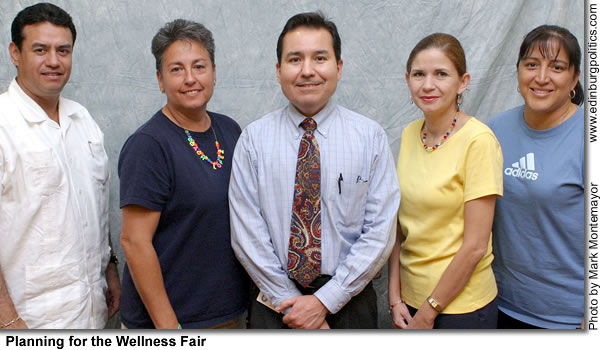 The Edinburg CISD School Health Advisory Council (SHAC) will host its seventh annual ECISD Wellness Fair at the Harwell Middle School Gym on Thursday, April 10 from 6 – 8 p.m., announced Albert López, RN, Coordinator of Health Services. Harwell MS is located at 801 E. Canton Road. The wellness fair will feature various health-related entities from throughout the community as well as a food show sponsored by the ECISD Child Nutrition Department and a Physical Education Showcase by eight elementary schools. The SHAC is a state-mandated council made up of community members, parents and school district staff. The purpose of the SHAC is to address issues that deal with health, nutrition and a safe school environment with the intent to reflect the values of the community. Membership on the health advisory council is approved by the local school board every school year. For more information on the wellness fair, contact the ECISD Health Services office at 289-2300. Edinburg CISD School Health Advisory Council members (left to right) Mike Castillo, parent member; Esther López, Physical Education teacher; Albert López, RN, Coordinator of Health Services; and Dalia Fellows, parent member, plan for the health fair at the Harwell Middle School Gym. Not pictured are Mary DeLuna, director of Child Nutrition; Leo Reyes, PE teacher; and Iris Pérez, ECISD Dietitian.
••••••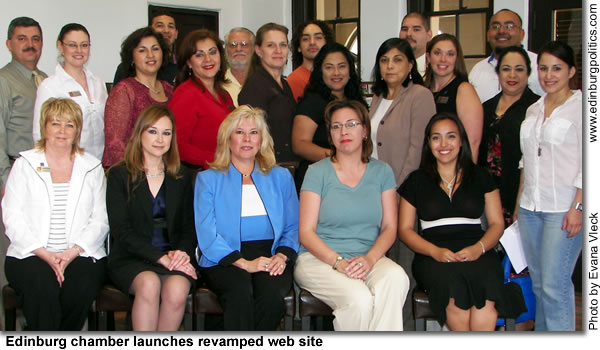 The Edinburg Chamber of Commerce has revamped its web page presence on the Internet, thanks to a "virtual face lift" and brand new web page designed by Web Magik. The domain and web address will remain the same at http://www.edinburg.com and will continue to update the community on the local chamber's news, including ground breakings, ribbon cuttings, seminars, event/meeting dates and more. The user friendly website includes an updated calendar, membership listing, photos, and news involving chamber and city events in which the chamber partners with other entities on such events as Texas Cook'em: High Steaks in Edinburg, set for July 4. The website was unveiled on March 31 at the Edinburg Chamber of Commerce Board of Directors meeting held at the depot. If you would like more information on chamber events and news please call 956-383-4974, or log onto http://www.edinburg.com. Featured in this portrait are some of the active members of the Edinburg Chamber of Commerce, including, standing, from left: Abel J. Leal, Tiffany Gómez, Naomi Perales, Dalia Arce, Dr. Walt Green, Flo Prater, Ian Ochoa, Dina Araguz, Alicia Campos, Aaron Ramírez, Holly Martin, Frank Lara, and Marie García; and seated, from left: Gisela Hughes, Paulina Solis, Elva J. Garza, Jeannie Sandoval, and Eva Rodríguez.
••••••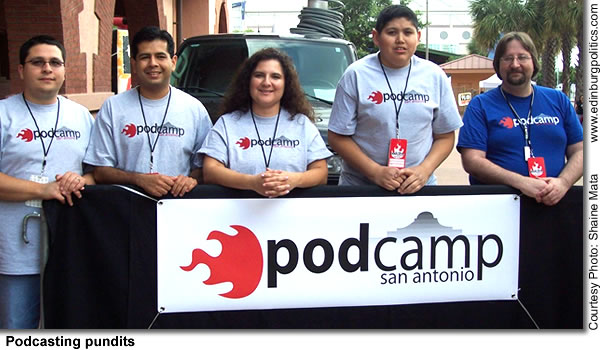 South Texas is making its mark in the realm of online media. PodCamp San Antonio Numero Dos is scheduled for May 3, 2008 at El Tropicano Riverwalk Hotel. PodCamp San Antonio is an event that attracts online media stars and producers from throughout the state, and has a global audience. Technology events like PodCamp San Antonio Numero Dos have typically been held in cities like Austin, Houston, or Dallas; but they never specialized in podcasting. According to http://www.podcasting-tools.com, podcasting is quickly becoming a buzz word among the techie crowd. So what is podcasting, anyway? Podcasting is online audio content that is delivered via an RSS feed. Many people liken podcasting to radio on demand. However, in reality, podcasting gives far more options in terms of content and programming than radio does. In addition, with podcasting, listeners can determine the time and the place, meaning they decide what programming they want to receive and when they want to listen to it. Listeners can retain audio archives to listen to at their leisure. While blogs have turned many bloggers into journalists, podcasting has the potential to turn podcasters into radio personalities. Key organizers for PodCamp San Antonio Numero Dos are featured here, from left: Richard Galvan, Shaine Mata, Jennifer Navarrete, Michael De Leon, and Lans Hobart. See story later in this posting.
••••••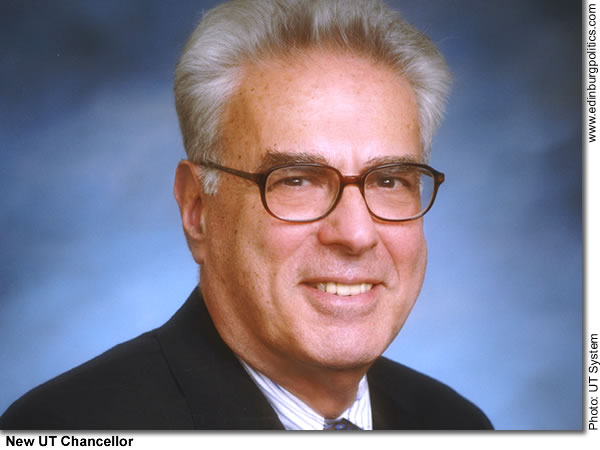 Kenneth I. Shine, M.D., executive vice chancellor for health affairs at The University of Texas System, was appointed interim chancellor of the UT System on Tuesday, April 1, by Regents' Chairman H. Scott Caven, Jr. The appointment is effective May 1. Shine, a world-renowned cardiologist and physiologist with outstanding academic and medical credentials, will succeed UT System Chancellor Mark G. Yudof, who last week was named the president of the University of California system. See story later in this posting.
•••••• (more…)