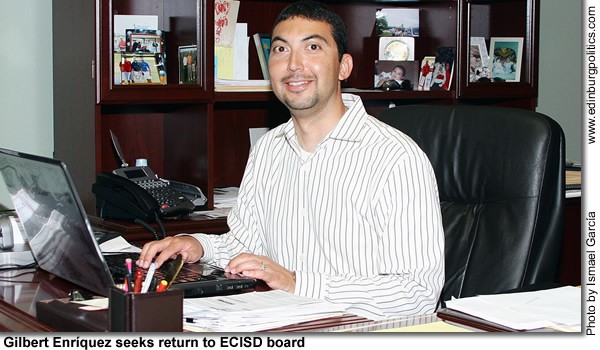 Gilbert Enríquez, a former Edinburg school board president, also serves as executive vice-president of Enríquez Enterprises, Inc., one of the more renowned construction firms in the region. He said he is running for election to the school board on November 4 in order to continue helping the community which has helped shape his life. "I am here to help, to offer my leadership, skills, experience to everyone, to help everybody prosper, not one individual," Mr. Enríquez pledged. "I never had any kind of ambition to be in politics or to be an elected official, but I felt I needed to give back to the district that provided me the education that got me to where I am today." See lead story later in this posting.
••••••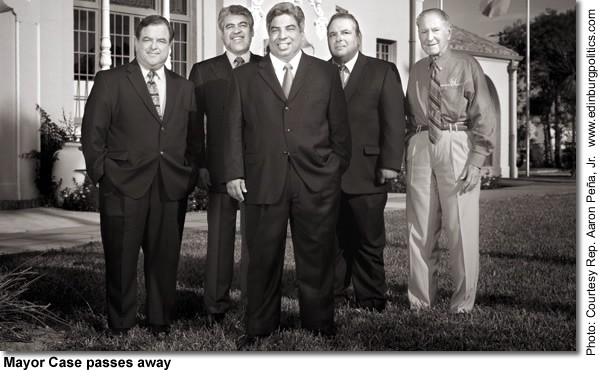 Former longtime Mayor Ronald Case, seen here on the right, passed away on Friday, September 19, Rep. Aaron Peña, a lifelong supporter of the popular city political leader, has announced. Case, who served as mayor from 1973 to 1981, was featured in this recent photo which included three other former Edinburg mayors with the state lawmaker.  Peña characterized the former mayor as being "the epitome of a gentleman public servant stepping forward to serve the community he loved. I am very proud to have been a friend and admirer of Mayor Case."  From left are: former Mayor Richard Alamia; former Mayor Richard García; Rep. Peña; former Mayor Rudy De la Viña; and former Mayor Case.  See story later in this posting.
••••••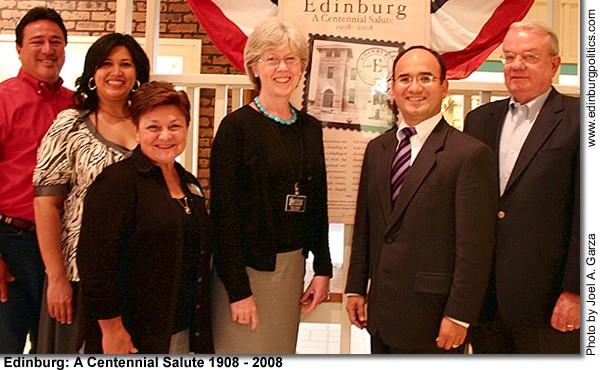 Museum opens The Museum of South Texas History opened its newest exhibit, Edinburg: A Centennial Salute 1908 – 2008, on Wednesday, September 10. A ribbon cutting hosted by the Edinburg Chamber of Commerce and a private viewing was held for Museum FRIENDS. Installed in the Upper Old Jail Gallery, this exhibit presents a sampling of photographs and artifacts from the museum's collections and is organized into four themes: education;government; civic life; and commerce. One of the largest artifacts in the exhibit is a mural depicting Edinburg Junior College students and academic subjects.  This mural was painted by Joseph Brennan and Humberto Cavazos and was presented to the college by Emil Fossler, president of the sophomore class. The exhibit coincides with the Edinburg Centennial Committee's city- wide celebration, October 5-10. Throughout the week, various organizations will host mini-celebrations, including Edinburg's largest birthday cake, an essay contest, and a fireman's parade. An open house will be held at the Museum of South Texas History on October 5, from 1 p.m. to 5 p.m. As a gift to the community, the museum will have free admission. Family activities include Edinburg Trivia, an Edinburg activity book, entertainment, refreshments, and, of course, a few shared words to commemorate the occasion. For a complete listing of the city wide celebrations, visit http://www.edinburg.com, or call 383-6911. Featured, from left: chamber board members Gus Casas; Cynthia Bocanegra; Maggie Kent; Shan Rankin, the museum's executive director; Lee Cavazos; chairman-elect of the local chamber of commerce; and Willard Moon, chairman-elect of the board of directors for the museum.
••••••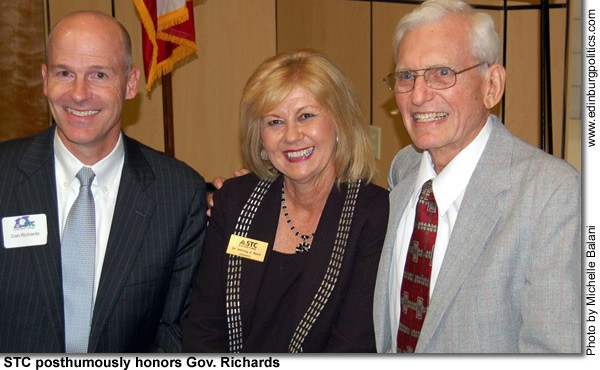 Dan Richards, son of former Gov. Ann Richards, featured left, celebrates with Dr. Shirley A. Reed, South Texas College president, and Othal Brand, Sr., former McAllen mayor, during the Tuesday, September 16 naming of the college's Pecan Campus Administration Building in honor of the late state leader, who died on September 13, 2006.  The Democratic governor played a large role in the early 1990s in bringing the college to fruition, helping thousands of Hidalgo and Starr county residents realize their goals of attaining a higher education and a better quality of life.  See story later in this posting.
••••••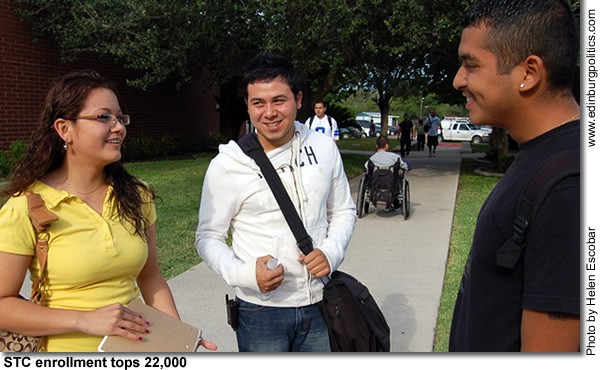 Janet Escalante, Pedro de la Fuente and Lucio Torres are just three of the more than 22,000 students who have decided to continue their higher educations at South Texas College this fall. The landmark figure was reached at the two-county community college begins its 15th year anniversary.  See story later in this posting. (more…)