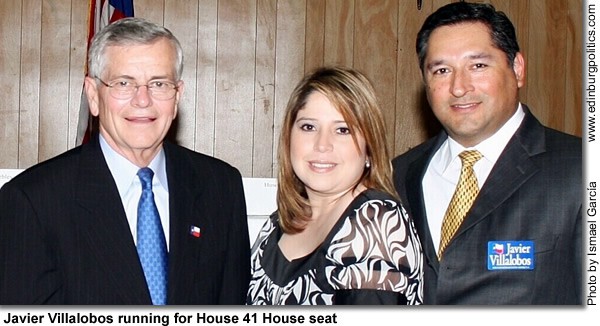 For McAllen attorney Javier Villalobos (featured right), who is seeking the House District 41 state representative post on November 4, his life's journey has seen him struggle his way out of the agricultural fields of Texas and Minnesota to achieve personal and professional successes that include raising a loving family, and becoming partner of a law firm which has offices in McAllen, San Antonio, and Houston. However, he firmly believes, good fortune has little meaning if a person doesn't use his life's blessings to help others succeed as well. "I want everyone who works hard to have the same opportunities I've had," Villalobos says. "That means we need new leadership in Austin advocating for our values: quality education, support for small businesses, and lower taxes." Villalobos is seen here with his wife, Annette, and Texas Speaker of the House Tom Craddick. See lead story in this posting.
••••••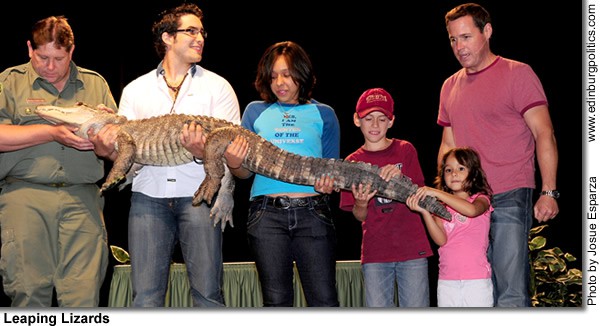 Jeff Corwin, wildlife conservationist and host of the popular Animal Planet shows The Jeff Corwin Experience and Corwin's Quest, was the first speaker for the University of Texas-Pan American's annual Distinguished Speakers Series that kicked off Tuesday, September 30 at the Fine Arts Auditorium. Hundreds of students, faculty, staff, and the general public packed the auditorium for an opportunity to hear from Corwin and meet some of his animal co-stars.  At the end of the event, Corwin took questions from the audience. Featured far right is Corwin with audience members who participated in the presentation by holding one of several reptiles he brought with him.  The next Distinguished Speakers Series will feature Dr. Jehan Sadat, the widow of former Egyptian President Anwar Sadat.  She is a lifelong advocated for women and children's rights.  She will be in Edinburg at the Fine Arts Auditorium on Monday, November 17.  For more information on the series, call 956/316-7989.
••••••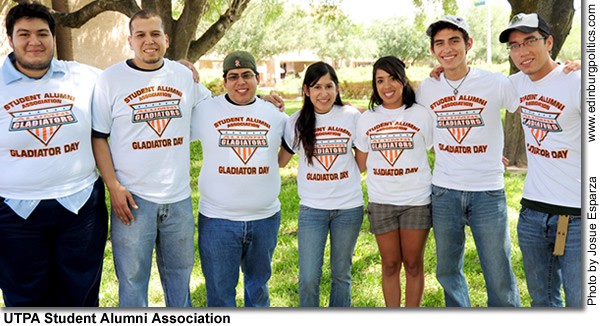 Students at The University of Texas-Pan American got a chance to display some rousing Bronc spirit during noontime on Thursday, September 17, at the inaugural Gladiator Day event organized by the Student Alumni Association (SAA). This new organization, an affiliate of the UTPA Alumni Association, seeks to bring old traditions back to the university while creating new traditions and increased school spirit that will hopefully be cemented within the student population, said SAA President John Taméz, a 2008 UTPA graduate in communications now pursuing a master's in business administration at the university. "I feel students on campus are hungry for traditions right now. I want them to believe that when they leave this university that they have had the best college experience that they could have ever imagined. Through traditions and school pride I thing we can accomplish that," he said. Featured left to right at Gladiator Day are Student Alumni Association members Erik Valdéz; Taméz; Félix Rodríguez; Melany Rodríguez; Krissy Martínez; Omar Estrella; and Manny Rivas.  See story later in this posting.
••••••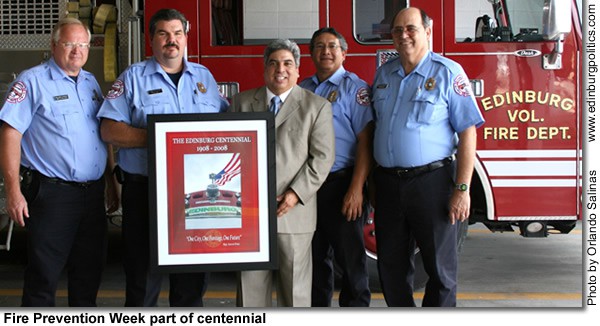 The city of Edinburg is celebrating its 100-year anniversary with community wide events and celebrations planned for the week of Sunday, October 5 through Saturday, October 11. During the same time, the Edinburg Volunteer Fire Department will be promoting National Fire Prevention Week, with attention focused on fire safety and preventing home fires. Rep. Aaron Peña, D-Edinburg, recently acknowledged the contributions of the fire department to the city's past, present and future by creating a special commemorative centennial poster featuring an image of an Edinburg fire truck taken at last year's fire prevention week activities. Peña presented the framed poster to Chief Shawn Snider and other firefighters at the city's downtown firehouse. Featured at the main fire station are, from left: Rolland Pursley, deputy fire chief; Snider; Peña; Antonio Salazar, deputy fire chief; and Richard Drewry, fire marshall. See story, along with schedule of other centennial activities, later in this posting.
••••••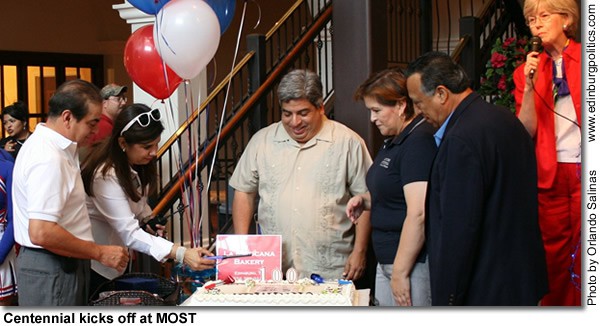 Shan Rankin, executive director for the Museum of South Texas History (MOST) in Edinburg, on Sunday, October 5, led the Edinburg Centennial kick-off ceremony with the lighting of the birthday cake by local leaders.  The celebration, which was free and open to the public, was part of a week-long series of events in the three-time All-America City.  It included activities, an historic exhibition including the history of Edinburg, free admission to the museum, and more. The Edinburg Volunteer Fire Department Museum was also open free to the public on Sunday, and was available for self-guided tours. From left are: Mayor Joe Ochoa; Melissa Tijerina with MOST; Rep. Aaron Peña, D-Edinburg; City Councilmember Alma Garza; and City Councilmember Noé Garza.
•••••• (more…)