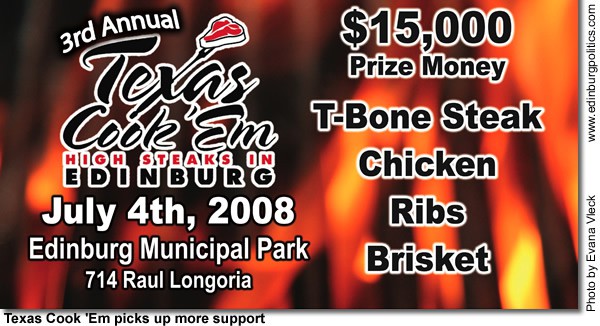 The Edinburg Chamber of Commerce, the City of Edinburg and the Edinburg Economic Development Corporation have congratulated Memorial Funeral Home for their recent contribution to the 3rd Annual Texas Cook 'Em: High Steaks in Edinburg.  Memorial Funeral Home will sponsor Edinburg's Very Important Party (VIP) on Friday, July 4 at the Edinburg Municipal Park, located on 714 Raúl Longoria. The party kicks off at 6 p.m., and all competing cooks are automatically entered to participate and compete for the "Party of the Year" banner. Also featured at the Texas Cook 'Em on July 4 will be John Conlee plus the Valley's own Texas Heat. Doors open at 10:30 a.m., and admission is free with payment of a $5 parking fee per vehicle. The Texas Cook 'Em is sanctioned by the International Barbeque Cookers Association (IBCA) and sponsored by Inter National Bank, The Edinburg Review, The Monitor, and H-E-B.  To participate log on to http://www.Edinburg.com.
••••••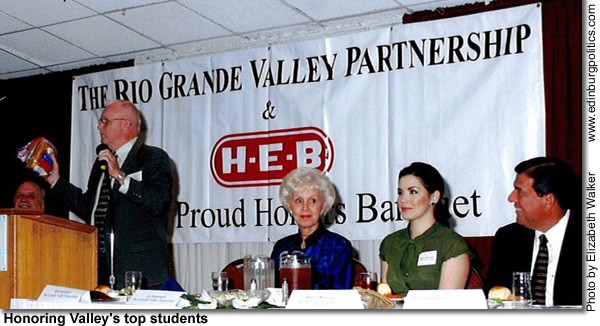 During the 19th annual Valley Proud Honors Banquet, which recognizes the top two graduates of every high school in the region, Mr. Bill Summers, president/CEO of the Rio Grande Valley Partnership, jokes that everyone can show thanks to H-E-B, the event sponsor, by buying bread there.  Watching on from far left that evening are Mr. and Mrs. Armando Sánchez with H-E-B; Mr. Bill Card, III, chairman of the Partnership board of directors; Mrs. Jo Summers; Ms. Marcy Martínez with KGBT Action 4 News; and Sen. Eddie Lucio, Jr., D-Brownsville, who was the keynote speaker.
••••••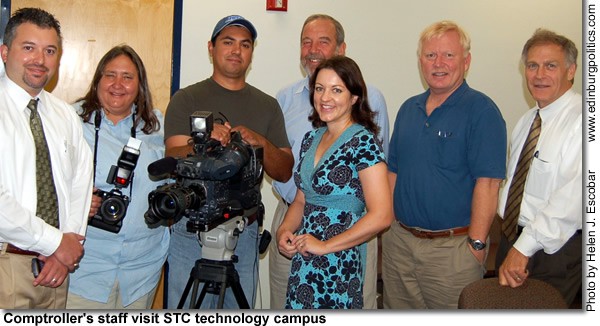 Staff members from the office of the Texas Comptroller visited South Texas College's Technology Campus on Wednesday, June 11 to learn about the college's Institute for Advanced Manufacturing and the training it offers to support the North American Advanced Manufacturing Research & Education's (NAAMREI) Wired Grant Initiative. Karen Hudgins and Karl Wolfson, writers for the comptroller's newsletter, comptroller photographer Barbara Schlief and KVNO videographer Don Ramírez were given a presentation by STC regional manager Carlos Margo and met with other STC staffers. They discussed the college's work with local manufacturing companies to train new and existing employees to meet the challenging demands of the manufacturing sector. The comptroller's four-member team will use the knowledge and materials gained during their visit to shed light on the important role that South Texas College is playing in the long-term vision of NAAMREI to develop a sustainable advanced manufacturing sector in the Rio South Texas Region. For more information about NAAMREI visit http://www.naamrei.org.  Featured from left are Margo, Schlief,  Ramirez, STC training specialist Ron Merrill, Karen Hudgins, Karl Wolfson, and Keith Partridge,  president and CEO of the McAllen Economic Development Corporation.
••••••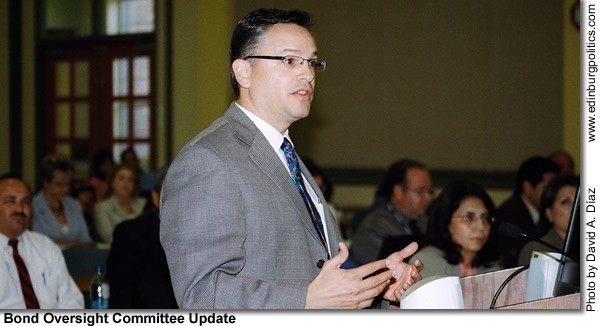 Dr. Francisco Guajardo. featured here during a recent meeting of the Edinburg school board, is the chairman of the Bond Oversight Committee, a citizens advisory panel which is working with trustees and top administrators on the best ways to implement the construction plans for new campuses authorized by the May 10 passage of almost $112 million in bonds. On Tuesday, June 10, he gave an update to the community. Trustee Carmen González also provides her views on how the school board is approaching the major school construction projects that will be made possible by the bond issuance. Stories on González  and Guajardo are featured later in this posting.
(more…)