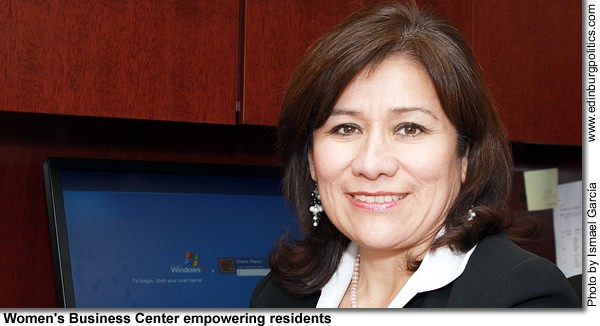 In the United States, there are more than 10 million businesses — with 50 percent or more of those firms owned by women – that employ 13 million people and generate nearly $2 trillion in annual revenues, according to the Center for Women's Business Research in Washington, D.C. In South Texas, the Women's Business Center (WBC) – headquartered on the third floor of the Wells Fargo Bank, 2852 W. Trenton Road, on the corner of Trenton and McColl roads in Edinburg – is playing a major role in helping ensure that Rio Grande Valley residents are also part of that growing national trend. "The Women's Business Center is focused on providing services to area women who want to learn more about how to start or expand their companies," said María "Charo" Mann, the WBC's chief executive officer. "We feature, free-of-charge, a dedicated staff which can help guide people from all walks of life to their goals. Plus, we offer seminars, presentations, and other special events – often at no charge  – that provide South Texans with direct contact to other professionals who are experts in what it takes to start and expand a successful business." The local Women's Business Center has launched an Internet website at http://www.wbc-rgv.org to provide more information to South Texans, or may also be contacted at 618-2828. See lead story later in this posting.
••••••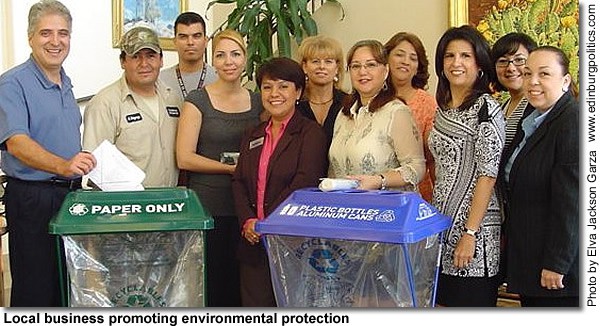 In today's world where tons of trash is discarded daily, Edwards Abstract and Title Co. has taken a proactive step to protect the environment and promote recycling in Edinburg. They are among of handful of test sites within the Edinburg business community working with the Edinburg Recycling and Education Center to promote efforts to recycle without the fear of contamination, and at the same time reducing waste to preserve natural resources. According to the Environmental Protection Agency, the average office worker in the U.S. uses 10,000 sheets of copy paper each year, equaling to four million tons of copy paper. Recycling one ton of paper saves enough energy to power the average American home for six months, saves 7,000 gallons of water, 3.3 cubic yards of landfill space, and reduces greenhouse gas emissions by one metric ton of carbon equivalent. The City of Edinburg Recycling Center staff delivered the Clearstream containers to Edwards Abstract and Title Co. branch office located at 3111 W. Freddy González Drive. Featured from left: Mark Peña; Armando Mayorga, Edinburg Recycling Center; Vinnie García; Janie Chapa, Edinburg Recycling Center; Dolly Villarreal; Nancy Lemke; Nora Cano; Susie Mercado; Diana Kaufold; Angela García; and Libby Luis. See story later in this posting.
••••••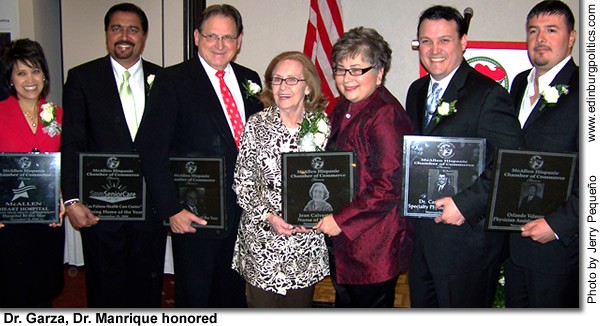 The 2008 winners of the McAllen Hispanic Chamber of Commerce's 2nd Annual Medical Awards Banquet, held on Saturday, November 15, at the Embassy Suites in McAllen, included two Edinburg physicians: Dr. Ben Garza, a family practice doctor, and Dr. Carlos Manrique, an ophthalmologist. The keynote speaker for the event was Dr. Filiberto Rodríguez, the first heart surgeon in the Valley. Rodríguez spoke on the positive changes of the medical care in the Valley going back to 1983, when he first arrived. Now, there are so many specialized doctors in the area that residents don't have to go out of the Valley to seek medical attention or surgery. The event was sponsored by Aetna Insurance, New York Life/Armando Brennan, Manrique Custom Vision Center, Texas HealthSpring, BVAA Compass, Apex, South Texas Health System, IKON and Humana.  Entries were submitted for judging to a committee of medical professionals in Austin. In addition to the two local doctors, other health professionals were recognized for their contributions. From left: Gilda Romero, Hospital Administrator of the McAllen Heart Hospital, Hospital of the Year; Hari Namboodiri, Administrator of Las Palmas Health Care Center, Nursing Home of the Year; Dr. Ben Garza, General Physician of the Year; Jean Calvert of South Texas Behavioral Center, Nurse of the Year; Rose Ramírez, MHCC Vice Chair of Health Issues; Dr. Carlos Manrique of Manrique Custom Vision Center, Specialty Physician of the Year, and Orlando Velásquez, Physician Assistant with Dr. Enrique Griego as Physician Assistant of the Year.
•••••• (more…)