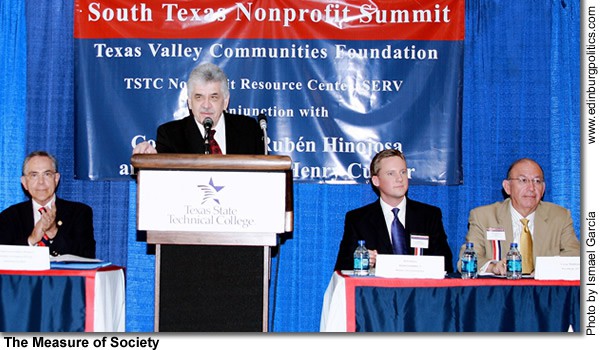 Dr. Roland Arriola, Ph.D., (featured at the podium), president of the Texas Valley Communities Foundation in Edinburg, praised the growing role of nonprofit organizations in the Valley for the key role they will continue to play in helping thousands of South Texas residents. Arriola made his remarks during the opening on Wednesday, October 15, of the South Texas Nonprofit Summit, held at Texas State Technical College in Harlingen. Texas Valley Communities Foundation, headquartered in Edinburg, is helping spearhead efforts, such as the summit, to help area nonprofit organizations improve their chances of landing millions of dollars for the region.  "We are going to be seeing a lot more activity in the non-profit sector. The crucial element in any community is what we call 'civil society' – that's what differentiates us from totalitarian states and dictatorships," he said. In the end, the power of human compassion will always rise to any challenge, he suggested. "We have people who get involved, whether it is in their church or clubs or other organizations, and they do it as volunteers.  That's what gives us our democratic values," Arriola said. "We take that for granted, but actually it is so important to our structure as a people." Featured with Arriola, from left, are Congressman Rubén Hinojosa, D-Mercedes, Will Ripley, news anchor for KRGV-TV Channel 5, and César Maldonado, the new president of TSTC in Harlingen. See story later in this posting.
••••••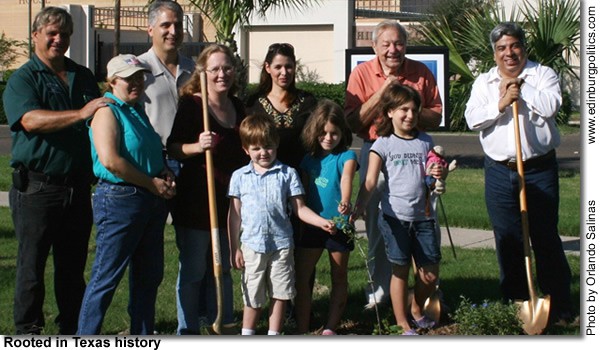 In commemoration and recognition of the 100-year anniversary of the arrival of Hidalgo County's court records and subsequent founding of the county seat in present-day Edinburg, Rep. Aaron Peña, D-Edinburg, on Saturday, October 18, dedicated and planted a seedling from "Treaty Oak," one of the country's most historic trees, in the Hidalgo County Courthouse Square. The tree is a southern live oak grown from an acorn hand-selected from the historic Treaty Oak in Austin. Treaty Oak is believed to be more than 500 years old and is the lone survivor of the "Council Oaks" a grove of 14 trees that served as a revered meeting place for Apache and Comanche tribes of Central Texas. Featured during the dedication, from left, are: Ed Kuprel; Charlene Kuprel; Mark Peña; Michelle Peña; Esteban Peña; Sofía Montero-Aguilar; Anna Peña; Juliette Peña; Harlan Bentzinger; and Aaron Peña. See story later in this posting.
••••••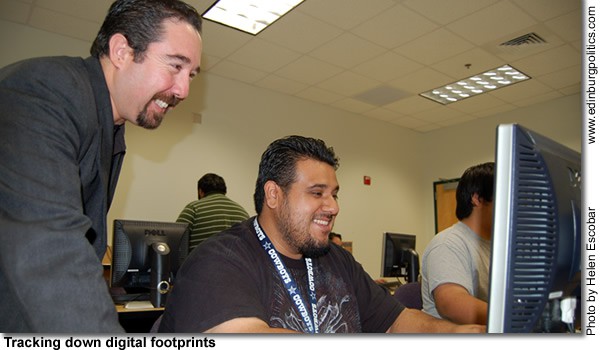 Rey Anzaldúa, featured standing, a South Texas College business computer systems instructor, ain't no dummy, but he writes for them. His bestselling new book (#1 in the Forensic Category on Amazon.com), Computer Forensics for Dummies, hit the shelves in October 2008 and is helping consumers sleuth their own digital trails. "People underestimate the amount of digital information they leave behind on digital devices and throughout the Internet during the course of their lives," said Anzaldúa. "Computer forensics gives people the ability to retrieve data and literally piece together their lives and, sometimes, highlight their mistakes. The book will help you understand your digital footprints and how you can take steps to protect your privacy." Anzaldúa, who has earned undergraduate and graduate degrees at the University of Texas-Pan American, is shown here at STC assisting student Sergio Rodríguez.  See story later in this posting.
••••••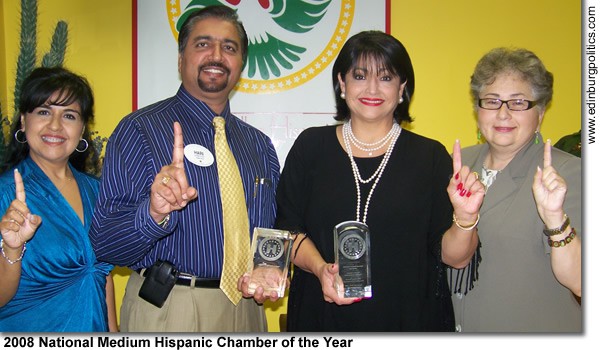 The McAllen Hispanic Chamber of Commerce was awarded the "2008 National Medium Hispanic Chamber of the Year Award" at this year's annual United States Hispanic Chamber of Commerce Convention in Sacramento, California in September. The MHCC also won the Regional III award in August. "We are fortunate to have hard working directors, staff and committees who are abreast on the issues that concern our chamber members. The workshops and events that the MHCC promotes focus on key issues that concern business, education, legislation, health, women's issues, etc." said Cynthia Moya Sakulenzki, MHCC Pres/CEO.  "Our partnership with the Small Business Administration, the University of Texas Pan American HUB Program, the UTPA Small Business Development Center (SBDC) and the Women's Business Center makes it easier for us to accomplish our Program of Work that focuses on business and women's issues. We owe a lot of our success to our partnerships." For more information on how to join or become active in the MHCC, call 928-0060. Featured with the United States Hispanic Chamber of Commerce National and Regional Awards are, from left: Diana González, Vice Chair of Education; Hari Namboodiri, Chair Elect; Sakulenzki; and Rose Ramírez, Vice Chair of Health Issues.
•••••• (more…)