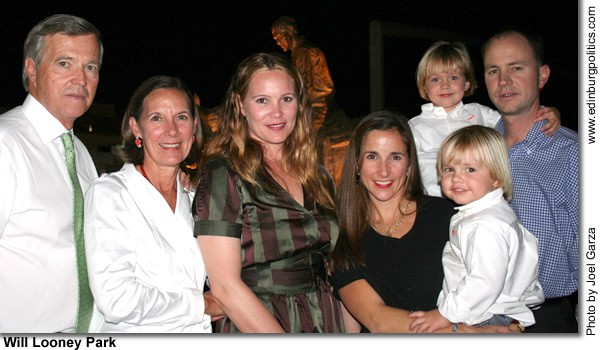 The family of former Rep. Cullen Looney, D-Edinburg, and his wife, Carol Lynn, gathered on Thursday, September 18, for the dedication of the Will Looney Legacy Park, which is an addition to the Museum of South Texas History in Edinburg.  The highlight of the evening was the unveiling of a bronze sculpture entitled, "Texas Legacy."   The sculpture depicts with great detail a young man mounted on horseback respectfully clasping the hand of an elderly woman standing next to the horse and rider. The figures represent the late Will Looney and his grandmother, the late Margaret Montgomery Looney. The sculpture is a gift from the Looney family. Featured, from left, are: Cullen Looney; Carol Lynn Looney; Cortney Looney; Forrest Runnels holding Forrest Runnels Jr.; and Lorin Looney holding William Cullen Runnels. See story later in this posting.
••••••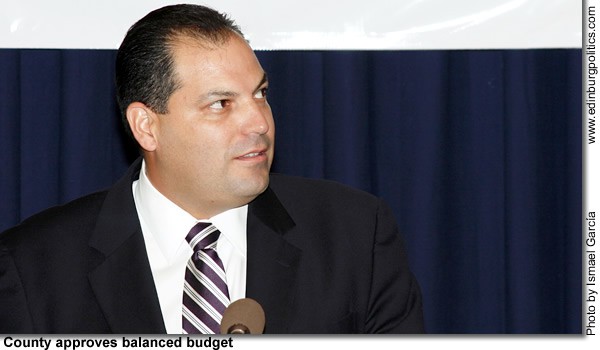 The Hidalgo County Commissioners' Court on Tuesday, September 23, passed a balanced budget for the second year in a row. The 2009 general fund budget is roughly $162 million, an overall increase of 9.3 percent from 2008. "This is the second time in more than 20 years that Hidalgo County has had a balanced budget. The first time was last year," said Hidalgo County Judge J.D. Salinas III, featured here during a recent appearance at the University of Texas-Pan American. "I am extremely pleased with the leadership of the court and the understanding and carefulness with which the budget department and department heads developed this balanced budget."  See story later in this posting.
••••••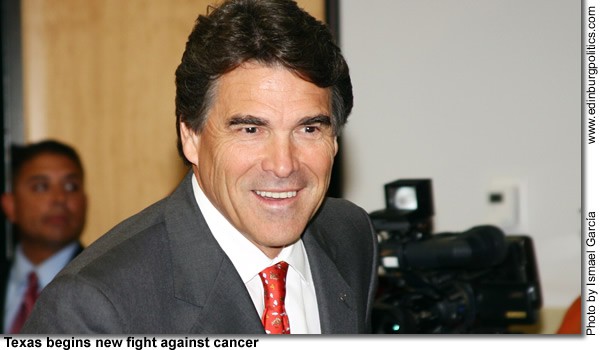 Gov. Rick Perry, featured in this file photo during his visit to Edinburg earlier this summer, on Friday, September 26, encouraged the continued support of research in cancer prevention and treatment during the groundbreaking of the Baylor Cancer Center in Dallas.  "Baylor's new facility will be an essential part of our statewide effort to eradicate this indiscriminate killer," Perry said. "The brilliant ideas in cancer research developed at this center will move us closer to discovering a cure, bringing an end to cancer's deadly role in our society."  The governor noted that facilities like the Baylor Cancer Center combined with funding provided by Proposition 15, will launch Texas to the forefront of biomedical research and innovation. Proposition 15 was created by the Texas Legislature at Perry's request through House Bill 14 and approved by voters in November 2007. It established the Cancer Prevention and Research Institute of Texas, enabling the issuance of $3 billion in bonds over the 10 years to fund cancer research at institutions throughout the state. See story later in this posting.
••••••