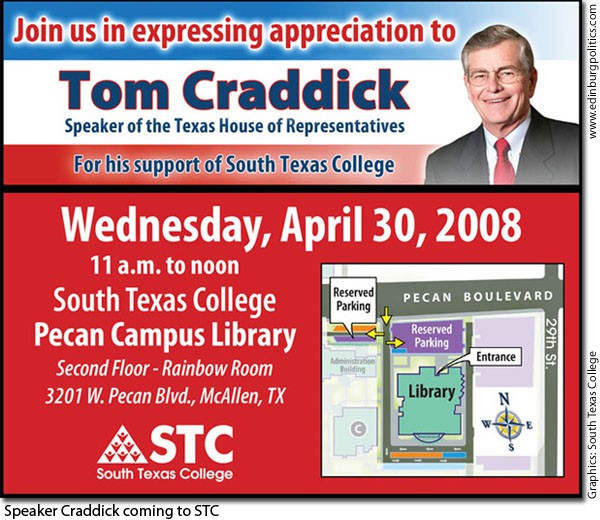 Texas Speaker of the House Tom Craddick, R-Midland, will be honored on Wednesday, April 30 by South Texas College at its Pecan Campus in McAllen. The event, which is free and open to the public, represents a major coup for the community college because as speaker, Craddick is one of the three most powerful men in the Texas Legislature, along with Gov. Rick Perry and Lt. Gov. David Dewhurst, also both Republicans. Craddick's visit also represents his first public venture into South Texas after he helped significantly fund the successful reelection bids in March by Rep. Aaron Peña, D-Edinburg, and Rep. Ismael "Kino" Flores, D-Palmview. Both South Texas Democrats were roundly criticized for being loyal to Craddick and some of his policies, including a controversial plan which was blamed for costing the Rio Grande Valley an additional congressional seat, and with it, hundreds of millions of dollars annually in federal funds. However, Peña and Flores opposed Craddick's congressional redistricting efforts, and countered that by being loyal to Craddick, South Texas has picked up large increases in state funding and programs at higher levels than many other regions of the state.
••••••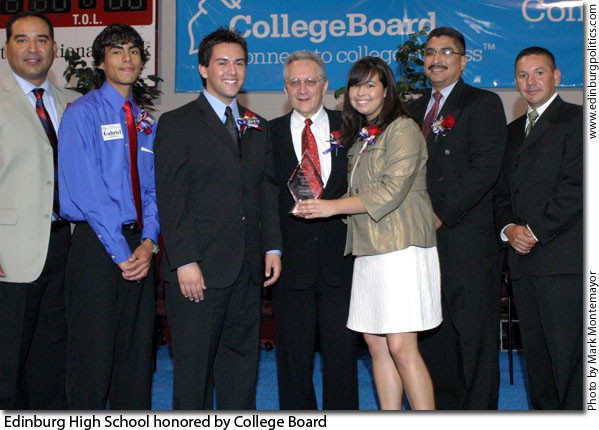 In a spirited ceremony "a la Bobcat-style," Edinburg High School was honored on Wednesday, April 22, by the College Board with a 2008 College Board Inspiration Award and a check for $25,000 at a special assembly. EHS is one of three schools in the nation to receive the coveted 2008 award. Featured accepting the 2008 College Board Inspiration Award at the event, from left, are: ECISD Trustee Robert Peña; Gabriel Luna, Jarrod Salaiz, and Cassandra Sáenz, EHS student leaders; Peter Negroni, College Board Senior Vice president; ECISD Trustee David Torres; and ECISD Trustee and Vice President Omar Palacios. See story later in this posting.
••••••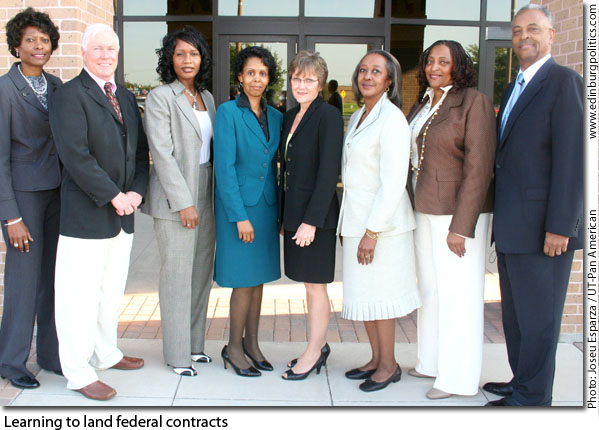 Small business owners from not only South Texas but from as far away as Georgia joined faculty and staff members at The University of Texas-Pan American April 16-17 to learn how to successfully identify and pursue government contract opportunities with the U.S. Department of Health and Human Services (HHS). Participating in the workshop hosted by UT-Pan American, and co-sponsored by the Office of Small and Disadvantaged Business Utilization (OSDBU) and the U.S. Department of Health and Human Services (HHS), which contracted with RGF Consulting Corporation (RGFCC) to conduct the workshop were, from left: Cassandra Ford, presenter, RGFCC; Clarence Randall Jr., OSDBU; Teneshia G. Alston, HSS; Deborah Walker-Sewell, RGFCC; Dr. Wendy Lawrence-Fowler, UTPA vice president for Research and Sponsored Projects; Felicia Gaston, presenter, F.M. Gaston Associates; Theresa Bailey, UTPA director of Sponsored Projects; and Robert Flowers Jr., presenter and RGFCC president/CEO. See story later in this posting.
••••••
Rep. Verónica Gonzáles, D-McAllen, recently addressed the membership of Us Too – McAllen Chapter, a prostrate cancer support group, as a guest speaker to deliver her message of hope for advancing cancer research in Texas at the Edinburg Regional Medical Center. "Statistics are well known, but they are no less shocking," said Gonzáles. "These men and their families are the lucky ones." Among the most shocking statistics state that in Texas; one in four deaths is caused by cancer. A new case of prostate cancer occurs ever 2.5 minutes and a man dies from prostrate cancer every 19 minutes. The estimated total cost of cancer in Texas is $30 billion a year. Gonzáles shared with the audience of cancer survivors her hope with the success of Texans' efforts to approve the landmark creation of the Cancer Prevention and Research Institute of Texas. See story later in this posting.
•••••• (more…)