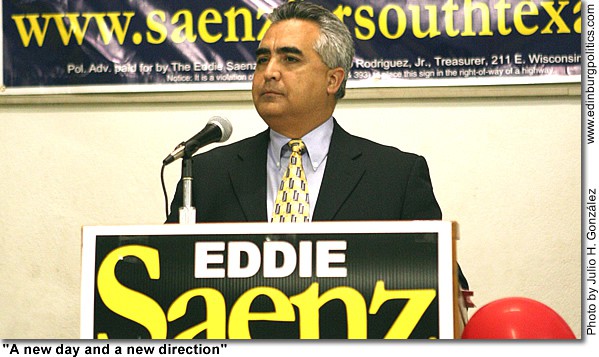 Eddie Sáenz of Edinburg addresses several hundred voters on Thursday, October 25, during his campaign kick-off for state representative, House District 40, which includes all but southwest Edinburg, La Joya and Sullivan City in western Hidalgo County, Edcouch, Elsa, La Villa, and San Carlos in eastern Hidalgo County, and northern Hidalgo County. Sáenz, a Democrat, is portraying incumbent Rep. Aaron Peña, D-Edinburg, as loyal to the Republican Party, criticizing Peña for helping keep a Republican in power as Texas Speaker of the House. "Our great state senators and South Texas representatives need a partner working with them in Austin. We need to elect a Speaker who is for everyone," Sáenz said. "That is why I am committing to stand with the Democratic Caucus, and support a Democrat for Speaker that we can all stand behind." See story later in this posting.
••••••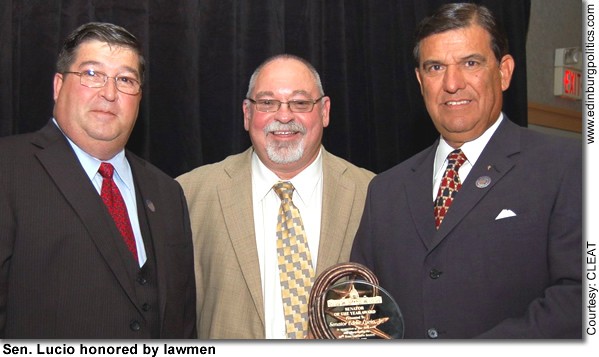 Combined Law Enforcement Associations of Texas (CLEAT) President Chris McGill and CLEAT Political Director Charley Wilkison presented Sen. Eddie Lucio Jr., D-Brownsville, featured right, with the Senator of the Year 2007 award at CLEATS 31st annual convention held October 6 in Brownsville. As a member of the Senate Finance Committee, Lucio pushed for an increase of $369.4 million in funds for the incarceration and treatment of adult felons. He also helped secure $108 million for border security operations, including funding for local law enforcement surge operations, joint operation and intelligence centers, a border security operation center, additional Department of Public Safety troopers and more aviation support. See story later in this posting.
•••••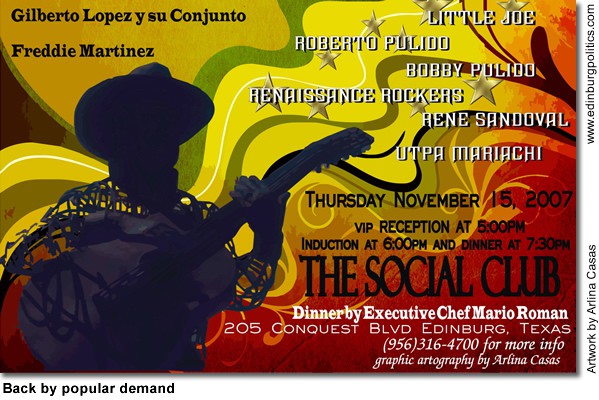 A portion of the program cover for the November 15 Tejano Walk of Fame scholarship fundraiser provides a colorful preview for the event, to be hosted by The Social Club, an upscale restaurant located at 205 Conquest Boulevard in Edinburg. Hundreds of fans of the latest inductees of the Tejano Walk of Fame will be able to see their favorite musicians – at no charge – during the public portion of the popular event, which will be held outside The Social Club from 6 p.m. to 7 p.m. See story later in this posting.
•••••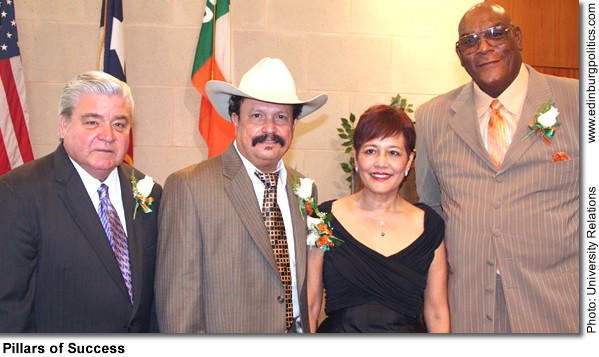 An exhibit titled "Pillars of Success" featuring the photos and success stories of five distinguished alumni of The University of Texas-Pan American opened at the University's Visitors Center on October 11. Pictured from left are new UTPA "Pillars of Success" honorees Arturo E. Guerra Jr., Roberto Pulido, Dr. Marla M. Guerra, and Lucious "Luke" Jackson Jr. Not pictured is Major General William F. Garrison, who was unable to attend the Pillars exhibit opening. See story later in this posting.
•••••• (more…)