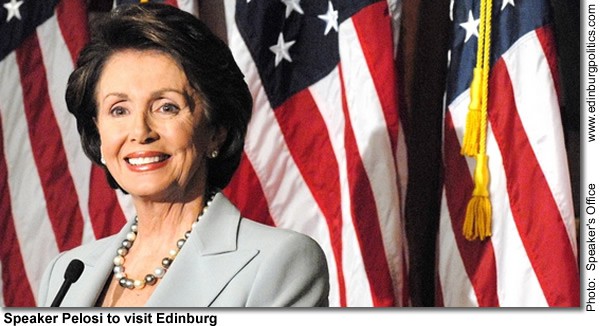 U.S. Speaker of the House Nancy Pelosi, D-San Francisco, will be in Edinburg on Thursday, September 27, first to address students in South Texas at the University of Texas-Pan American, then to participate in the grand opening ceremony for the Women's Hospital at Renaissance. See story later in this posting.
••••••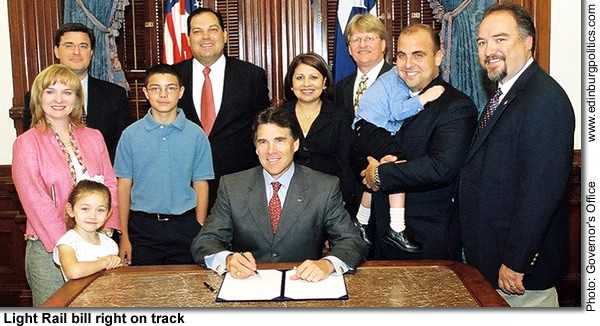 A new state law that could eventually lead to the construction of a light rail train system that would transport passengers from Brownsville to Rio Grande City is still on track, said Rep. Armando "Mando" Martinez, D-Weslaco, the author of the legislation. House Bill 2510 creates a mechanism to allow Hidalgo County and any of the other 13 Texas counties that border Mexico to create Commuter Rail Districts. Under HB 2510, each border county will have the opportunity to organize and create a commuter rail board to determine the feasibility of establishing a commuter rail system within their respective county. The legislation, which was sponsored by Sen. Juan "Chuy" Hinojosa, D-McAllen, was endorsed by Gov. Rick Perry, shown here recently signing the measure into law. In attendance at the bill signing ceremony, held in Austin last month, were Hidalgo County Judge J. D. Salinas III (standing, back row, second from left), his wife Janie (standing, first row, first from left) and their two children, Nicholas and Samantha. Also present with Martinez (featured standing, second from right) for the ceremony were Veronica de la Fuente, who is Hidalgo County 's governmental director, and Jerry Haddican, General Counselor for Hinojosa.
••••••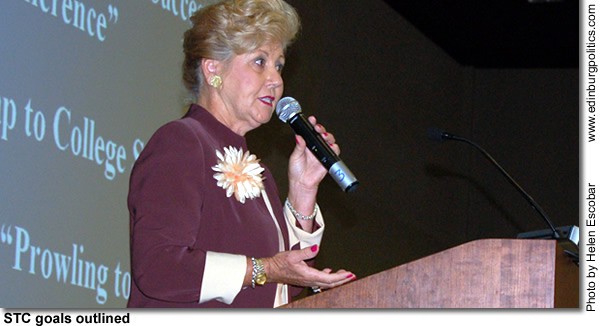 STC President Shirley A. Reed addresses the college's faculty, staff and administration at Professional Development Day, laying a roadmap for the college's future. The community college system, created by the Legislature in 1993 through a law carried by Sen. Eddie Lucio, Jr., D-Brownsville, and then-Rep. Roberto Gutiérrez, D-McAllen, is now approaching a 20,000 student enrollment. See story later in this posting.
••••••