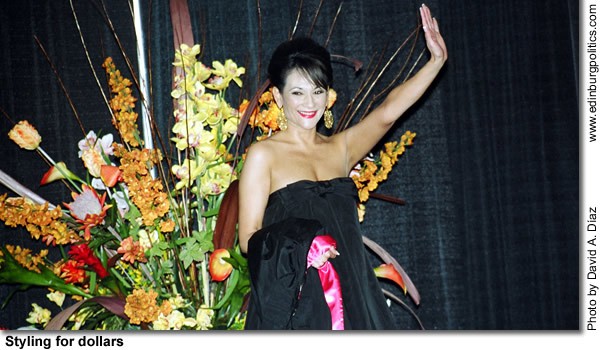 Rep. Verónica Gonzáles, D-McAllen, thanks several hundred supporters on Friday, August 24, as she participates as a model for her unique fund raiser, which featured her and other lawmakers in a fashion style show at the Embassy Suites in McAllen.  She picked up almost $50,000 for her campaign war chest, along with endorsements from key political figures. She is facing at least one opponent in 2008: Republican Javier Villalobos.  Both of them are McAllen-based attorneys.  See story later in this posting. 
••••••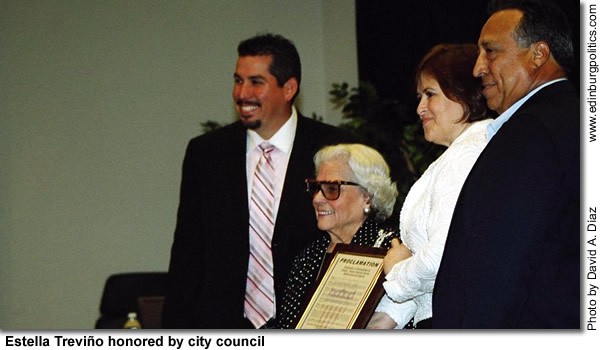 Estella Treviño, longtime executive director for the Edinburg Housing Authority, beamed with pride on Monday, August 20, as she posed with the Edinburg City Council, which presented her a proclamation chronicling many of her achievements on behalf of the community. Among her accomplishments are helping provide affordable housing to thousands of residents, creating opportunities for property owners to rent homes to qualified families, and fighting the negative image of public housing.  "Ms. Treviño and the agency have received a host of awards for her diligent efforts including the Outstanding Services Award in 1975; the Specific Activity Award for outstanding programs offered through the Drug Elimination Program in 1994; the Award for Excellence in Youth Sports in 1995; the Family Self-Sufficiency Program Award in 1996; the Texas NAHRO Member of the Year Award in 1998; and the 2005 Texas NAHRO Hall of Fame Award," said Mayor Pro Tem Alma Garza. "Widely known as an advocate of public housing and the elderly Ms. Treviño has changed the agency from merely providing assisted housing to helping residents achieve self-sufficiency and marketable skills enabling many of them to move beyond subsidized housing to homeownership."   
••••••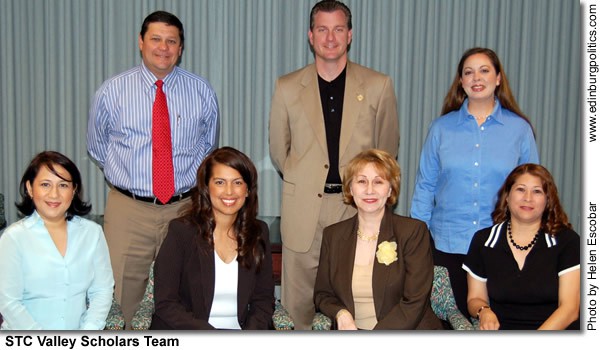 South Texas College's Valley Scholars Program is celebrating its 10th anniversary at its annual Night with the Stars this October. The special event is designed to celebrate 10 years of academic excellence and pay tribute to ten outstanding Valley Scholar students, who have continued on to successful careers and have made positive changes in their communities. The celebration will take place on Thursday, October 4, 2007 at the Cimarron Country Club and will be an evening of celebration, recognition and entertainment. All proceeds from the event will benefit future South Texas College Valley Scholars Program students. As a result of the 2006 event, more than $40,000 was raised for the program. The coordinating team for the event includes, from left, seated: Sora Yañez, graphic designer; Marie Olivárez, STC Valley Scholars coordinator, Anahid Petrosian STC Assistant to the Vice President for Instructional Services , and  Sylvia Bernal, administrative assistant. From left, standing, are:  Roberto Gutiérrez, STC Fundraising Development Associate; George McCaleb, STC Director of Operations; and Ginna Gutiérrez, secretary.