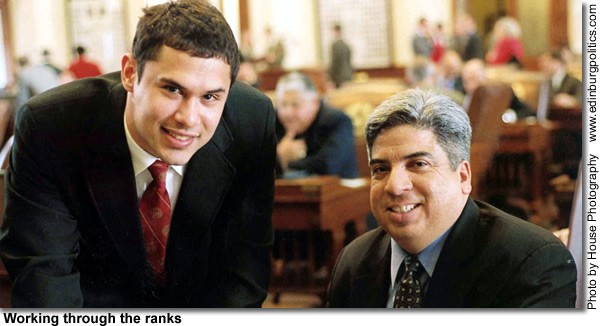 John de la Viña of Edinburg, featured left, has worked his way up from serving in the Office of the House Sergeant-at-Arms, which works with lawmakers and their staffs, to a position on the legislative staff of Rep. Aaron Peña, D-Edinburg. De la Viña, son of Danny and Judith De la Viña of Edinburg, plans to attend St. Mary's University Law School in San Antonio this fall.
••••••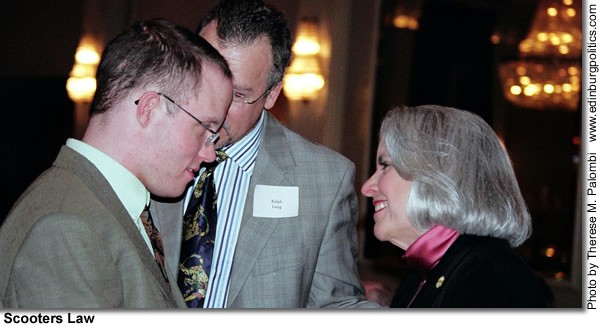 Sen. Judith Zaffirini, D-Laredo, greets Gene "Scooter" Long and his father Ralph at the Arc of Texas 2007 Leadership Award Ceremony where Zaffirini was honored for her outstanding support and advocacy of persons with intellectual and developmental disabilities. Scooter's Law is effective immediately. See story later in this posting.
••••••

Texas A&M officials recently met with administrators from South Texas College to discuss the program and support opportunities for students. From left are Isai Morales, advisor for Valley Scholar's and Honors Program for STC; Wanda Spratt, division dean of Nursing and Allied Health for STC; Paul Hernández, dean of Counseling and Advising for STC; Guadalupe Chávez, coordinator of Dual Enrollment Academies for STC; Dr. Ali Esmaeili; Dr. Juan Castro; Marie Olivarez, coordinator of Valley Scholar's for STC; and Raymond Joyce, program coordinator for the Partnerships for Primary Care for the Texas A&M Health Science Center. See story later in this posting.
••••••
Senate approves measure by Sen. Lucio to build UT Health Science Center in Valley, including Edinburg
By DORIS SÁNCHEZ
The Senate on Friday, May 11, gave its approval to a bill by Sen. Eddie Lucio, Jr., D-Brownsville, that allows the Board of Regents of the University of Texas System to establish a free-standing U.T. Health Science Center in South Texas that includes a medical school and other health-related degree programs.
"This lays the foundation for a full-fledged medical school by requiring that the first two years of a degree program for medical students be offered at the University of Texas at Brownsville," said Lucio, who added an amendment with this provision to Senate Bill 420 as requested by Rep. Eddie Lucio, III.
The amendment adds Brooks, Jim Hogg, Kenedy and Zapata counties to the area to be served by the medical school. The original bill would have included only Cameron, Hidalgo, Starr and Willacy counties in the school's region.
"The opening of a medical school in the Rio Grande Valley would help recruit doctors to an underserved area and provide students in the region an opportunity to attend a professional school," said Sen. Lucio. "Currently, only one professional school exists south of San Antonio: the Irma Rangel School of Pharmacy at Texas A&M University in Kingsville."
The new bill requires research and training facilities to be established within the existing infrastructure of the Regional Academic Health Center (RAHC) at U.T. Brownsville, U.T. Pan American and at Harlingen, with an estimated cost of $28 million for startup. Currently, there are eight medical schools in Texas, with the southernmost in San Antonio.
SB 420 is also important because it would increase the availability of physicians who are culturally sensitive to the area's population. Miscommunication problems are less frequent when health care providers understand and are educated to work with the cultural composition of the population. Additionally, studies show that medical students from underserved areas are more likely to practice in those areas.
Texas also has a below-average doctor-per-capita ratio (152 per 100,000) compared to the rest of the nation (220 per 100,000), which compounds the health care crisis: a rapidly growing population with an increasing susceptibility to obesity, diabetes, hypertension, heart disease and cancer. By 2020 or 2025, the deficit could be as great as 200,000 physicians, or 20 percent of the workforce. Recent studies indicate that the Rio Grande Valley counties have been designated as Medically Underserved Areas by the Department of State Health Services.
The Higher Education Coordinating Board's 2002 study on new medical schools stated that if additional schools were to be established, they should: (1) have a high population area served by significantly fewer than the state average number of physicians; (2) show the potential to address issues of geographic access, with physician workforce diversity; and (3) provide the state the ability to build on significant prior investments that it and other entities have made for medical education and services. The Rio Grande Valley and El Paso were listed as potential sites.
"We need to press ahead with a medical school in the South Texas region, or we will further shortchange the medical needs of the area and its people," added Sen. Lucio. "It is time we get the process moving."
The bill is now headed to the House for consideration.
••••••
House passes border security bill to help fight border crime, improve homeland security coordination
By ALEXIS DeLEE
The Texas House of Representatives on Tuesday, May 8, gave final approval to House Bill 13 by Rep. David Swinford, R-Dumas, to improve the coordination of homeland security operations along the Texas border and reduce criminal activity.
All Valley state representatives supported the measure. It was scheduled for a public hearing on Monday, May 14, before the Senate Transportation and Homeland Security Committee.
Rep. Juan Escobar, D-Kingsville/Willacy County, and Rep. Ryan Guillen, D-Rio Grande City, are joint authors of the bill.
Sen. John Carona, R-Dallas, is the Senate sponsor of HB 13.
"Mexican cartels take advantage of our porous border with Mexico to traffic drugs and other criminal activity throughout Texas and the rest of the United States," Swinford said. "Portions of our border with Mexico are controlled by drug lords where murder and crime is skyrocketing. We must take control of our border, and this legislation will get us closer to that goal."
Swinford's legislation creates the Border Security Council whose members will be appointed by the governor and whose function will be to oversee the distribution of $103 million to border law enforcement agencies.
A legislative committee would be created to monitor this activity and report back to the legislature on the effectiveness of these programs. Concurrently, state funds could be leveraged with federal funds under legislation currently pending before Congress.
The bill also encourages cities and counties to cooperate with federal agencies in immigration matters, allowing for the withholding of homeland security funding in the event they actively disregard federal laws.
A legislative study will also be conducted to evaluate the expedited deportation of illegal immigrants held in state jails and prisons for criminal offenses.
"This is one of the most important pieces of legislation that we will pass this session as it affects the safety of every citizen of this state and country," said Speaker Tom Craddick, R-Midland. "I want to thank Chairman Swinford for putting forth a bipartisan bill that will beef up the homeland security structure in Texas."
••••••
Congressman Cuellar addresses lack of outreach to border communities by federal government about plans for proposed border wall
By LAUREN SMITH
Rep. Henry Cuellar, D-Laredo/McAllen, on Monday, May 7, facilitated a video conference between federal and local officials to continue dialogue regarding the proposed border fence and address the lack of outreach to local citizens and officials.
The meeting included top-ranking officials from the Department of Homeland Security (DHS), Chief David Aguilar of U.S. Customs and Border Protection (CBP), and SBINet Executive Director Greg Giddens. Staff members of Cuellar, Sen. Kay Bailey Hutchison, R-Texas, Sen. John Cornyn, R-Texas, local leaders and elected officials also participated, including Webb County Judge Danny Valdéz, Dennis Nixon of International Bank of Commerce, and Laredo Mayor Raúl Salinas.
During the video conference, CBP and DHS officials agreed to engage local communities in an outreach campaign and said they will continue communicating with border leaders before any action on the proposed fence is taken. Officials also explained that the proposed fence location was drafted before SBINet measures were implemented and that DHS officials will monitor the results of a pilot program in Ariz. to determine if these security measures are good for the entire U.S.-Mexico Border.
Cuellar said he will also coordinate a visit to study the pilot program in Arizona, with the intention of determining the feasibility of a similar project along the Texas-Mexico Border.
"We will look to find the best options to increase border security, including the possibility of SBINet technology," said Cuellar. "The SBINet technology– including air surveillance, cameras, ground sensors and ground radars– would help minimize the number of miles of fencing along our borders."
Aguilar, an Edinburg native, welcomed town hall meetings along the border as a part of the CBP outreach initiative.
"I will work to bring SBINet Executive Director, Border Patrol Chiefs, border mayors, county judges and other officials who are stationed along the Texas-Mexico borderto Laredo for a border town hall meeting in the near future," said Cuellar.
"Two people who will become major players in how we secure our borders will be Chief David Aguilar and Greg Giddens. In addition, we need to involve our Border Patrol Chiefs because they are the ones in the trenches and protecting our borders," said Cuellar.
DHS representatives stated that their top priority along the international border in Texas is not building a fence, but cooperating with local citizens and representatives to improve border security and efficiency. Cuellar has long been an advocate for such communication as well as for clearing the banks of the Rio Grande.
"I applaud the Department of Homeland Security for recognizing the need to maintain an open line of communication with citizens in border communities, and I want to thank everyone for working to have such a positive meeting regarding border security," said Cuellar. "I will continue to advocate for efficient and beneficial solutions at the border in Texas, utilizing the best combination of technology, infrastructure and construction to secure our border."
"My goal is to facilitate communication and progress between local citizens and the federal government. By helping to address the local needs with federal solutions, we will truly be on track to bring about progress at the border," said Cuellar.
Cuellar is a member of the House Homeland Security, Small Business, and Agriculture Committees in the 110th Congress; accessibility to constituents, education, health care, economic development and national security are his priorities. Congressman Cuellar is also a Majority Senior Whip.
••••••
Edinburg's retail economy in February up almost 18% over same month in 2006
By DAVID A. DÍAZ
Edinburg's retail economy in February 2007, as measured by the amount of local and state sales taxes generated by a wide range of local businesses, was up 17.75 percent over the same month in 2006, the Edinburg Economic Development Corporation has announced.
The EEDC is the jobs-creation arm of the Edinburg City Council.
It's five-member governing board, which is appointed by the Edinburg City Council, includes Mayor Joe Ochoa, former Mayor Richard García, who serves as board president, Fred Palacios, Mike Govind, and George Bennack.
The figure translates into more than $1.4 million generated in local sales taxes in February, and sent back to the Edinburg city government on April 13 by the state comptroller of public accounts.
The local sales taxes are generated by the city's 1 1/2 local sales tax and the 1/2 economic development sales tax that is administered by the EEDC.
Retail businesses are required to collect both the local and state sales taxes and send them to the Texas Comptroller of Public Accounts, which soon after returns the local sales tax back to communities in the form of a rebate,
The local sales tax is used to help pay for dozens of major city services, ranging from new streets to city personnel.
In February, Edinburg's economy generated $1,406,491.03 in local sales taxes, compared with $1,194,371.11 in local sales taxes in February 2006.
During the first two months of 2007, Edinburg's retail economy has generated almost $5.8 million in local sales taxes, up more than seven percent over the first two months of last year.
Edinburg registered the second-best showing in Hidalgo County in February, with McAllen outpacing all major cities in the Valley.
McAllen's economy generated more than $5.5 million in local sales taxes in February, compared with more than $5.2 million during the same month last year, an increase of almost five percent.
According to the comptroller's office, Hidalgo County also showed continued prosperity. In February 2007, all cities in Hidalgo County generated more than $11.8 million in local sales taxes, up 10.12 percent over February 2006, which reached more than $10.7 million.
During the first two months of 2007, all cities in Hidalgo County generated more than $52.6 million in local sales taxes, up more than 11 percent over the $47.2 million mark set in January and February 2006.
Neighboring Cameron County also registered economic growth, according to the state figures.
In February, all cities in Cameron County generated almost $5.9 million in local sales taxes, compared with more than $5.5 million during the same month in 2006, an increase of almost six percent.
Other major cities in Hidalgo and Cameron counties reported the following sales tax figures:
•Brownsville's retail economy generated more than $3 million in local sales taxes in February 2007 compared with almost $2.8 million in February 2006, an increase of almost six percent;
•Harlingen's retail economy generated more than $1.8 million in local sales taxes in February 2007, compared with more than $1.7 million in February 2006, an increase of five percent;
•Mission's retail economy generated almost $1.1 million in local sales taxes in February 2007, compared with slightly more than $1 million in February 2006, an increase of 6.4 percent;
•Pharr's retail economy generated more than $1.1 million in local sales tax activities in February 2007, compared with almost $1.4 million during the same month in 2006, a drop of more than two percent; and
•Weslaco's retail economy generated more than $904,000 in local sales tax activities in February 2007, compared with more than $770,000 in February 2006, an increase of almost 17.5 percent.
Statewide, Texas Comptroller Susan Combs said the state received $1.53 billion in sales tax revenue in March, up 11.9 percent compared to March 2006.
State sales tax revenue for March, and April payments made to local governments, represent sales that occurred in February.
"The national economy is showing signs of a slowdown, particularly in the housing sector, but we are still seeing healthy growth in the Texas economy and a corresponding growth in state sales tax revenue," Combs said.
Local sales tax revenues also continue to grow. Combs sent $404 million in April sales tax allocations to cities, counties, transit systems and special purpose taxing districts, a 9.7 percent increase compared to April 2006. So far this calendar year, sales tax allocations to local governments are up 6.4 percent.
Combs sent April sales tax allocations of $272.4 million to Texas cities, up 9.3 percent compared to April 2006. Calendar year-to-date, city sales tax allocations are running 7.1 percent higher than last year. Texas counties received sales tax payments of $24.8 million, up 11.1 percent compared to one year ago. Calendar year-to-date, county sales tax allocations are 8.4 percent higher than last year.
Another $12.5 million went to 115 special purpose taxing districts around the state, up 17.2 percent compared to last April. Ten local transit systems received $94.1 million in sales tax rebates, up 9.8 percent compared to a year ago.
For details of April sales tax payments to individual cities, counties, transit systems and special purpose districts, visit the Monthly Sales and Use Tax Allocation Comparison Summary Reports page on the Comptroller's Web site at http://www.window.state.tx.us/taxinfo/allocsum/compsum.html.
••••••
House Approves bill by Rep. Gonzáles to bring street lighting to colonias in rural areas
By RICARDO LÓPEZ-GUERRA
Rep. Verónica Gonzáles, D-McAllen, welcomed House support for passage of House Bill 573, relating to street lighting in unincorporated areas along the border. The bill made it out of the House on Friday, May 11, at a critical time nearing the end of session, where it is expected to receive a hearing and be voted on in the Senate, bringing street lighting one step closer to the colonias.
Gonzáles is the prime author of the measure; joint authors include Rep. Rene Oliveira, D-Brownsville, and Rep. Ryan Guillen, D-Rio Grande City. Rep. Eddie Lucio, III, D-San Benito is a co-author of the bill.
"Last session I worked to secure funding for installation of street lights in the colonias," said Gonzáles. "The colonia residents provided support and compelling testimony to the Legislature how street lighting could make a huge difference in their neighborhood. I am confident that HB 573 will finally make lighting a reality for these residents." Cameron County and Hidalgo County commissioners' courts stood behind Gonzáles' legislative measures to secure that lighting is delivered to colonia streets and both commissioners' courts presented resolutions supporting HB 573.
Gonzáles added, "Passage of this bill establishes a better standard of living for residents by reducing crime and increasing security in the community. No neighborhood should be left in the dark, and I am hopeful that this bill will light the way for safer colonias."
In 2005, Gonzáles passed legislation with the support of colonia residents. "The community support has been tremendous," she said. "The initial legislation established for federal grant money to fund the installation of street poles and HB 573 gives the border counties a means by which to pay for the electricity to ensure that the street lights are provided.
••••••
Senate approves resolution by Sen. Lucio to extend visa laser card to Mexicans
By DORIS SÁNCHEZ
The Texas Senate on Friday, May 10, gave its thumbs up to a Resolution by Sen. Eddie Lucio, Jr. encouraging the U.S. Congress to enact the Secure Border Crossing Card Entry Act of 2007 to extend the laser visa length of stay from 30 days to six months granting Mexican visitors parity with their Canadian counterparts.
"Senate Concurrent Resolution 43 is a way for the Legislature to show support to our Texas Congressional delegation," said Lucio.
The federal Act, sponsored by U.S. Sen. John Corny, R-Texas, and U.S. Rep. Henry Cuellar, D-Laredo/McAllen, would extend the length of stay to Mexican visitors to support the economic needs of Texas with the goal of successfully balancing national security with the benefits of legitimate trade and travel.
Bill Summers, President and CEO of the Rio Grande Valley Partnership, said, "According to the U.S. Department of Transportation, from Brownsville to El Paso, more then 120 million visitors cross a year from Mexico into Texas. According to surveys, they spend on average $152 per person per trip. For the state of Texas, that amounts to $3 billion in total expenditures; $417 million in taxes collected; and 63,314 jobs created."
Lucio added, "We have been approached by several businesses and the banking community along the border to carry this bill."
Summers compared the dollar value of U.S. commerce crossing the border during one month at Laredo, Texas from Nuevo Laredo equal to the sum value of U.S.-China trade for an entire year.
••••••
Sen. Hinojosa passes bill to prevent dating violence in public schools
By MELISSA DEL BOSQUE
Sen. Juan "Chuy" Hinojosa, D-McAllen, and Rep. Dawnna Dukes, D-Austin, on Tuesday, May 8, passed House Bill 121 to help prevent dating violence in public schools.
Rep. Eddie Lucio, III, D-San Benito is a co-author of the measure.
"This bill takes a proactive approach by requiring schools to address teen dating violence and how to prevent it before a tragedy occurs," Hinojosa said.
HB 151 requires school districts to include a plan to address dating violence prevention in schools. Schools already include procedures on how to address suicide prevention, conflict resolution and violence prevention.
Sheryl Cates, chief executive officer of the Texas Council on Family Violence, said the passage of the bill would provide an added safety net for youth attending school who may find themselves in an abusive relationship. The Texas Council of Family Violence found that 75 percent of young people in Texas ages 16 to 24 reported they had personally experienced dating violence or knew someone who had.
"With the passage of HB 121, requiring school districts to adopt policies addressing teen dating violence, we are providing enhanced safety for our youth who may be in abusive dating relationships," Cates said. "This legislation will begin to help students in this situation to get help. Sen. Hinojosa has worked for the safety of victims and the prevention of family violence his entire public career, and this is another in a long line of his successful efforts to improve public policy in Texas."
Hinojosa thanked Dukes for her leadership in the House and for being a longtime advocate in preventing dating violence. HB 121 will now be sent to the governor for his approval.
••••••
Small contractors would have better access to state contracts under bill by Sen. Lucio
By DORIS SÁNCHEZ
Small contractors in Texas will gain an equal footing in competing for state projects through a bill by Sen. Eddie Lucio, Jr., D-Brownsville, that would expand an existing capacity building program.
Senate Bill 704 would add bonding assistance and safety training to the Small Contractor Participation Assistance Program, originally established in 1993 under the Texas Building and Procurement Commission. This legislation would implement and expand the program to include in-depth technical assistance in insurance and bonding, as well as safety training.
It was approved by the Senate on Wednesday, May 2. It is scheduled for a public hearing on Monday, May 14 in the House Committee on Government Reform.
"It is more difficult for small contractors to secure insurance and bonding than to find work," said Lucio. "Public works contracts tend to be huge multi-million dollar agreements, and few small contractors win these contracts because they lack adequate bonding coverage to handle these large projects. My bill attempts to level the playing field."
"Sen. Lucio's bill will give small and minority contractors an opportunity to bid for more public works projects," said Frank Fuentes, Chairman of the US Hispanic Contractors Association. "In turn, the state will save money through a more competitive bid process."
Contracts for public works projects of over $1 million would be eligible under the program, which would benefit the state by increasing the number of businesses eligible to submit pubic works bids and lowering the risk of small contractors. The program would also implement a centralized system of purchasing certain coverage and bonds, as well as provide a public outreach plan to encourage participation.
"I believe that a coordinator under this program can provide one-on-one assistance to small contractors and walk them through the procurement process, particularly within facility renovation and building construction projects," explained Lucio. "Networking with existing public and private contractors would be another resource provided."
"This is a good program that will improve the small contractor's access to bonding, increase the number of bids submitted for public works and expand the likelihood that small contractors will be awarded contracts."
••••••
Measure to establish organ donation registry supported by Rep. Gonzáles goes to governor
By NICK ALMANZA
Texas legislators have unanimously renamed the Texas Donor, Education, Awareness and Registry program (DEAR) the Glenda Dawson Donate Life-Texas Registry to honor the late state representative who received a kidney from her sister.
Senate Bill 1500 by Sen. Judith Zaffirini, D-Laredo, was approved by the Senate on Friday, May 4.
Rep. Verónica Gonzáles, D-McAllen, is a joint author of House Bill 2145, which is the companion (identical) bill to SB 1500.
SB 1500 is a follow-up to SB 24 and HB 120 (2005) by Zaffirini, which created the state's organ and tissue donor registry.
It will enable the state's organ and tissue donor registry to affiliate with the National Donate Life America alliance and campaign, allowing it to educate and reach more potential donors by using Donate Life America's established brand equity.
"The more Texas increases public awareness and education regarding the importance of organ and tissue donation, the more lives will be saved," Zaffirini said. "The bill would raise organ donor awareness statewide and would provide a fitting tribute to its champion, former Rep. Glenda Dawson, by making her the namesake of the Texas donor registry."
Dawson, a transplant recipient, died last September.
"The general public's response to donating blood is successful because of public education campaigns. I am confident that our efforts will achieve similar public awareness and will also honor my former colleague, Rep. Dawson, who not only championed the organ donor registration, but was a recipient of a kidney donation," said Gonzáles.
Nationally, more than half of states have renamed their state registries to reference "Donate Life" a nationally known non-profit. By renaming the registry to reference the national non-profit, the State's program will improve its campaign awareness among the public and share visibility to registries nationwide.
Information about becoming an organ donor is available via the internet at http://www.shareyourlife.org or http://www.texasdear.org.
(Ricardo López-Guerra contributed to this article.)
••••••
House Democrats prioritize teacher pay raise while preserving property tax cut, say legislative leaders
By KEVIN VICKERS
House Democratic Leader Jim Dunnam, D-Waco, on Friday, May 11, led a bipartisan majority in passing an amendment prioritizing a $6,000 pay raise for teachers, librarians and school counselors.
Dunnam amended a bill that directed $2.5 billion to additional property tax cuts. Previously this year, the legislature passed a separate $14 billion property tax cut. The Dunnam amendment requires that teachers receive the $6,000—which will bring them up to the national average in teacher pay—prior to the additional property tax cut becoming effective.
"I voted for the big property tax cut, but additional property tax cuts cannot be our 1st, 2nd and 3rd highest priorities for the state. Today, a bipartisan Texas House majority stood up to (Speaker of the House) Tom Craddick (R-Midland) and said that improving our public schools is more important," said Dunnam.
Dunnam explained that most of a record $14 billion state budget surplus has already been dedicated to reducing property tax rates by one-third. House Bill 2785 proposed an additional six percent rate reduction that would cost an additional $2.5 billion of state general revenue funds every two years. The Dunnam amendment made raising teacher pay to the national average a requirement for putting the additional rate cut into effect.
"Nothing is more important to our children's future and our state's economic future than making sure every child has a qualified teacher in the classroom," Dunnam said. "With Texas teacher pay lagging almost $6,000 below the national average, the House said today that Texas schools are an important priority and rejected the leadership's plan to spend almost every last penny of a record state surplus on big tax shifts that primarily benefit wealthy political contributors."
Rep. Garnet Coleman, D-Houston, Chairman of the Texas Legislative Study Group, noted that the new business tax bill authored by the state Republican leadership in 2006 is falling billions of dollars short of paying for the property tax reductions already in place, and that additional tax rate cuts would drain off state funds needed to restore critical program cuts made in 2003 when there was a state budget shortfall.
"House Bill 2785 would have sent the few who benefit from the proposed tax cuts to the front of the line for state dollars and sent everyone else to the back," Coleman said. "Today's vote made it clear that our children's teachers, full CHIP restoration, access to higher education, and other important priorities are just as important as property tax cuts."
Rep. Pete Gallego, D-Alpine, Chairman of the Mexican American Legislative Caucus, observed that the House leadership was prepared to dedicate $2.5 billion more to property tax cuts when, just yesterday, the leadership had insisted there was not sufficient revenue available to fund a $3 billion cancer research fund and delayed full funding for cancer research until 2010.
"The legislative leadership's budget priorities are not only morally wrong, they also don't make any sense financially," Gallego said.
"A House majority said today that if money is available to set aside for tax relief tomorrow, there is also the money to use today to improve our schools, restore CHIP and fund cancer research," Gallego concluded.
••••••
Measure by Rep. García to help military families adopt children is approved by House
By ELIZABETH LIPPINCOTT
Legislation by Rep. Juan M. García III, D-Corpus Christi, which would prohibit discrimination against military families who want to adopt children, passed the House of Representatives on Tuesday, May 8, and now moves to the Senate for consideration.
García introduced the measure, House Bill 3537, after military families across Texas complained that their frequent deployment status and frequent moves were counting against them when they were assessed for suitability as adoptive parents.
"Texas has a waiting list of 35,000 children waiting to be adopted. Yes, in a military family one parent is frequently away. But I believe that is greatly outweighed by the benefits that come with the military lifestyle, including healthcare, housing, daycare, and youth sports " García said. "It's important for our adoption rules to embody that."
HB 3537 provides a safeguard for military families involved in the adoption process. The legislation is designed to dissuade child placement agencies and courts from having a negative view of military life based on the fact that a parent might be deployed or that the family will move periodically.
"A parent who's in the military may not be home for dinner every night at 6:00 p.m., but that's because they're doing hard work that benefits others, and that's worth making some sacrifices," García said. "What could be a better lesson for a child to learn?"
García emphasized that the military supports adoptive families with leave policies, health care benefits, educational resources and reimbursement for certain adoption costs.
García, a career military officer, has four children, and his father was also a career naval aviator.
García represents the 32nd District in the Texas House of Representatives. Elected in 2006, he is an attorney and second-generation naval aviator. He lives in Corpus Christi with his wife Denise and their four children.
••••••
Attorney General Abbott takes action against EZ Pawn Shop chain for exposing customers' records
Texas Attorney General Greg Abbott on Tuesday, May 8, took legal action against Texas-based EZCORP Inc., and its subsidiary, EZPAWN, for systematically exposing its customers to identity theft at stores in Texas, including the Rio Grande Valley.
According to documents filed by the Attorney General, EZCORP violated the law by repeatedly failing to protect customer records that contain sensitive personal information.
Investigators with the Office of the Attorney General discovered that several San Antonio EZPAWN stores exposed customers' personal identifying information by discarding business records in easily accessible trash cans behind the stores. According to investigators, the records included promissory notes and bank statements that contained names, addresses, Social Security and driver's license numbers, and checking account information.
"Identity theft is one of the fastest growing crimes in the United States," Abbott said. "Texans expect their personal information to remain confidential. The Office of the Attorney General will take all necessary steps to protect consumers from identity thieves."
Investigators also found evidence of similar instances of improper document dumping at a dozen other EZPAWN locations around the state, including stores in Austin, Houston, Lubbock and the Rio Grande Valley.
The defendants are accused of violating the Texas Deceptive Trade Practices Act (DTPA) and the 2005 Identity Theft Enforcement and Protection Act, which requires the safeguarding and proper destruction of clients' sensitive personal information. Under the law, the Office of the Attorney General has the authority to seek penalties of up to $25,000 per violation of the DTPA and $50,000 per violation of the Identity Theft Enforcement and Protection Act.
The Attorney General also charged EZCORP and EZPAWN with violating Chapter 35 of the Business and Commerce Code, which requires businesses to develop retention and disposal procedures for their clients' personal information. The law provides for civil penalties of up to $500 for each abandoned record.
The Office of the Attorney General is investigating whether any exposed data has been used illegally. Consumers who interacted with EZPAWN stores should carefully monitor bank, credit card and any similar statements for evidence of suspicious activity. Customers should also obtain free copies of their credit reports.
Consumers who wish to file a complaint may contact the Office of the Attorney General at (800) 252-8011 or do so online at http://www.oag.state.tx.us, where they can also obtain information on identity theft detection and prevention.
The May 8 legal action against EZCORP is the Office of the Attorney General's fifth identity theft enforcement action in recent weeks. In April, Abbott took legal action against CVS/pharmacy and RadioShack Corporation for exposing hundreds of customers to identity theft by failing to properly dispose of records that contained sensitive information.
In March, the Attorney General filed an enforcement action against Jones Beauty College in Dallas for improperly discarding student financial aid forms with Social Security numbers and other personal information. Also in March, Abbott took legal action against On Track Modeling, a North Carolina-based talent agency that abruptly shut down its Grand Prairie office and abandoned more than 60 boxes containing hundreds of confidential client records.
••••••
Senate passes bill by Sen. Zaffirini to establish tax-free purchase periods for college textbooks
By NICK ALMANZA
The Texas Senate on Tuesday, May 8, passed Senate Bill 49 by Sen. Judith Zaffirini, D-Laredo, which would provide financial relief to college students by allowing them to purchase textbooks tax-free at the beginning of the fall and spring semesters.
Sen. Eddie Lucio, Jr., D-Brownsville, is a co-author of the bill. Rep. Juan Escobar, D-Kingsville/Willacy County, is a co-sponsor the measure.
The bill would establish two 10-day periods per year during which a college student with a valid student identification card could purchase textbooks tax-free.
"The impassioned testimony before the Senate Finance Committee by students supporting SB 49 sends a clear message that college students are in need of financial relief from the escalating costs associated with higher education," Zaffirini said. "I truly am delighted that this bill was passed by the Senate and thank Lt. Gov. David Dewhurst and the student organizations who worked closely with me to pass SB 49."
This is Zaffirini's third attempt to pass this legislation. She authored similar bills during the 2005 Regular and Special Legislative Sessions.
The bill must be passed by the House of Representatives before it can be sent to Gov. Rick Perry for final approval.
••••••
New law allows students with disabilities to participate in graduation, receive attendance certificates
By NICK ALMANZA
Gov. Rick Perry on Tuesday, May 8, signed into law Senate Bill 673, known as "Scooter's Bill," by Sen. Judith Zaffirini, D-Laredo, and Rep. Rob Eissler, R-The Woodlands.
Sen. Eddie Lucio, D-Brownsville, is a co-author of the measure.
Effective immediately, it will allow students with disabilities who are in individualized education programs (IEP) and who have completed four years of high school to participate in graduation ceremonies and receive attendance certificates. They would receive their diplomas upon completing their IEP.
"I was proud to sponsor and pass Scooter's Bill and am delighted that it is now Scooter's Law," Zaffirini said. "The new law will provide students in IEP programs with the opportunity to graduate with their peers and obtain a sense of closure as their classmates move on from high school. This is a fitting and pleasant end to Scooter Long's story of hard work and advocacy on behalf of students with disabilities."
SB 673 is named "Scooter's Bill" in honor of Gene "Scooter" Long, a Dallas IEP student who was denied participation in his class's graduation ceremonies by the Dallas Independent School District.
The new law calls for a consistent policy throughout Texas. What's more, it will allow students to continue their IEP programs after participating in commencement ceremonies and would not preclude their receiving high school diplomas upon completing the program.
••••••
Texas A&M recruits STC students for early admission to medical school
By HELEN ESCOBAR
"We see the Valley as an area of shortages in many medical fields, but in particular for doctors. Our goal is to recruit students from South Texas College who are eager to take on the challenges of medicine, and who are willing to come back home and help to address the local health care needs," said Dr. Juan F. Castro, associate dean for Coastal Bend Affairs for the Texas A&M Health Science Center College of Medicine. "We are recruiting students now as the turn cycle from medical student, to resident, to doctor takes seven or more years depending on the selected specialty.
We want to ensure that students attending South Texas College through its Dual Enrollment Medical Science Academy and Valley Scholars Program are aware of the Partnership for Primary Care Program, our early admissions program. We see these students who can maintain high academic standards as prime candidates for our College of Medicine."
Any student involved in STC's Valley Scholars Program or Dual Enrollment Medical Science Academy (DEMSA) who is interested in becoming a doctor is eligible for the Texas A&M Health Science Center College of Medicine Early Admissions Program. To be considered, students must apply and be taking courses at South Texas College in a relevant field of study. They must fill out and submit an application for early admission to the program, have an excellent academic track record, an SAT score of 1200 or above and a successful interview with the Texas A&M College of Medicine officials.
Once accepted to the program, students are guaranteed acceptance into the Texas A&M College of Medicine. In order to maintain their placement, students must maintain their high academic standards, earn their associate's degree from STC and then transfer to Texas A&M University at College Station to complete their bachelor's degree. Upon earning their bachelor's degree, students will be able to automatically take their place at the Texas A&M College of Medicine and continue their studies.
"I can not stress what an amazing opportunity this is for any student who is considering becoming a doctor," said Dr. Ali Esmaeili, associate dean for Bachelor Programs and University Relations for STC. "Placement at medical schools across the country is extremely competitive and most students must struggle and worry for years about whether or not they will be able to get in. STC students have the unique opportunity to guarantee their admission at the start of their college career. They see the light at the end of the tunnel and know that they are working toward their goal. This program is a huge advantage for students in Hidalgo and Starr Counties and I hope that they will start taking advantage of it now."
In addition to offering early admission opportunities, the Texas A&M Health Science Center – College of Medicine through its offices in South Texas is willing to provide other tools to keep students motivated throughout the course of their studies.
"We want to provide guest speakers, workshops and other programs that can keep these students focused," added Raymond Joyce, Partnership for Primary Care recruiter. "At times I see students who are thrilled to be part of the program, but for whatever reason, they get discouraged and do not complete the requirements. STC is a great partner for us because the college has so many support systems in place to ensure student success and we want to do our part to buttress that system."
Students attending STC in the college's Valley Scholar's and DEMSA programs have access to free tutoring, one-on-one guidance and counseling, free college tours, book-sharing systems, as well as a variety of other benefits.d
"We are also looking at ways to include other bright and talented STC students who are not in the DEMSA or Valley Scholar's Program, but who have shown a zest for medical sciences and have superior GPAs and extracurricular activities," said Paul Hernandez, dean of Counseling and Advising for STC. "This is such a wonderful opportunity and we believe we can find a way to open it up to everyone in the near future."
"We know this is a model partnership between STC, Texas A&M University and Texas A&M Health Science Center-College of Medicine, and will benefit students and the community," concluded Dr. Castro. "We hope that we can develop similar programs in other fields such as pharmacy and dentistry as there are shortages in these areas also."
For more information about the program contact Dr. Ali Esmaeili, associate dean for Bachelor Programs and University Relations at 872-7270.