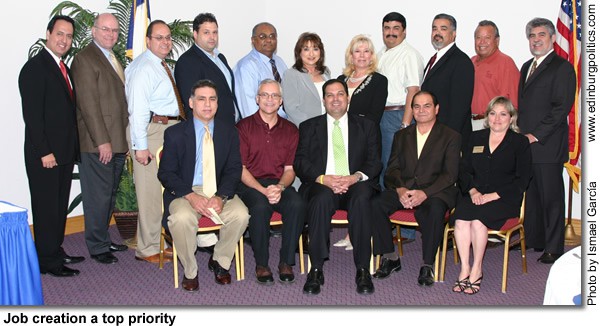 Some of the major economic development leaders in Edinburg and Hidalgo County discussed their strategies for continuing the growth, which has lead to record-low jobless rates in Edinburg, during a May 17 luncheon at the ECHO sponsored by the Edinburg Chamber of Commerce. The meeting, which featured a presentation on key initiatives by Hidalgo County Judge J.D. Salinas, included local elected and appointed political and business officials. Salinas, featured center, seated, along with Mayor Joe Ochoa, featured to the judge's left, was also joined for this portrait by Ramiro Garza, executive director for the Edinburg Economic Development Corporation; Dennis Burleson of Mission, chairman of the Hidalgo County Regional Mobility Authority; J.J. Rodríguez, city manager; Mike Govind, member of the EEDC board of directors; Mayor Pro Tem Gene Espinoza; Fred Palacios, member of the EEDC board of directors; and former Edinburg Mayor Richard García, who also serves as the president of the EEDC board of directors. The judge's presentation is available on the internet (http://www.cityofedinburg.com/) or on the Edinburg Cable Network, which is on Time Warner Cable channel 12. See story later in this posting.
••••••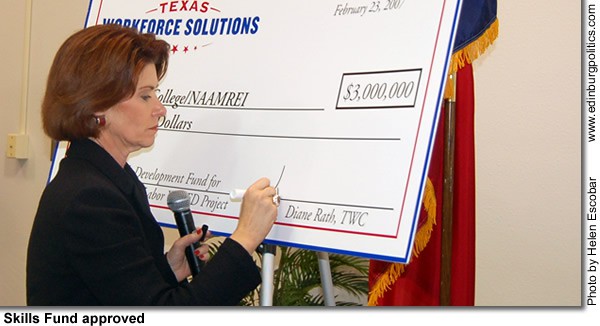 Diana Rath, chair of the Texas Workforce Commission, has praised the legislative passage of a bill supported by the Texas Border Coalition, which will protect more than $12 million in state funds to help businesses and community colleges train employees. Rath, shown here during a visit to South Texas College in February, said thousands of workers along the Texas border region will benefit from the legislation, which is awaiting anticipated approval from Gov. Rick Perry. See story later in this posting.
••••••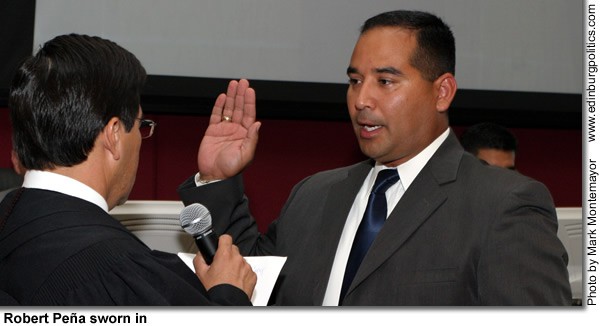 Robert Peña, Jr., 39, is the newest member of the Edinburg school board, winning in his inaugural bid for public office. Peña, former executive director for the Edinburg Economic Development Corporation, now owns a small business in the community. The Edinburg native, a former U.S. Army Sergeant, also served in the first Persian Gulf War. Peña succeeds former ECISD school board president Melba González. Hidalgo County County Court No. 1 Judge Rodolfo González (no relation to Melba González) administered the oath of office to Peña during swearing-in ceremonies at the Edinburg School Administration Building a few days after his election.
•••••
Rep. Peña reportedly leaning against reelection bid
By DAVID A. DÍAZ
Rep. Aaron Peña, D-Edinburg, is reportedly leaning against a bid for a fourth two-year term, a move that would cost his hometown powerful seniority in the Texas House of Representatives, where a bitter political struggle during the waning days of the legislative session was underway to replace his friend, Speaker of the House Tom Craddick, R-Midland.
The five-month regular session was scheduled to end at midnight on Monday, May 28.
Following reports in the Valley news media on Saturday, May 26, that quoted Peña expressing serious reservations about running for reelection in the March 2008 Democratic Party primary, the veteran legislator has not issued any additional public statements nor has he denied the news reports being carried in Valley news outlets.
A top staff members with his Capitol office on Sunday said Peña would provide more details on his published comments, most likely after the legislative session wraps up.
His first scheduled public appearance in Edinburg is set for Thursday, May 31, from 5 p.m. to 8 p.m. during grand opening ceremonies of Edwards Abstract & Title Company, 3111 W. Freddy González Drive, in Edinburg.
As of late Monday evening, Peña had not addressed the news article on his website, http://www.acapitolblog.com/. During his posting on his website on Sunday, May 27, he focused on the House passage of legislation to expand the Children's Health Insurance Program to potentially more than 120,000 additional children of working families.
Late Friday evening, May 25, Peña expressed great dismay with an unprecedented political battle in the House of Representatives that on Saturday, May 26, made national news.
CBS News described the chaos Friday evening as a "five-hour rebellion on the House floor that included a bold attempt to boot him from office, the physical restraint of insurgent lawmakers trying to overtake the speaker's podium, and the House parliamentarian nearly pushed to tears before resigning."
Peña, who seconded Craddick's nomination for Speaker of the House in January, was clearly disheartened by the political meltdown that is historic in nature.
"Words alone can not begin to communicate the troubling events at your Texas capitol," Peña reported on his website, even posting a photo of a dark and angry sky descending upon the Texas Capitol. "We are but two days away from completion of the 80th Regular Session of the Texas Legislature and a conflict over who will be the occupant of the chair of the body has erupted.
Peña added, "Last night (Friday) every seat in the gallery was filled. The tensions and rhetoric were high. Each side of the argument has made their positions known to the body the only question that remains is the forum to decide the ultimate question. I still expect that forum to be the brutal primaries of March. For now, the passage of the budget is the last remaining necessity this Texas House must pass. I would hope that the anarchy we are presently observing does not interfere with our responsibility to pass the only bill we are required to pass each session."
Craddick was still in control late Monday evening, the last day of the regular session, presiding over the House debate over the state budget and other major legislation.
If Peña chooses not to seek reelection – he has handily won three challenges – the political landscape in the city is sure to change with an open seat suddenly and unexpectedly coming available in the spring 2008 Democratic and Republican party primaries.
If both parties field candidates in March, then the November general elections in the city will include a campaign to represent House District 40, which includes all but southwest Edinburg, the Delta Area, La Joya, Sullivan City and smaller communities in northern Hidalgo County.
On Monday evening, Peña repeated his concerns about the political turmoil in the House of Representatives in his latest posting on his website, but again stated nothing to dispel the published reports that he may not seek reelection.
"As I have repeatedly noted before the bitterness and uber-partisanship that poisons Washington now infects the Texas State Capitol," Peña chastised Craddick's opponents. "Like the fall of ancient Rome when its generals put personal ambitions over their responsibility to the people of their state, our great state is poisoned by those who fail in their responsibilities to the governed. My hope is that today we, the elected officials of this state, will rise to the responsibility entrusted to us by the governed and get on with finishing the business of the state."
••••••
"Ronald Reagan Republicans" form PAC to counter alleged retaliation by Speaker Craddick
In a move to redirect the Republican leadership of the Texas House of Representatives, Republicans opposing the reelection of Texas House Speaker Tom Craddick, R-Midland, have filed paperwork at the Texas Ethics Commission to form a political action committee to protect Republican legislative incumbents and candidates from attack in the upcoming 2008 primary.
The new PAC is titled "Ronald Reagan Republicans for Local Community Control and Speaker Term Limits." The new PAC's Board of decision makers will include the four House Republicans running for Speaker against Craddick (Jim Keffer, Jim Pitts, Brian McCall and Fred Hill) and the new PAC's treasurer will be State Representative Byron Cook (R-Corsicana).
According the Ethics Commission filing, the new PAC will use the acronym: "3 R PAC."
"The 3 R PAC will promote speaker term limits to make sure that the office of Speaker is dedicated to following the rules of procedure for the benefit of all 150 House districts, rather than twisting the rules of procedure to perpetuate the personal power of one member," said Cook.
"The is a battle between Republicans over whether our party will follow the current path of infighting and self-destruction which has resulted in a loss of seven seats in the Texas House since Craddick took over or to follow the path of leadership through integrity exemplified by former Republican President Reagan," Cook added.
Cook said the purpose of this PAC is to raise money to protect Republican incumbents and legislative candidates from vindictive acts and retaliation by Speaker Craddick and his supporters.
Over the past two weeks Craddick supporters have actively sought to recruit primary opponents for some of the Republicans opposing Craddick including Keffer and Cook.
"President Reagan's11th Commandment was to not attack fellow Republicans," Cook added.
"This PAC will be a watchdog to condemn any attempt by Craddick or his supporters to usurp decisions which should made by local Republican primary voters and not outside special interest agendas."
••••••
Sen. Hinojosa says funding for key projects in Edinburg, county, to be included in final state budget
By MELISSA DEL BOSQUE
Sen. Juan "Chuy" Hinojosa, D-McAllen, a member of the Senate Finance Committee, announced on Friday, May 25, that millions of dollars in new appropriations will go to Hidalgo County in the next biennium for important issues such as water and health.
Hinojosa said a new substance abuse and primary care facility will be constructed in Edinburg.
"I worked very closely with the chair and members of finance to bring a substance abuse and primary care facility to Hidalgo County," Hinojosa said. "Our communities are very much in need of substance abuse services and primary care. I want to also thank Rep. Aaron Peña (D-Edinburg) for his commitment and work on this issue."
In addition, Hinojosa also worked to get $2 million to relocate the Boeye Reservoir in McAllen. That money will be used to relocate the reservoir and expand its capacity.
"McAllen and the region are growing so fast that we need to think ahead about our water supply and plan for the future," Hinojosa said. "This will allow us to move the reservoir away from the McAllen Airport to a more secure location where the reservoir can be expanded and improved."
••••••
Texas Border Coalition scores big victory with protection of Skills Development Fund
By DAVID A. DÍAZ
Legislation designed to protect over the next two years more than $12 million in the state's Skills Development Fund, which helps provide customized workforce training to thousands of border residents, has been approved by the Texas Legislature.
House Bill 48 by Rep. Norma Chávez, D-El Paso, preserves a funding formula that dedicates money to the Skills Development Fund and the Texas Enterprise Fund, two major economic development programs used by the state to create thousands of jobs.
The Skills Development Fund is an important part of the Texas Border Coalition's efforts to bring higher paying jobs to the border areas by providing a trained workforce.
TBC is an alliance of elected leaders and economic development officials representing more than 2 million residents who live Texas counties that border Mexico.
More than $40 million dollars was appropriated by the Texas Legislature for the 2006-2007 biennium, and grant applications are accepted year round, according to the Texas Workforce Commission. Since the inception of the Skills Development Fund in 1996, more than 168,110 Texas workers have received training. Through collaborations between private industry and training providers, the Skills Development Fund is designed to assist employers meeting the demands of the ever-advancing marketplace and to help workers acquire new skills or upgrade existing skills, the TWC reports.
On Friday, May 18, HB 48 was approved by the Senate, and has been sent to Gov. Rick Perry for his approval. Sen. Judith Zaffirini, D-Laredo, was the Senate sponsor for HB 48.
"I am delighted that the Texas Senate unanimously passed HB 48," said Zaffirini. "This bill ensures continued state funding for skills development programs that greatly benefit Texas' workforce. Retaining the current funding ratio allows the state workforce to remain competitive by providing sufficient resources for skills training. This results in additional training for more than 5,000 Texas workers per year."
Under current law, 1/10th of 1 percent of Unemployment Insurance Fund, paid into by all employers, is used to fund the Skills Development Fund and the Texas Enterprise Fund. From the Unemployment Insurance Fund, 33 percent goes to the Skills Development Fund and 66 percent goes to the Skills Development Fund.
Without HB 48, the funding formula was going to change on September 1, 2007, which would have resulted in a $6.4 million a year decrease in the Skills Development Fund.
"House Bill 48 keeps the 'split' of funding between the Texas Enterprise Fund and the Skills Development Fund at its current and original level," said Chávez. "Maintaining the current split will allow 10,240 more workers to be trained by the TWC over the next two years."
In 2005, Chávez and Zaffirini also sponsored House Bill 2421, which established the Employment and Training Investment Assessment (ETIA) that allocated funding to the Texas Enterprise Fund (TEF) and the skills development program. It was HB 2421 that directed 67 percent of the ETIA holding fund to the TEF and the remaining 33 percent to the skills development fund.
Diane D. Rath, an appointee of Gov. Rick Perry and chair of the Texas Workforce Commission who represents the public, said HB 48 is important to the state.
"By developing skills training to meet the specific needs of employers, the Skills Development Fund has proven to be a well-structured formula for workforce development success," said Rath. "We are grateful for the ongoing support of the Legislature for Texas' premier job-training program."
On May 16, TBC and other border leaders testified in support of HB 48 when it went before the Senate Finance Committee, which includes border lawmakers Sens. Juan "Chuy" Hinojosa, D-McAllen, Eddie Lucio, Jr., D-Brownsville, and Zaffirini.
Among those witnesses were TBC members Wanda F. Garza with South Texas Community College, who also serves as chair of the TBC Workforce Development Committee; Ricardo Pérez of Mission; and Pat Townsend, Jr., President and CEO of the Mission Economic Development Authority and TBC treasurer.
"The passage of HB48 was a landmark decision of the Texas Legislative that will invest the Unemployment Insurance Funds to increase the Skills Development Fund to $52 million. These funds will provide job training opportunities for thousands of new and incumbent workers. Sen. Zaffirini, Rep. Chávez and the Texas Legislature are to be applauded for their commitment to raising the skill levels of our workforce," said TBC's Garza. "Building a skilled workforce will provide the state with the competitive edge needed to compete in a global market. Gov. Perry kept his promise to support increasing the Skills Development Fund to $50 million. We thank them."
Rep. Ryan Guillen, D-Rio Grande City, Rep. Aaron Peña, D-Edinburg, and Rep. Joaquin Castro, D-San Antonio are joint authors of the measure.
"This is a great bill," said Peña."Workforce training is such an important economic development tool."
Members of TBC also include: Eagle Pass Mayor and TBC Chairman Chad Foster; Brownsville Mayor Eddie Treviño, Jr.; Cameron County Judge Carlos Cascos; Del Rio Mayor Efraín Valdéz; Edinburg Mayor Joe Ochoa; El Paso Mayor John F. Cook; El Paso County Attorney José Rodríguez; Harlingen Mayor Chris Boswell; Hidalgo Mayor John David Franz; Hidalgo County Judge J.D. Salinas; Laredo Mayor Raúl G. Salinas; McAllen Mayor Richard Cortéz; Maverick County Judge José "Pepe" Aranda, Jr.; Mission Mayor Norberto Salinas; Pharr Mayor Leopoldo Palacios, Jr.; Roma Mayor Rogelio Ybarra; and Weslaco Mayor Joe V. Sánchez.
The Texas Border Coalition maintains a web site at http://www.texasbordercoalition.org.
••••••
County Judge Salinas, regional leaders call for Veterans' Hospital for the Valley
By CARI LAMBRECHT
As we honor the brave men and women who have passed away defending this nation and standing up for its principals of liberty, independence and justice this Memorial Day, let us not forget to also protect and provide for those veterans who come back to us, Hidalgo County Judge J.D. Salinas said Friday, May 25, in recognition of Memorial Day.
American citizens owe all veterans a debt of gratitude, Salinas said. And this is exactly why the judge and the region's leadership have pledged not to give up the fight for a Veterans' Hospital in Deep South Texas. In fact, Salinas said, the fight is just beginning.
On Monday, May 21, more than 60 veterans from numerous organizations gathered with Salinas, Cameron County Judge Carlos Cascos and Refugio County Judge René Mascorro for the second of two town hall meetings at Weslaco City Hall to address the health care needs of approximately 114,000 area veterans — as estimated by the Veterans' Administration.
Sen. John Cornyn, R-Texas, Sen. Kay Bailey Hutchison, R-Texas, Rep. Henry Cuellar, D-Laredo/McAllen, and Rep. Rubén Hinojosa, D-Mercedes, were also represented at the meeting by local staff members.
Salinas vowed that he would convince all 24 county judges south of San Antonio to pass a resolution in support of U.S. House Resolution 538 — a bill sponsored by Rep. Solomon Ortiz, D-Corpus Christi, calling for the construction of a veterans' hospital in the 24 county area. Salinas will call on his fellow county judges at an upcoming meeting of the South Texas County Judges' and Commissioners' conference. The group on Monday, May 25, also discussed with Hutchison's representative how to get a sister bill sponsored in the U.S. Senate. Information was passed out regarding a fierce letter writing campaign, too.
"We've had plenty of studies. We don't need to wait for any more 'magic studies' to tell us what we already know — that veterans' health care in deep south Texas is not on par with that in the rest of the state or the nation," Salinas said. "The reason why doesn't matter as much as how much we need to fix its sorry state."
"The veterans' population here continues to grow, and the Rio Grande Valley contributes more men and women per capita than nearly any other area in the United States to our armed services. We will not be forgotten for our valiant efforts," added the Hidalgo County judge.
Salinas, with the help of Cascos, is organizing a summer trip to Washington D.C. with many of the veterans to lobby face-to -ace with key members of the Veterans' Administration Committees in both sides of Congress. They plan on educating Congress that Texas doesn't end in San Antonio, which has the closest VA hospital to the Valley, yet still requires area veterans to travel eight hours round-trip for 15 minutes appointments.
Emilio de los Santos, Hidalgo County veterans' service officer, said it is essential that the region continues to speak as one voice as it strives toward achieving the ultimate goal in building a VA hospital in Deep South Texas.
"Our leaders understand that this resolution will provide the best health care needs for veterans and their families in South Texas," de los Santos said.
The VSO said he is reminded of a quote by Theodore Roosevelt when reflecting on this situation: "A man who is good enough to shed his blood for his country is good enough to be given a square deal afterwards."
••••••
Congressman Hinojosa criticizes plans by Iraqi government to take vacation during wartime
By ELIZABETH ESFAHANI
On Thursday, May 24, Rep. Rubén Hinojosa, D-Mercedes, released the following statement on the passage of the new Iraq Supplemental Appropriations bill.
"The war in Iraq is the most critical issue facing our nation, not only because of the human and financial resources it is consuming, but because of its effect on our nation's reputation globally and our domestic security.
"Congress has cast a critical vote that will impact our troops in Iraq and Afghanistan and bring about a new direction in Iraq. While the bill does not have specific timelines for troop withdrawal, it is a realistic compromise that addresses the political realities we face here in Washington. This responsible piece of legislation fully funds our troops. It also calls for real accountability by requiring the Iraqi government to meet the 18 benchmarks established by Sen. Warner or face losing funds for Iraqi reconstruction. The Iraqi government must realize that America will not continue to sacrifice our young men and women while they go on vacation and fail to make the necessary political changes.
"The funding for the Iraq war will expire at the end of September. At that time, my Democrat and Republicans colleagues agree that we must reassess the progress that has been made over the summer before providing any additional funding for the war.
"For far too long, President Bush has received a blank check from Congress to do as he pleases without accountability. With this vote, we will finally hold the Administration responsible and insist on real progress in Iraq."
••••••
$3 million drug treatment center to be located in Edinburg included in state budget by Rep. Peña
By ORLANDO SALINAS
Negotiations over the state's biennial budget has yielded a drug treatment center to be located in Edinburg. The proposed $3 million facility was approved by the House and Senate conference committee on House Bill 1.
Rep. Aaron Peña, D-Edinburg, continued to work with the negotiators in the last few weeks to ensure that the drug treatment center stayed in the budget after adding a rider to the bill during debate in the Texas House.
"The realization of this drug treatment center in Edinburg fulfills one of my primary goals in becoming a state legislator," said Peña "Treatment and rehabilitation are important strategies in combating the terrible effects that illegal drugs have in our community."
The treatment center is part of a broader state-wide strategy to address substance abuse and rehabilitation issues in our communities before they become issues in the criminal justice system. The state budget includes more funding for substance abuse treatment and diversion programs for low level, non-violent offenders at the Texas Department of Criminal Justice.
It adds treatment and capacity dollars at the local level to give judges and the parole board an alternative to sentencing offenders and considering probation and parole options.
The exact location, size and capacity of the center have yet to be formalized. The drug treatment facility would compliment the existing Mental Health and Mental Retardation operations in Edinburg.
"There needs to be a three prong approach to combating the devastating effects of substance abuse in our communities," said Peña.
"We have to keep educating children and adults about the dangers of drug and alcohol abuse. This session we've allocated more funding for law enforcement to stem the flow of drugs through our borders and we are now investing more in treatment and rehabilitation."
The Texas Legislature has allocated over $100 million for border security.
As the five-month regular session approached its conclusion at midnight on Monday, May 28, the House and Senate were negotiating the exact details of the border security bill. The negotiations on the budget bill needs to be agreed upon by the House and Senate before being sent to the Governor.
"The entire Rio Grande Valley legislative delegation needs to be applauded for working together to get these important programs for South Texas," said Peña. "Rep. Guillen (D-Rio Grande City) fought hard on the conference committee to keep this drug treatment center funded. Senators (Juan 'Chuy') Hinojosa (D-McAllen) and (Eddie) Lucio (Jr., D-Brownsville) were instrumental in taking care of business over in the Senate."
Peña is the Chairman of the House Committee on Criminal Jurisprudence and is a member of the House Committee on Ways and Means. He is serving his third term in the Texas House.
******
Sweeping legislation by Sen. Hinojosa approved by lawmakers, will reform Texas Youth Commission
By MELISSA DEL BOSQUE
After more than two years of tackling the myriad problems plaguing the Texas Youth Commission, Sen. Juan "Chuy" Hinojosa, D-McAllen, passed his sweeping legislation on Friday, May 25, to reform the troubled commission.
Following several days of negotiations in conference committee between the House and Senate, Senate Bill 103 passed both the Senate and the House and now awaits the governor's signature.
Rep. Jerry Madden, R-Plano, and chairman of the House Committee on Corrections, was the House sponsor of the bill. Rep. Rene Oliveira, D-Brownsville, was a co-sponsor of SB 103.
Sen. Judith Zaffirini, D-Laredo, was a co-author of the measure.
"Overall, the negotiations made SB 103 a better bill for the state and the people of Texas," Hinojosa said. "It's been a long road, and Rep. Madden was a pleasure to work with in serving Texas' families. With the passage of this bill today, I am confident that the children in the state's care will receive the rehabilitation they need, and that the people of Texas will have a Commission worthy of them."
Hinojosa began looking into the juvenile justice system two years ago when riots broke out at the Evins Regional Juvenile Center in Edinburg, Hidalgo County. Hinojosa pre-filed his comprehensive reform legislation last year and has continued to work with stakeholders to rebuild the troubled commission after the TYC scandal erupted.
Hinojosa's bill calls for improved security by requiring TYC guards to undergo at least 300 hours of training before being assigned to guard duty, and it caps the guard-to-youth ratio at no more than 12 to 1 to maintain order and safety. It also requires fingerprint and national criminal history checks for employees, volunteers, and advocates working within TYC facilities.
SB 103 also creates a Parents' Bill of Rights to guarantee swift and accurate access to information about caseworkers' duties and the agency's grievance policies.
In addition, Hinojosa's reforms call for the establishment of a panel within TYC to review sentencing extensions, thus bringing strict accountability to the process. His bill features structural improvements to TYC's governing board and strengthens the agency's emphasis on community rehabilitation instead of automatic incarceration.
Hinojosa's legislation ends the practice of housing 10- or 11-year-olds with 19- or 20-year-olds; creates an authority of law-enforcement trained personnel within an Inspector General's Office to ensure law and order in TYC facilities; and authorizes child advocacy groups to visit facilities and work with youth.
To ensure that these and other improvements are properly implemented, extensive reporting measures were put into place so that parents and the public can access information regarding investigations, extensions of youth's sentences, and prosecutions of crimes occurring within TYC. The bill also requires TYC develop a plan to move towards acquiring national accreditation of their facilities.
"SB 103 will make tremendous changes to the Texas Youth Commission, and we will continue to work with the agency and evaluate its progress through the Sunset Commission." said Hinojosa. "We have appropriated $525 million for the TYC to give them the necessary resources to implement the SB 103 reforms. The Texas Legislature has made improving this agency a top priority, and we expect success."
••••••
South Texas College receives legislative approval to permanently offer university-level degree
By ED SERNA
The House of Representatives on Friday, May 25, today passed House Bill 2198 by Rep. Ismael "Kino" Flores, D-Palmview, that will make the baccalaureate programs at three junior colleges, including South Texas College, permanent.
The measure, which was sponsored by Sen. Kyle Janek, R-Houston, has gone to the governor for his approval.
"This bill provides an affordable and accessible college education opportunity for local citizens and helps meet the local workforce needs of the surrounding communities," Flores said. "Students wishing to get a baccalaureate in Applied Science and Technology will be able to pursue a degree closer to home. This is great news for the Valley."
In 2005, the Legislature authorized a pilot project allowing three public junior colleges, including South Texas College, Brazosport College, and Midland College, to offer limited baccalaureate degrees in Applied Science and Technology.
The pilot program provided the opportunity to examine the effectiveness and feasibility of a permanent program. The three pilot institutions have made long-term financial investments in preparation for offering the baccalaureate degree, including the expansion of library resources and adding doctorate-level faculty to teach in these programs.
"This project is a tremendous success and has been met with great enthusiasm and support by students and local businesses. My bill enhances educational opportunities in the region and will promote economic development that ultimately improves the lives of many," said Flores. "The importance of education can't be overstated, for not only the students and their families, but also for the Valley's prosperity."
Flores represents District 36, which includes parts or all of the cities of Hidalgo, Granjeno, McAllen, Mission, Palmview, Penitas, and Pharr.
••••••
Sen. Hinojosa passes legislation to require heart defibrillators on every Texas school campus
By MELISSA DEL BOSQUE
Sen. Juan "Chuy" Hinojosa, D-McAllen, on Tuesday, May 22, passed Senate Bill 7, which will put an automatic external defibrillator (AED) in every public and private school campus across the state and provide for training in CPR and defibrillator use for school staff and high school students.
Sen. Judith Zaffirini, D-Laredo, was a co-author of the bill. Rep. Rob Eissler, R-The Woodlands, was the House sponsor of the measure.
According to the American Heart Association, which supported the Hinojosa bill, an automated external defibrillator (AED) is a computerized medical device. An AED can check a person's heart rhythm. It can recognize a rhythm that requires a shock. And it can advise the rescuer when a shock is needed. The AED uses voice prompts, lights and text messages to tell the rescuer the steps to take.
AEDs are very accurate and easy to use. With a few hours of training, anyone can learn to operate an AED safely. There are many different brands of AEDs, but the same basic steps apply to all of them. The AHA does not recommend a specific model.
SB 7 was a priority for Hinojosa during the 80th Legislative session.
"Requiring defibrillators in our schools is a positive and responsible move. There's wide agreement that we should have AED's in all of our Texas schools, not only to save students' lives, but to save the lives of educators and school personnel," Hinojosa said.
The American Heart Association commended the senator on the passage of the bill.
"This important piece of legislation helps to make our schools safer for the children of this state. The bill is an extraordinary effort to move the state forward in Emergency Cardiac Care," said Dr. Henry Lucid, American Heart Association State Advocacy Committee member.
SB 17 has also been part of the Lt. Governor David Dewhurst's priority legislation for the 80th session.
"I want to thank the Lt. Governor for his leadership and support in passing this bill," Hinojosa said. "This is something the state can provide schools that will save students, educators, and families a lot of heartache."
••••••
Bill by Sen. Lucio, Rep. Gonzáles, Rep. Guillen to protect family violence victims sent to governor
By DORIS SÁNCHEZ
The Texas Legislature on Friday, May 25, sent a bill by Sen. Eddie Lucio, Jr., D-Brownsville, to the governor that creates an address confidentiality program to assist eligible victims of family violence, sexual assault or stalking. The bill was amended to include the use of pseudonyms to further assist victims.
Rep Verónica Gonzáles, D-McAllen, and Rep. Ryan Guillen, D-Rio Grande City, were joint sponsors of the bill.
"I want to thank all the supporters of this bill, and my colleagues in the House, Rep. Gonzáles and Rep. Guillen, for their work on Senate Bill 74," said Lucio.
Gonzáles, who provided great leadership to this issue, said, "A victim of abuse should not have to go underground to escape his or her assailant. This legislation allows a victim to receive mail, register to vote and blend back into society without having his or her location discovered."
SB 74 directs the Attorney General to designate a substitute post office box address that a victim of these crimes can use in lieu of a physical address. There is currently no mechanism in Texas to help victims of family violence, sexual assault or stalking keep where they reside confidential. Now qualified applicants will have this measure of protection, plus the ability to use pseudonyms when filling out forms for law enforcement officers or agencies in domestic violence cases. The pseudonym would be confidential and disclosed only to the defendant or the defendant's attorney, except when a court order is issued for other matters.
Without this program, certain victims live in constant fear of being located.
"I think about the address confidentiality program as something which could have saved my grandmother's life if it had been available to her," said Donna Bloom of the Texas Advocacy Project, whose grandmother was killed in her home by her grandfather after she had ended the relationship.
In cases of family violence, the abuse often escalates when victims leave the relationship and seek a new address. According to the Texas Council on Family Violence, 143 Texas women were killed by their male intimate partners in 2005. Sixteen of those victims were killed as they were leaving the relationship or after they had already left.
More than a million women and nearly 400,000 men are stalked annually, and one in 12 women and one in 45 men will be stalked in their lifetimes. The majority of victims are stalked by someone they know. Of those women who have been killed by an intimate partner, 76 percent were stalked by that partner in the year before their deaths, and 81 percent of women stalked by a current or former intimate partner are eventually physically assaulted by that individual.
••••••
Edinburg, McAllen share lowest jobless rates in Valley for April, posting 4.3 percent unemployment
By DAVID A. DÍAZ
Edinburg's jobless rate, which is a key indicator of the strength of the local economy, and McAllen in April posted the lowest jobless rates in the Valley, with each city reporting a 4.3 percent unemployment rate, according to the Texas Workforce Commission.
The latest figures also means the three-time All-America City had the lowest jobless rate for the fourth consecutive month in 2007, according to the Edinburg Economic Development Corporation.
The EEDC is the jobs-creation arm of the Edinburg City Council.
The EEDC's five-member governing board includes Mayor Joe Ochoa; former Mayor Richard García,
who is president of the EEDC board of directors; and Fred Palacios, Mike Govind, and George Bennack.
In March, Edinburg's jobless rate was 4.4 percent, in February it was 4.8 percent, and in January it was 4.9 percent. Those figures were the best in deep South Texas for their respective months.
The city's unemployment rate was keeping pace with the statewide average in April of 4.2 percent and the U.S. unemployment rate of 4.5 percent.
In 2006, the annual jobless rate for Edinburg was 5.3 percent, while in 2005, the annual jobless rate for Edinburg was 4.7 percent.
In 2006, the city's jobless rate was the lowest in the Valley during five months, according to the Edinburg Economic Development Corporation, and Edinburg registered the second-best showing for most of the other months last year, edged out only by McAllen.
In April, according to the Texas Workforce Commission, 1,207 Edinburg residents were looking for jobs, while 26,965 local residents were employed.
The jobless rate, also known as the unemployment rate, is the number of persons unemployed,
expressed as a percentage of the civilian labor force.
The civilian labor force is that portion of the population age 16 and older employed or unemployed.
To be considered unemployed, a person has to be not working but willing and able to work and actively seeking work.
The jobless rate for Hidalgo County was 6.1 percent in April, an improvement from 6.5 percent in March, 7.4 percent in February, and 7.7 percent in January.
The April jobless rate for Hidalgo County represented 16,453 area residents without jobs, while 254,466 residents were employed during the fourth month of 2007.
McAllen top showing in April of 4.3 percent represented 2,498 of their citizens out of work that month, while 55,855 residents of the City of Palms were employment. In March, McAllen reported a 4.6 percent jobless rate, 5 percent in February, and 5.1 percent in January.
Cameron County's jobless rate in April was 5.5 percent, down from the March level of 5.8 percent. In April, 7,896 residents of Cameron County were looking for work, while 135,384 residents were holding down jobs.
Harlingen's unemployment rate in April was 4.6 percent, down from 4.9 percent in March, while Pharr in April posted a 5 percent jobless rate, down from 5.3 percent jobless rate in March.
Mission came in with a 5.2 percent jobless rate in April, down from its 5.4 percent unemployment rate in March, followed by Weslaco at 5.3 percent in April, down from 5.9 percent in March.
In Cameron County, Brownsville's unemployment rate in April was 5.6 percent, down from 5.9 percent in March.
According to the Texas Workforce Commission:
Seasonally adjusted nonagricultural employment in Texas grew by 23,500 jobs in April for a total of 240,800 jobs in the past year.
The state's annual job growth rate rose slightly in April to 2.4 percent from last month's 2.3 percent.
The April seasonally adjusted unemployment rate dropped to 4.2 percent, down from 4.3 percent in March and 5.0 percent a year ago.
The Midland Metropolitan Statistical Area (MSA) experienced the lowest unemployment rate in the state at 2.7 percent (not seasonally adjusted). The Odessa MSA was second at 3.0 percent, followed by the Lubbock MSA at 3.1 percent.
"Our sustained job gains and falling unemployment rate exemplify the underlying strength of the Texas economy," said Texas Workforce Commission (TWC) Chair Diane Rath. "The Texas unemployment rate dropped to 4.2 percent, well below the national unemployment rate of 4.5 percent."
Professional & Business Services gained jobs for the ninth consecutive month, adding 11,700 jobs in April. The industry has gained 61,100 jobs in the past year. The Leisure & Hospitality sector followed with an increase of 5,000 jobs in April, for a year-over-year gain of 39,400 positions.
"Texas employers continue to create jobs at a tremendous pace, benefiting our regional economies and communities," said TWC Commissioner Representing Employers Ron Lehman. "With expansion in 10 of 11 industries, we're seeing significant annual job growth rates such as 5.0 percent for Business & Professional Services, and 10.0 percent for Mining."
Trade, Transportation & Utilities added 3,600 jobs in April, with 26,300 jobs created since last year. Education & Health Services increased by 2,500 jobs in April for a total of 24,700 since April 2006.
"It's always a great sign when the ranks of the unemployed are declining and more Texans are back to work," said TWC Commissioner Representing Labor Ronny Congleton. "It's rewarding to know that in the past four weeks we've added more than 23,000 jobs."
••••••
Hidalgo County District Clerk Hinojosa unveils vision for 2007 in Quarterly Progress Report
By RICARDO CONTRERAS
Hidalgo County District Clerk, Laura Hinojosa, commemorated her 100th day in office on Thursday, May 24, by unveiling the mission and vision for the District Clerk's Office for 2007. Hinojosa presented her "Quarterly Progress Report" which highlights some of her administration's achievements, organizational changes and things to come.
"One hundred days ago I outlined my priorities for the Hidalgo County District Clerk's Office and committed to maintaining an open government in a firm, fair and consistent manner," said Hinojosa. "I can proudly say that we've been able to accomplish this. However, I can also acknowledge that we still have a lot of work to do."
The Quarterly Progress Report was initiated by the office in an effort to keep the public informed on the most up-to-date activity in the office. The report outlines the office's accomplishments which consist of simplified processes, new and enhanced policies and procedures, randomization of court assignments, ongoing professional development, new and reliable office systems, and implemented emergency safety plans. The report also includes a newly created mission statement, the office's organizational chart and information regarding the different departments within the District Clerk's Office. Those departments include Administrative Services, the Civil and Criminal Bureau, the Financial Bureau, Tax and Jury, and Registry of the Court.
"These are exciting times for the District Clerk's Office," said Hinojosa. "I am more committed than ever to improving customer service, developing our staff and organization, and continuing to restore the public's trust and confidence in the District Clerk's Office."
The office staff will observe this day by spending their lunch hour at a staff development luncheon on County grounds.
Laura Hinojosa was elected Hidalgo County District Clerk in November 2006. She was inaugurated on January 1, 2007. Her father is U.S. Congressman Rubén Hinojosa, D-Mercedes.
******
Congressman Hinojosa votes for new tools to fight record high gasoline prices as summer approaches
By ELIZABETH ESFAHANI
As Americans approach the summer driving season, Rep. Rubén Hinojosa, D-Mercedes, joined an overwhelming bipartisan majority in Congress and voted to approve new tools to fight record high gas prices. On Tuesday, May 22, and Wednesday, May 23, Hinojosa voted for legislation to crack down on gas price gouging and OPEC state-controlled entities average of $3.09 per gallon of regular gas, which is 132 percent higher than the average in 2001.
"Families in Texas are suffering each time they go to the gas station," said Hinojosa. "This legislation will help crack down on price gouging and fight against those who attempt to fix the price of oil and stick the American people with the bill."
On Tuesday, May 22, the House approved H.R. 2264 to authorize the Justice Department to take legal action against OPEC state-controlled entities that participate in conspiracies to limit the supply, or fix the price, of oil. Nations or organizations that limit oil supply can artificially inflate the cost of gas and hurt American consumers.
On Wednesday, May 23, the House approved The Federal Price Gouging Prevention Act, H.R. 1252, which would give the Federal Trade Commission the authority to investigate and punish companies that artificially inflate the price of gas. The bill sets criminal penalties for price gouging, and permits states to bring lawsuits against wholesalers or retailers who engage in such practices.
While a bipartisan majority in Congress supports these bills, President Bush has threatened to veto both pieces of legislation.
"As the summer driving season approaches, families can barely afford to drive to the local pool, much less go on vacation," Hinojosa said. "President Bush is wrong to oppose these bills and I urge him to join our efforts to bring down the cost of gasoline."
Nationwide, families are paying $3.22 a gallon on average for regular gasoline – more than double the cost when Bush took office, up 89 cents from the beginning of the year. Last year, families paid $1,000 more on average for gasoline than in 2001, and each additional 10 cents per gallon of gasoline adds $14 billion to America's annual gasoline bill.
The high cost for families come as oil companies continue to prosper. The six largest oil companies announced $30 billion in profits for the first quarter of 2007. This is on top of the $125 billion in record profits they made in 2006.
In addition to the legislation approved this week, the Democratic Congress has already voted to roll back $14 billion dollars in taxpayer subsidies for Big Oil companies and reinvest the money in clean, alternative fuels, renewable energy and energy efficiency. Democrats are also developing an Independence Day package to boldly address energy independence and global warming by rapidly expanding the production of clean, alternative fuels and increasing energy efficiency, which will help protect our environment and bring down the cost of fuel for American consumers.
••••••
Let's do immigration reform right negotiated in private, bill deserves a full public airing
By U.S. SENS.
KAY BAILEY HUTCHISON
and JOHN CORNYN
As your U.S. senators, we have been heavily involved in the congressional debate on immigration reform for several years. We have taken a leadership role on this issue because we represent a state that uniquely benefits from the contributions of legal immigrants, but is also uniquely vulnerable to the dangers of illegal immigration. Throughout this process, our principles have been clear and consistent: We must secure our borders, and we cannot encourage illegal behavior through amnesty.
Two weeks ago, the Bush administration, along with a small group of senators, announced a compromise immigration bill that would take a necessary first step in improving border security. We did not join in the announcement. While our efforts had a positive influence, we were not convinced the announced proposal guarantees repair of our current broken system. We are particularly concerned that we may be repeating the mistakes of the failed 1986 national amnesty.
As of late Friday, May 18, the actual text of the "grand compromise" had not yet been published. Major questions remain about details of the plan, and how it would work. We believe the bill, which was negotiated privately, deserves a full public airing before it's considered.
The bill promises some long-term positive changes, including significant border security measures, an end to chain migration and a switch to green card distribution based on merit.
But many problems have not been satisfactorily addressed. For example, we must make certain that convicted criminals are not eligible for any legalization, and if these individuals attempt to stay here, that they are arrested and promptly deported.
We must ensure that only those who have played by the rules and not those engaged in identity theft receive Social Security benefits. This proposal would enable illegal immigrants to collect Social Security benefits for the time they were unlawfully in our country. At a time when we are already facing major shortfalls in our ability to pay benefits for future retirees, this represents an unfair burden on the American taxpayer. We must end the rampant document fraud that plagues our workplaces today, and do it in a way that is legally enforceable.
Some of our colleagues, sensing the fragile nature of the proposed compromise, want to rush it through the Congress immediately. This would be a major mistake. It is too important and too complicated to rush. The legislation requires extended Senate debate, with full opportunity for public input and criticism, and an open process for amendments to strengthen its provisions.
In 1986, the Congress approved a similar compromise plan that, in return for amnesty for most immigrants here illegally, promised an end to porous borders and disregard for our laws. Those promises were not honored. The amnesty legislation instead actually encouraged further disrespect for our laws, and led directly to the situation we face today.
As the bill reaches the Senate floor this week, our goal will be restoring the integrity of our borders, providing guest workers with opportunity, not amnesty, and preserving our Social Security for all who legally qualify. Our contributions to the debate will continue to be positive and constructive.
Our country needs immigration reform. We must ensure that it's done, and done correctly.
Hutchison and Cornyn, both Republicans, represent Texas.
••••••
Texas House passes legislation by Rep. Peña, Sen. Zaffirini targeting online sexual child predators
By ORLANDO SALINAS
The Texas House of Representatives approved legislation on Friday, May 25, making the Internet safer for children from online sexual predators. Senate Bill 6 by Sen. Judith Zaffirini, D-Laredo, and Rep. Aaron Peña, D-Edinburg, is on the way to the governor.
SB 6 increases the penalty for sexually explicit online communication with a minor who is 14 to 16 years old from a state jail felony to a third degree felony. It increases the penalty for online sexual solicitation of a minor who is 14 to 16 years old from a third degree felony to a second degree felony and provides that sentences for certain offenses arising out of the same criminal offense may run concurrently or consecutively.
"Online solicitation and sexually explicit communication with a minor are serious and dangerous offenses," said Peña. "Sexual predators are using the Internet and other technology to prey upon our children. The legislation we passed today gives law enforcement more tools to apprehend and prosecute these offenders."
SB 6 instructs the Attorney General to establish an Internet Service Provider (ISP) database and require the preservation of certain records and information. The bill establishes a timeline for ISPs to respond to subpoenas, search warrants and other court orders. This bill also directs the Crime Stoppers Advisory Council to emphasize programs targeted at detecting unregistered sex offenders.
"Internet Service Providers, citing privacy concerns, have sometimes been reluctant to cooperate with law enforcement authorities," said Peña. "We need to have the opportunity to quickly obtain information to combat and stop these online threats. If one of these predators has made contact with a child we need to verify his identity and find him."
NBC's Dateline program, To Catch a Predator, has shown the public the opportunity and ease in which these child predators operate in our communities. The Dateline program has identified over 200 child predators in its televised stings. Local, state and federal officials also continue to operate stings designed to catch these people engaged in online solicitation of minors.
SB 6 will now face one more procedural vote before being sent to the Governor's desk. Peña is the Chair of the House Committee on Criminal Jurisprudence and is a member of the House Committee on Ways and Means. He is serving his third term in the Texas House.
••••••
MySpace.com to turn over information on sex offender profiles to Texas Attorney General Abbott
Texas Attorney General Greg Abbott on Monday, May 21, ordered MySpace.com to release the names of all convicted sex offenders who have set up online member profiles.
MySpace.com agreed to turn over first and last names of its online users that are registered sex offenders in Texas. MySpace.com will also provide IP addresses, E-mail addresses, and their online profile information. This data will help the attorney general crack down on sex predators who use the Internet to prey on children.
"By providing this information, MySpace.com is helping law enforcement crack down on online sex predators," Abbott said. "Social networking sites must continue to make their Web sites and content safer for our children. We urge all social networking Web sites to take all necessary steps to keep children safe from the unwanted advances of online predators."
Abbott, a nationally recognized leader with more than 500 sex predator arrests, has repeatedly pressed MySpace.com and other social networking sites to implement definitive safety measures to protect young users of their Web sites from sexually explicit images and unwanted solicitations. Since the push from Attorney General Abbott and other attorneys general, MySpace.com has taken steps to improving safety on its site, including screening profiles for inappropriate content and making certain profiles private.
"The incorrigible nature of sex predators requires public officials, law enforcement, industry leaders and parents across Texas to join together to make the Internet a safer place," Attorney General Abbott added. "Without meaningful safeguards in place, no child is safe from the unwanted advances of chat room predators."
The Attorney General, along with state leaders, has also fought to make Texas the toughest state in the nation, creating one of the nation's toughest versions of "Jessica's Law", tightening penalties for Internet predators and providing district attorneys more tools to prosecute child sex crimes.
Last March, the Texas Senate passed Senate Bill 6, which provides additional tools that will improve law enforcement's ability to investigate cyber crimes. Under SB 6, authored by Sen. Judith Zaffirini, Internet Service Providers (ISPs) are required to promptly respond to court orders and subpoenas issued by law enforcement. Today, when the Texas House of Representatives debates SB 6, legislators will consider an amendment that would amend SB 6 by expanding its applicability to entities such as MySpace.com. If passed, this provision would further improve the Attorney General's ability to quickly obtain critical information about cyber predators from ISPs, social networking sites, and other online resources.
Abbott has earned a national reputation for aggressively arresting and prosecuting online child predators. In 2003, he created the Cyber Crimes Unit, which protects children from online sexual exploitation. The Cyber Crimes Unit and the Fugitive Unit, which locates sex offenders who have violated the terms of their parole and could be stalking children, have combined to arrest more than 500 sex offenders. Cyber Crimes Unit investigators also have traveled to schools and communities statewide to offer educational cyber safety programs.
In May 2006, Abbott's Cyber Crimes Unit was awarded a $300,000 grant from the U.S. Department of Justice's Office of Juvenile Justice & Delinquency Prevention to establish an ICAC Task Force. The Texas Attorney General's ICAC Task Force is one of almost 50 federally funded task forces across the country dedicated to this project.
In July 2006, Abbott was invited by U.S. Congressman Joe Barton to testify at a congressional hearing in Washington on federal legislation limiting access to commercial social networking sites at publicly funded schools and libraries.
To find out more about Abbott's efforts to crack down on sex predators, visit the Attorney General's Web site at http://www.oag.state.tx.us or call (800) 252-8011.
••••••
Expert on birding warns of dire consequences to environment, economy if border wall is built in area
By KEITH HACKLAND
When I moved to the Lower Rio Grande Valley in 1997 I did not have the knowledge to appreciate the richness of our birds and wildlife here. After nine years of exploring, photographing, guiding, reading, listening, teaching, writing, and marketing our area to birders, I am just beginning to grasp what makes this the richest, most diverse birding spot in United States and Canada. As I continue to observe and explore this amazing place, I have discovered that the forest along the river is the richest of all.
During the past 100 years of border economic growth, Texas and Mexico cleared and ploughed the Lower Rio Grande floodplain, destroying over 95 percent of the river forest. The dams (Falcon in 1953) and levees built to stop annual floods have caused our floodplain to become drier, resulting in shrinkage of remaining river forest. "Periodic droughts are probably the factor triggering death of many large trees. In these areas, a "reverse succession" allows thorny trees and shrubs – retama, huisache, prickly pear, granjeno, and others – to invade,"(Page 35, Timothy Brush, Nesting Birds of a Tropical Frontier).
Since the 1940s samples of river forest have been saved, and we are replanting corridors of trees along the river, to connect these survivors. The best samples can be seen at Santa Ana National Wildlife Refuge, Sabal Palm Sanctuary, and Bentsen RGV State Park, around seasonally filled resacas (oxbow lakes) that keep the earth damp. At Santa Ana NWR follow "A Trail" to Willow Lake. Starting out in thorn forest with prickly pear and lacy mesquite, retama and huisache, there is an abrupt transition to river (riparian) forest, containing ". . . taller trees and more luxuriant vegetation than do other wooded habitats. Mexican ash, black willow, sugar hackberry, and cedar elm are common in moister sites, while Texas ebony, anacua, and coma grow on higher, drier terraces." (Page 34, Timothy Bush).
The tall, damp ". . .riparian forests support some of the rarest breeding birds in the United States: Muscovy Duck, Gray Hawk, Red-billed Pigeon, Rose-throated Becard, Northern Beardless-Tyrannulet, Brown Jay, Clay-colored Robin, Altamira Oriole, and Tropical Parula," (page 35, Timothy Brush). Spanish moss and ball moss, amazing butterflies, rare dragonflies, amphibians and reptiles flourish.
The unique birds in our river forest bring birders from across United States, Canada and Europe. Birders spend hundreds of millions of dollars, paying for the jobs of thousands in the Valley. Here in Alamo, the Gateway to Santa Ana NWR, at Alamo Inn I make my living providing services to birders, and our city restaurants, motels, and shops all serve them too. At El Dorado restaurant they recognize the many birders eating there. Alamo's Casa Santa Ana is a birder's B&B located adjacent to Santa Ana NWR. The birding industry is big not only in Alamo, but in cities all across the Valley.
Remove the Valley's river forest, and 100,000 to 200,000 birders a year, including thousands of long stay Winter Texan birders, would not visit us. That would be an economic disaster for thousands of Valley workers, costing hundreds of millions of dollars annually. Furthermore, it would dramatically reduce birding and nature tourism across the Texas Coastal Region, Texas Hill Country, West Texas, and North East Mexico, where birders attracted to the Lower Rio Grande extend their tours and spend additional hundreds of millions of dollars annually.
Yet that is literally the plan, starting this summer. The Department of Homeland Security (DHS) distributed maps indicating they have plans that will have to include bulldozing and clearing the Texas banks of the Rio Grande to install river patrol roads and river fencing. DHS is a protected part of the Federal Government that can operate without being sued and without consulting residents. The Secretary of Homeland Security, Michael Chertoff, has the power to wave any and all federal laws in the name of homeland security. He can authorize the construction of river fences and any other structure on federal and private lands without the landowner's consent. This is supported in Section 102 of the 2005 REAL ID Act which states: "…the Secretary of Homeland Security shall have the authority to waive, and shall waive, all laws such Secretary, in such Secretary's sole discretion, determines necessary to ensure expeditious construction of the barriers and roads under this section."
The Lower Rio Grande Valley National Wildlife Refuge includes property along 80 miles of the Lower Rio Grande's last 240 miles (Boca Chica to Falcon Dam) and it protects a significant part of what little river forest remains (less than five percent of the historic river forest). DHS plans could clear-cut much of our remaining river forest. DHS river fences could cut us off from access to our drinking water, and leave it and the adjoining land under the control of Mexico. DHS plans could cut ranchers and farmers and their livestock off from water. DHS river fences could prevent birding and fishing the river. DHS plans could destroy our rarest and most valuable birds and butterflies, amphibians and plants. The critical Rio Grande river forest grows adjacent to the Rio Grande from Boca Chica (its mouth at the Gulf of Mexico) through Cameron, Hidalgo and Starr counties, to Falcon Dam. Some of our most rare river forest birds (Brown Jay, Muscovy Duck, Red-billed Pigeon) now occur chiefly along the river in Starr County where it is quieter with less river forest disturbance, but where the river forest is thinnest and most fragile.
DHS river fence plans could close down our top birding sites and destroy our thriving birding tourism industry. Look at a detailed map of the Lower Rio Grande. Our three top river forest refuges, Sabal Palm Sanctuary, Santa Ana NWR, and Bentsen RGV State Park all occupy bends in the Rio Grande, peninsulas pointing into Mexico. A straight fence could cut off the peninsula refuges from Texas and birders, abandoning that land and our river to Mexico. That would devastate our Texas birding industry because Santa Ana NWR is number one, our most visited refuge, and Sabal Palm and Bentsen RGV State Park are in the top ten refuges.
The Rio Grande is already a barrier to illegal immigrants. No one drives across it, so we don't need a fence adjoining it, because those who swim or boat the river will simply use ladders. Furthermore, a twisting and curving river fence system following the river bank would be very unsafe, allowing border patrol units to be trapped, possibly between two fences, out of sight of other units.
The million people living in the Valley do not support the river fence plan. There are workable alternatives to a river wall, river fence, or river road. A virtual (electronic) fence could be deployed to track people. Control mechanisms, whether virtual or physical, could follow the extensive existing infrastructure, building them alongside the existing levee road system, and next to military highway, thereby minimizing the effect on river forest. Also, if we make legal immigration to United States easier and faster, the legitimate majority will cross at bridges and submit to thorough background checks, screening, and documentation, reducing the volume of illegal crossings, and documenting all residents.
Please visit birding sites on the Rio Grande to show your support. It could be your last chance. Join Friends of Santa Ana NWR (956-784-7500). Join Valley Nature Center, which educates 80,000 Valley children, adults and visitors annually about Valley birds and nature, because it needs your support to extend its work (956-969-2475). Talk to people and share this information about the river fence and its threat to birding tourism across the state of Texas.
Most important of all, please write your politicians at every level this week and ask for help to change the DHS Rio Grande river fence plan. The best way to change it is through the same political process that launched it. You could make a difference.
References:
1. Nesting Birds of a Tropical Frontier, The Lower Rio Grande Valley of Texas, by Timothy Brush, 2005. Dr Brush is an ornithologist who teaches at UTPA, Edinburg, TX
2. Numerous TexBirds list serve discussions
3. Numerous articles in Advance News Journal (Pharr, TX), The Monitor (McAllen, TX), Houston Chronicle (Houston, TX)
4. Updates from Martin Hagne, Executive Director of Valley Nature Center, Weslaco, TX http://www.valleynaturecenter.org
5. http://www.southtexasnature.com
Keith Hackland is an innkeeper from Alamo, Texas. He writes extensively on birding in the Rio Grande Valley.
••••••
Former Dallas Cowboys Walls honored by House for donating a kidney to teammate Springs
Rep. Helen Giddings, D-Dallas, on Friday, May 25, honored her constituent, former Dallas Cowboys football player Everson Walls, on the House floor. In February, 2007, Walls selflessly gave one of his kidneys to his former Cowboys teammate and close friend, Ron Springs.
While many individuals struggle with becoming organ donors for a family member much less a stranger or a friend, Walls generously gave his friend what he so desperately needed, a kidney.
Springs has experienced serious health problems as a result of diabetes yet as a result of the transplant surgery his prognosis has increased dramatically. As a result of this remarkable gift, Springs is expected to regain the use of his hands, to walk again on his own, and to be able to end his dialysis treatments.
"Everson Walls and Ron Springs are a shining example of the power of love and lifelong friendship. Mr. Walls is an inspiration. Recognition on the House and the Senate floor are the least the state of Texas could do to recognize such a compassionate and upstanding citizen. Many people have stood where Mr. Walls stood today, and few have been more deserving of this recognition. He reminds us all that one of God's greatest gifts to man kind is the gift of friendship – a gift that really does keep on giving," Giddings said.
The bond between these former athletes was forged in the early 1980s when both were members of the Cowboys. Walls began his NFL career in Dallas in 1981 after starring as an All-American defensive back for Grambling State University. In his 13 seasons as a professional he was named to four Pro Bowl teams, led the league in interceptions in 1981, 1982, and 1985, and was recognized as one of the top cornerbacks in the game. He has been inducted into the Grambling State University Athletic Hall of Fame, the Louisiana Sports Hall of Fame, the Texas Black Sports Hall of Fame, and the Southwestern Athletic Conference Hall of Fame.
A Dallas native who continues to reside in the Metroplex, Everson Walls hopes that his compassionate action in helping his friend will also work toward a greater good as he and Ron Springs plan to create a foundation that will encourage organ donation. The publicity surrounding the transplant has already focused attention on this important medical issue.
"It is my hope that the bond between Mr. Walls and Mr. Springs inspires each of us to do what we can to help our fellow man. Furthermore, I commend the two gentlemen for having the initiative to begin a foundation to encourage organ donation for both living and deceased donors. With death can spring life, and with compassion spring hope," Giddings explained.