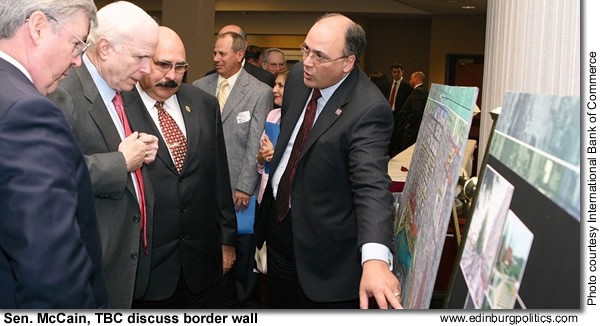 Presidential candidate and U.S. Sen. John McCain, R-Arizona (second from left), reviews plans by the City of Laredo to help curb illegal crossings from Mexico into their community during his recent visit to that community where he met with the Texas Border Coalition, an alliance of elected leaders and economic development officials from the 14 counties which border Mexico. TBC is championing major improvements for border security, and increased commerce and travel through the legal ports of entry along the Texas-Mexico border, says TBC chairman Chad Foster, who serves as mayor of Eagle Pass. But Foster adds that the group stands united against plans that call for paying billions of dollars for fencing – more commonly referred to as a wall – to be constructed along the U.S.-Mexico border. "The Texas Border Coalition has a resolution that we are against the wall," said McAllen Mayor Richard Cortéz. "Sen. McCain said he was also against the wall. He recognizes there have to be some kind of barriers to protect the border, but he favored more technology, more sensors. He felt the wall was a waste of money." See related story later in this posting.
••••••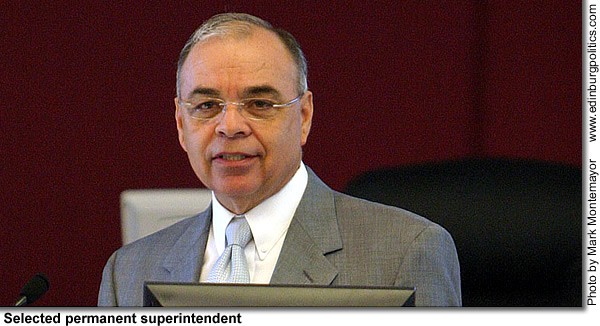 Gilberto Garza, Jr., formerly interim superintendent for the Edinburg school district, on Tuesday, April 24, was appointed permanent superintendent by the Edinburg school board.
In naming Garza as superintendent, the school board provided him with a 14-month contract that runs through June 2008 and a salary of $172,000, plus a $1,000 monthly stipend for auto allowance, cell phone, and other incidental expenses. The school board approved the contract on a 6 – 0 vote, with trustee Jaime Chavana absent for the vote.
••••••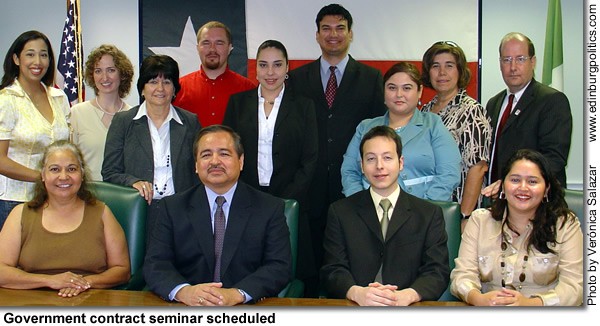 The South Texas Border Business Contracting Expo Planning Committee is looking for Valley businesses interesting in obtaining government and corporate contracts. The STBBCE is scheduled for June 21 at the McAllen Convention Center. Seated Brenda Lee Huerta, McAllen Hispanic Chamber; Robert Chavarría, U.S. Small Business Administration; Froy Garza, Office of Congressman Henry Cuellar; and Desiree Méndez-Caltzontzint, Office of Congressman Rubén Hinojosa. Standing are Elizabeth C. Martínez, The Business Times of the Rio Grande Valley; Beth Walker, Rio Grande Valley Partnership; Minnie Lucio, Cameron Works; Matt Ruszczak, the University of Texas-Pan American Small Business Development Center; Alex Brimer, UTPA Veterans Business Outreach Center; Johnny Clark, Thomas/Price and Associates; Esperanza Pérez, SBDC; Maggie Treviño, Central & South Texas Minority Business Council; and Mark Winchester, SBDC. For more on this story, please see article later in this posting.
••••••
Presidential candidate John McCain, Texas Border Coalition both oppose construction of border wall
By DAVID A. DÍAZ
U.S. Sen. John McCain, R-Arizona, who is also a candidate for President in 2008, covered a wide array of issues crucial to Texas and the border region, including the opposition to a proposed border wall between the U.S. and Mexico, during a key session in Laredo on Monday, April 16, with the Texas Border Coalition.
The Texas Border Coalition is an alliance of elected leaders and economic development officials from the 14 Texas counties that border Mexico.
"It was a rare and special occasion to have the opportunity to have a sit-down, face-to-face meeting with a presidential candidate,' said Eagle Pass Mayor Chad Foster, chairman of the Texas Border Coalition. "We had a lot of issues to discuss, but the focus was on immigration reform and especially border security, which is the top priority, not only for Texas, but for the nation."
As part of his visit with TBC, McCain shared his belief that the nation's immigration policies must be humanitarian.
"We talked about the illegal acts of people who come here illegally, but the exploitation and the mistreatment of people who come to our country who have no protection under our law — terrible things happen and terrible things are done by coyotes that are unspeakable," McCain told the Laredo Morning Times and other border news media.
TBC is championing major improvements for border security, and increased commerce and travel through the legal ports of entry along the Texas-Mexico border, but the group stands united against plans that call for paying billions of dollars for fencing – more commonly referred to as a wall – to be constructed along the U.S.-Mexico border.
"The Texas Border Coalition has a resolution that we are against the wall," said McAllen Mayor Richard Cortéz. "Sen. McCain said he was also against the wall. He recognizes there have to be some kind of barriers to protect the border, but he favored more technology, more sensors. He felt the wall was a waste of money."
Increased funding for the U.S. Border Patrol, lighting, vehicle barriers, sophisticated high technology sensors, and access roads are among some of the options to a wall that have been proposed to increase border security.
"We were very happy with most of the issues he shared with the border mayors and county judges. We will continue to have a friend in Sen. McCain for us to advance the needs for the southern border, for our national government to favor us more financially to improve our ports of entry. There has been a lot of investment in the infrastructure and personnel in our ports of entry," Cortéz reported. "Overall, I believe we all left the meeting feeling pretty good that we had a senator who was going to support, substantially, the positions of the Texas Border Coalition,"
Brownsville Mayor Eddie Treviño Jr., who also participated in the TBC session with McCain, shared his thoughts about the meeting, particularly what he called the "wall to nowhere."
"As border leaders, I believe Sen. McCain heard our united focus and concerns about immigration reform and the proposed 'wall to nowhere'. We alerted him to the fact that the Secure Fence Act, which calls for the building of the wall, included a provision directing the U.S. Dept. of Homeland Security to investigate, study and then make recommendations on how to better secure our border with Canada. We all felt that this same method of fact-finding should have also been utilized as to our border with Mexico before, not after the passage of this legislation. Border security must take into account our border economies, and not take them for granted."
Among the positions McCain has publicly taken on the issue of immigration are the following proposals:
•Vastly improve border surveillance and enforcement capabilities;
•Increase the manpower, infrastructure and capabilities necessary to block, apprehend, detain and return those who try to enter the country illegally;
•Strengthen the laws and penalties against those who hire illegal aliens and violate immigration law;
•Achieve and maintain the integrity of official documents to stop fraud, verify immigration status
and employment, and enforce immigration law; and
•Encourage immigrants to come out of the shadows so we know who is in this country and develop a
sensible guest worker program that will serve the nation's best economic and security interests.
Laredo Mayor Raúl G. Salinas noted the significance of the Arizona senator's meeting with the organization. "We welcome people from all parties and want someone with an open mind to do what's right for mankind, especially as we go through immigration reform," Salinas told the Laredo Morning News.
Foster, Cortéz, Treviño, and Salinas were joined at the Laredo session with McCain by other key members of the coalition, including Del Rio Mayor Efraín Valdéz; Hidalgo County Judge J.D. Salinas; Cameron County Judge Carlos Cascos; and Webb County Judge Efraín Valdéz.
Mike Allen, TBC vice-chairman representing the McAllen Economic Development Corporation, said the gathering was the latest in a series of efforts "to continue bringing the border region together on key issues that affect all of us."
The other members of TBC are: Pat Townsend, Jr., TBC treasurer representing the Mission Economic Development Agency; Brownsville Mayor Eddie Treviño, Jr.; Edinburg Mayor Joe Ochoa; El Paso Mayor John F. Cook; Hidalgo Mayor John David Franz; Maverick County Judge José Pepe Aranda; Mission Mayor Norberto Salinas; Pharr Mayor Leopoldo Palacios, Jr; Roma Mayor Fernando Peña; and Weslaco Mayor Joe V. Sánchez.
The Texas Border Coalition maintains a web site at http://www.texasbordercoalition.org.
••••••
Rio Grande Valley Partnership supports high-security driverslicense, opposes creation of a border wall
By DAVID A. DÍAZ
A proposed new type of drivers license that would help Texans more easily travel in and out of Mexico, while increasing border security, has been endorsed by the Rio Grande Valley Partnership, which also has come out against calls for a "border wall" that would separate the U.S. from Mexico.
The Rio Grande Valley Partnership is a regional chamber of commerce for deep South Texas. Active at many different levels, including economic development and state and federal legislative affairs, it is headquartered in Weslaco.
On Thursday, April 26, the Rio Grande Valley Partnership approved Resolution No. 2007, which endorsed the passage of Senate Bill 2027 by Sen. Elliot Shapleigh, D-El Paso, that proposes the establishment of a pilot program that could lead the the issuance of high-security drivers licenses for state motorists.
Resolution No. 2007 also objects to the federal Secure Border Initiative, a plan that calls for the construction of barriers, most commonly referred to as a "border wall", between the U.S. and Mexico.
The action by the Rio Grande Valley Partnership is consistent with the positions that have been previously taken by the Texas Border Coalition, an alliance of elected leaders and economic development officials representing the 14 Texas counties which border Mexico.
The Valley Partnership's Resolution No. 2007 contends that any such border wall, "be it fences, barriers, or other mechanisms, is inhospitable, a stark contrast to the gracious and genteel qualities that characterize local border communities; moreover, its construction, particularly through the application of eminent domain, is insidious, an affront to the pride and privilege of land ownership."
Such barriers could cost billions of dollars, according to federal government estimates, and opponents say those resources could be better used for other homeland security measures that would not hurt international commerce, economic development, and good will between the two nations.
"As the regional chamber of commerce, the Rio Grande Valley Partnership works to build business and to foster goodwill with our neighbors in Mexico," said Bill Summers, its president and chief executive officer. "A border wall goes against everything this organization has been working towards for more than sixty years, and everything our local business work towards every day. By our resolution today, we commend Sen. Shapleigh in the Texas Legislature for his proactive efforts to create mechanisms that facilitate business and goodwill, rather than some federal initiatives that wedge barricades against them."
Measures such as Shapleigh's SB 2027 are much better and more effective solutions that help improve homeland security, the Rio Grande Valley Partnership maintains.
As proposed, SB 2027 authorizes the Department of Public Safety to initiate a permissive high security driver's license pilot program, to adopt rules to implement the program, and to enter into a memorandum of understanding with any federal agency for the purposes of facilitating the movement of people between Texas and Mexico, according to the bill analysis of the measure.
SB 2027 was unanimously approved by the Senate Committee on Transportation and Homeland Security on April 24, and is awaiting a scheduled date for action by the full Senate.
According to the bill analysis of SB 2027, recently, the State of Washington enacted a high security driver's license pilot program to provide enhanced driver's licenses and personal identification certificates (certificate). Under this program, applicants have the option of choosing standard or enhanced driver's licenses or certificates. Those who choose an enhanced license or certificate receive a license or certificate that appears standard, but contains a radio frequency identification chip that will include certain information that can be scanned at entry points on the border. Noted advantages of the enhanced license or certificate include lower costs and faster turnaround time compared to a passport. It may benefit both the state and persons traveling between Texas and Mexico to implement a similar program.
••••••
Edinburg school board names Gilberto Garza Jr. as new ECISD superintendent
By GILBERT TAGLE
The Edinburg Consolidated ISD Board of Trustees has named Gilberto Garza, Jr. as the new superintendent of schools for the Edinburg school district.
Garza has been serving as the interim superintendent of schools since last December. He was named acting superintendent last August before the start of the 2006-2007 school year.
In naming Garza as superintendent, the school board provided him with a 14-month contract that runs through June 2008 and a salary of $172,000.
Garza has resided in Edinburg since he graduated from San Isidro High School in 1966. He received his Bachelor's of Science and Master's Degree in Education from the University of Texas – Pan American. Other certificates that he has received include supervisory, mid-management and superintendency from UTPA.
He served as a teacher and as a principal at Hargill Elementary, De la Viña Elementary and San Carlos Elementary, before becoming the district's Director of Elementary Education in 1997.
Garza is married to the former Anita Requenez of Edinburg (a retired teacher) and they have two children and four grandchildren. Garza comes from a family of educators whose siblings are either retired administrators or retired teachers.
In making the announcement, Melba González, president of the school board, said, "Gilbert Garza is a proven leader in education and education administration in the Edinburg school district. His 30 years of experience as a teacher, a principal, and as Director of Elementary Education have made him a well-rounded and respected educational leader."
"In the period that Gilbert Garza has served as acting superintendent, the Edinburg school district has made many important strides that have taken the district forward," said González. "Under his leadership, the district has taken measures to address the need for additional classroom space at the elementary level; the renovation of a school facility to serve as a new middle school; and the implementation of a comprehensive program to improve the safety at the campuses for all students and staff."
"Gilbert Garza has proven that he can lead this great district with great vision, understanding, temperament and respectability for all teachers and campus staff as well as for the Edinburg community," she added.
The Edinburg CISD is the second largest school district in the Rio Grande Valley. It spans over 945-square miles (largest in the state) and has a student membership of 29,000 plus and more than 4,200 employees.
As an administrator and interim superintendent, Garza will have the huge responsibility of guiding and influencing the direction of an education program that will serve the needs of all students in one of the Rio Grande Valley's fastest growing school districts.
Carmen González (no relation to Melba González) , vice president for the board, said "Gilbert Garza is the type of leader that inspires the best in others to come out."
"His leadership and character serve to unite and inspire passion among his teachers and principals, paraprofessionals and classified employees to do the best job they can and not forget that the whole purpose of education is to Teach the Children."
••••••
Congressman Hinojosa votes for phased pull-out of U.S. troops from Iraq by March 2008
By ELIZABETH ESFAHANI
Rep. Rubén Hinojosa, D-Mercedes, on Wednesday, April 25, joined a majority in the House of Representatives to approve the conference report on the U.S. Troop Readiness, Veterans' Health and Iraq Accountability Act.
This measure demands accountability from the Bush Administration, delineates a phased plan for the Iraqis to take responsibility for their own future, and outlines a timeline for the redeployment of U.S. combat troops from Iraq. Specifically, the report calls for the redeployment of U.S. combat troops to begin by October 2007, at the latest, with a goal of being completed by March 2008. This represents the approach recommended by the bipartisan Iraq Study Group, which also called for a goal of redeployment being completed by March 2008.
Hinojosa said:
"Today I cast my vote for a plan that will take Iraq in a new direction. While I will continue to see that our military has all the equipment and training they need, I cannot support an Administration policy that puts more troops in harm's way with no clear goals on how to win the fight.
"It is time the President be made accountable for his gross mismanagement of this war. The Administration did not have accurate information four years ago when we went to war with Iraq and they do not have an accurate picture of the situation now.
"Instead, our troops are now caught in the middle of a civil war between religious groups that have hated each other for centuries. The task of imposing and growing democracy in a place where it has never been is not the job for our military. It must come from the political will of the Iraqi people.
"Only the Iraqis can decide whether they want to put aside centuries of discord and come together to create a stable, democratic country where the rights of every group is recognized. This bill demands that the Iraqi government take responsibility for its own future.
"Now is the time to reevaluate our strategy in Iraq. We need to redeploy our troops so they are not targets and the source of increased tension. We need to show the Iraqi government that they must step up to the plate now and make the hard political decisions necessary to save their country. They will never do this if we continue to prop them up.
"I call upon the President to sign this bill and show his support for our troops and veterans. A veto would only be another case of the President's destructive irresponsibility."
••••••
Edinburg's jobless rate in Marchbest in Valley again at 4.4 percent
By DAVID A. DÍAZ
Edinburg's jobless rate, which is a key indicator of the strength of the local economy, remained the lowest in the Valley for the third consecutive month in 2007, averaging 4.4 percent in March, an improvement from 4.8 percent in February and 4.9 percent in January.
The city's unemployment rate was keeping pace with the statewide average in March of 4.3 percent and the U.S. unemployment rate of 4.5 percent.
In 2006, the annual jobless rate for Edinburg was 5.3 percent, while in 2005, the annual jobless rate for Edinburg was 4.7 percent.
In 2006, the city's jobless rate was the lowest in the Valley during five months, according to the Edinburg Economic Development Corporation, and Edinburg registered the second-best showing for most of the other months last year, edged out only by McAllen.
The EEDC is the jobs-creation arm of the Edinburg City Council.
The EEDC's five-member governing board includes Mayor Joe Ochoa; former Mayor Richard García,
who is president of the EEDC board of directors; and Fred Palacios, Mike Govind, and George Bennack.
As of March, according to the Texas Workforce Commission, 1,245 Edinburg residents were looking for jobs, while 26,969 local residents were employed.
The jobless rate, also known as the unemployment rate, is the number of persons unemployed,
expressed as a percentage of the civilian labor force.
The civilian labor force is that portion of the population age 16 and older employed or unemployed.
To be considered unemployed, a person has to be not working but willing and able to work and actively seeking work.
The jobless rate for Hidalgo County was 6.5 percent in March, an improvement from 7.4 percent in February and 7.7 percent in January.
The March jobless rate for Hidalgo County represented 17,623 area residents without jobs, while 254,508 residents were employed during the third month of 2007.
McAllen had the second lowest monthly unemployment rate in March – 4.6 percent – or 2,698 of their citizens out of work, while 55,864 residents of the City of Palms were employed that month. In February, McAllen's jobless rate was 5 percent, while in January, its jobless rate was 5.1 percent.
Harlingen's unemployment rate in March was 4.9 percent, while Pharr posted a 5.3 percent jobless rate that month.
Mission came in with a 5.4 percent unemployment rate in March, followed by Weslaco at 5.9 percent.
In Cameron County, Brownsville's unemployment rate in March came in at 5.9 percent.
Cameron County's jobless rate in March was 5.8 percent. In March, 8,356 residents of Cameron County were looking for work, while 135,427 residents were holding down jobs.
According to the Texas Workforce Commission:
The March seasonally adjusted unemployment rate dropped to 4.3 percent, down from 4.5 percent in February and 5.0 percent a year ago.
Seasonally adjusted nonagricultural employment in Texas grew by 15,000 jobs in March. This increase followed a revised gain of 32,100 jobs in February 2007.
With an annual job growth rate at 2.3 percent, the Texas economy gained 225,500 jobs over the past 12 months. The Midland Metropolitan Statistical Area (MSA) experienced the lowest unemployment rate in the state at 2.9 percent (not seasonally adjusted).
The Odessa MSA was second at 3.3 percent, followed by the Amarillo MSA at 3.4 percent.
"Our falling unemployment rate and continued job growth are clear-cut indicators of a healthy Texas labor market," said Texas Workforce Commission (TWC) Chair Diane Rath. "The Texas unemployment rate now stands at 4.3 percent, below the national unemployment rate of 4.4 percent."
Leisure & Hospitality posted the biggest gain, adding 5,300 jobs in March. Trade, Transportation & Utilities followed with 4,400 jobs added over the month and 21,600 jobs added in the past 12 months. Professional & Business Services went up by 3,600 jobs over the month, for a 4.0 percent gain since March 2006.
"Sustained job growth drives our state's economic development," said TWC Commissioner Representing Employers Ron Lehman. "Employers are recording impressive annual job growth rates in industries, including Mining at 11.6 percent and Construction at 4.2 percent."
Jobs in Construction increased by 2,100 positions in March, following February's substantial gain of 7,900 jobs. In the past 12 months, the industry has added 25,300 jobs.
"Employment is up, and that means more workers are finding jobs," said TWC Commissioner Representing Labor Ronny Congleton. "The labor force in Texas is now at an all-time record, with more than 11,078,300 workers employed."
Initial claims for Unemployment Compensation in March 2007 were 52,901, down 2.1 percent since March 2006.
••••••
Judge J.D. Salinas pushes for improvements on U.S. Highway 281 north of Hidalgo County
By CARI LAMBRECHT
Hidalgo County Judge J.D. Salinas III and leaders of cities along U.S. Highway 281 recently met to discuss plans to convert the main northbound route from Hidalgo County into an interstate-like non-stop thoroughfare.
The purpose of the "U.S. 281 Coalition" meeting, called by Judge Salinas, was to garner support for the highway's inclusion in plans for Interstate 69, a trans-national trade route envisioned to be the shortest and fastest link between the economic centers of the United States, Mexico and Canada. Because the majority of cross-border trade moves by truck, I-69 is needed to increase mobility, safety, air quality and fuel economic development opportunities.
There have been discussions about whether to designate U.S. 281 or U.S. 77 as the route for I-69. Factors such as environmental impact studies, cost-benefit analysis and economic considerations will be key determinants. A commission will ultimately make the final decision — both highways could be included in the final plan — but regardless, U.S. 281 needs to be prepared.
"The bottlenecks have got to go," said Salinas.
Several TxDOT-proposed improvements along U.S. 281 would make it more attractive for the I-69 project. The proposed improvements are:
1) Direct connectors from U.S. 59 Eastbound to IH-37 Northbound and from U.S. 59 Westbound to U.S. 281 Southbound in George West;
2) An overpass in the school zone in Ben Bolt; and
3) A possible tolled relief truck route around Premont or tolled freeway though Premont. Construction is expected to start as early as the end of this year on seven miles of freeway with three overpasses in Falfurrias.
"First and foremost, making these improvements along U.S. 281 is vital to relieving congestion, increasing safety, facilitating trade and improving our evacuation routes," said Salinas.
"In addition, wherever TxDOT puts I-69 will determine growth. The question we aim to answer is how do we position ourselves to benefit from the economic activity that will be generated from increased trade along this route? What the coalition does collectively impacts the economic future of the entire region."
Discussions about U.S. 281/I-69 are by no means over. Salinas will meet with the County Judges of Jim Wells, Live Oak and Brooks counties just before a quarterly meeting of the I-69 Alliance from 9 a.m. to 11 a.m. on Friday, May 4, 2007, in Corpus Christi.
••••••
Rep. Martínez votes against voter ID bill, contends it amounts to a "modern day poll tax" on the poor
By SCOTT JENKINES
Rep. Armando "Mando" Martínez, D-Weslaco, on Tuesday, April 24, joined Democratic Senators, leaders from the America Association of Retired Persons, the League of Women Voters, and other groups Monday in opposition House Bill 218, which would require voters to present a qualified voter ID before casting a ballot.
The legislation was approved by the House of Representatives, with all Valley state representatives voting against the measure on third reading, which is the final vote taken on a measure.
Martínez said HB 218 was "an assault on Texans' voting rights," contending the bill, if passed into law, which would substantially decrease voter participation in Texas.
"I find it very hard to believe that there are individuals out there who are still trying to make it difficult for minorities and seniors to vote, but that is what happened with the passage of HB 218", Martínez believes. "We all live in a country where one's right to vote is the very foundation of our society. When a person is issued a voter's registration card, that should be sufficient. There is no reason to require and implement additional hurdles for the voting public."
Passed in the House on a party-line vote, if the "voter suppression bill", as Martínez labeled it, becomes law, it will require voters to present a photo ID card at the polls, in addition to a valid voter registration card, in order to vote. As a practical matter, this requirement would disenfranchise thousands of elderly and minority Texans by denying the right to cast a ballot that counts, he said.
"A recent study commissioned by the Federal Election Assistance Commission found that, in 2004, states with Voter ID laws, such as HB 218, have experienced a 10% drop in the turnout of Hispanic voters. We should find ways to encourage individuals to go out and vote, not ways to discourage voting," Martínez said.
••••••
Texas GOP says voter ID legislation will help crack down on voter fraud, protect election integrity
The Republican Party of Texas on Tuesday, April 24, applauded Rep. Betty Brown, R-Terrell, for authoring and passing legislation which would require photo identification to vote in Texas. The Texas House of Representatives voted 76 to 68 to pass House Bill 218 by Representative Betty Brown.
All Valley state representatives voted against HB 281 on third reading, which is the final vote taken on a bill. Those legislators are all Democrats.
"We applaud Rep. Brown for authoring and passing a common sense bill which safeguards the electoral process from voter fraud. Her leadership and perseverance served the voters of Texas well today," said Hans Klingler, spokesman for the Texas GOP.
House Bill 218 would codify what most Texans do already which is provide some form of photo identification to cast a ballot in Texas. The bill has a fail-safe system for eligible voters over 80 years of age by exempting these individuals from this legislation. Since 2004 Attorney General Greg Abbott, also a Republican, has prosecuted several cases of voter fraud in Texas, including one case in Bee County in South Texas where the accused posed as their deceased mother to vote after her mother had passed away.
"House Bill 218 will ensure that an eligible voter's ballot is not cancelled out by someone who is casting a ballot fraudulently. This is a safeguard which is supported overwhelmingly in Texas and long overdue," continued Klingler.
House Bill 218 will now move to the Texas Senate where it will be considered in the coming weeks. Lt. Governor David Dewhurst, a Republican, has signaled publicly his support for the bill.
••••••
Counties could provide street lighting to rural areas under legislation authored by Rep. Gonzáles
By DAVID A. DÍAZ
Texas counties located within 150 miles of the Mexican border would be able to establish, maintain, and charge rural residents for street lighting in neighborhoods that are outside the city limits under a measure filed by Rep. Verónica Gonzáles, D-McAllen.
The legislation, House Bill 573, was approved by the House Committee on County Affairs on Monday, April 24, and is awaiting action by the House Local and Consent Calendars Committee, which sets the date for House votes on noncontroversial or unopposed bills.
It was requested by the Hidalgo County Commissioners Court.
In addition to Gonzáles, who is the prime author of the bill, joint authors include Rep. René Oliveira, D-Brownsville, Rep. Ryan Guillen, D-Rio Grande City, Rep. Norma Chávez , D-El Paso, and Rep. Richard Raymond, D-Laredo. Rep. Eddie Lucio, III, D-San Benito, is a co-author of the measure.
According to the bill analysis of the bill:
Currently, municipalities have the authority to assess fees for the costs of installation, operation and maintenance of street lighting to the citizens that it benefits. However, in unincorporated areas, a county does not have this same authority even when residents of a subdivision are perfectly willing to incur a cost in order to obtain street lighting.
The version of Gonzáles' bill approved by the House committee will grant authority to certain counties so that they may distribute the cost of installation, operation and maintenance of street lighting to the citizens it benefits, currently a common practice within municipalities and further allows the county to contract with an outside party for the collection of those fees.
House Bill 573 amends Chapter 280, Transportation Code, by adding Section 280.003 to provide counties that have any of their territory within 150 miles of the border the ability to charge residents of unincorporated areas for the installation, operation and maintenance of street lighting. It also adds a provision which ensures that the section does not supersede applicable provisions for street light service contained in the tariff of an electric utility.
If approved by the Texas Legislature and Gov. Rick Perry, the bill would go into effect on September 1, 2007.
••••••
Sen. Zaffirini, Rep. Guillen appointed to conference committee that will hammer out state's budget
By NICK ALMANZA
Lt. Governor David Dewhurst on Wednesday, April 25, named Sen. Judith Zaffirini, D-Laredo, to the appropriations conference committee that will write the final draft of the $153 billion state budget. The committee comprises five senators and five representatives who will reconcile the Senate and House versions of the appropriations bill.
This is Zaffirini's seventh appointment to the appropriations conference committee. She is serving her third consecutive term as vice chair of the Senate Finance Committee, on which she has served since 1991.
"I truly am grateful that Lt. Governor Dewhurst again appointed me to the appropriations conference committee, and I am committed to working closely with him and my fellow conferees to produce a comprehensive and cooperative budget that prioritizes families," Zaffirini said. "My priorities include providing funding for the maximum reduction of community-based and home services waiting lists, which includes more than 90,000 Texans; providing essential funding for early education and higher education excellence; and funding for important programs and projects statewide and in Senate District 21."
During conference negotiations Zaffirini will work to increase the Senate's $107.1 million to reduce community-based, home services and care waiting lists and to fund the $75 million in the Article XI "wish list." Zaffirini also will seek $150 million in new grants for the Instructional Facility Allotment (IFA) that helps poor school districts with facility construction.
Included in the Senate's version of the budget are funding increases for both the UT Health Science Center in San Antonio (UTHSCSA) and Texas A&M International University in Laredo. Among Zaffirini's priorities are increased funding for early childhood education, the Texas Early Education Model (TEEM) and advanced research programs within the Higher Education Coordinating Board.
The committee substitute for House Bill 1 by Rep. Warren Chisum, R-Pampa, and Sen. Steve Ogden, R-Bryan, reflects more than a six percent increase over the 2005 budget. The Senate version spends approximately $2.1 billion more than its House counterpart.
Senate Finance Committee members named by Dewhurst to the appropriations conference committee are Senators Ogden, chair; Robert Duncan, R-Lubbock; John Whitmire, D-Houston; Tommy Williams, R-The Woodlands; and Zaffirini.
House Appropriations Committee members named by Speaker Tom Craddick are Representatives Chisum, chair; Ryan Guillen, D-Rio Grande City; Dan Gattis, R-Georgetown; Lois Kolkhorst, R-Brenham; and Sylvester Turner, D-Houston. Conferees will develop a final proposal that will be voted on in both chambers before the session ends on May 28.
••••••
Sen. Cornyn, Texas border sheriffs meet with DHS Secretary on immigration reform, border security
U.S. Sen. John Cornyn, the top Republican on the Immigration and Border Security subcommittee, met with Texas border sheriffs and Homeland Security Secretary Michael Chertoff on Tuesday, April 24, in Washington. The meeting, held at Cornyn's request, focused on issues important to the border region, including border security, immigration reform and funding for law enforcement efforts.
It is essential that local officials along the border continue to have input as we work to secure the border," Cornyn said. "This meeting was a good opportunity for Texas border sheriffs to voice their needs and concerns directly to Secretary Chertoff."
The meeting was part of Cornyn's ongoing efforts to ensure the voices of state and local officials are being heard in Washington. He has continually worked in the Senate to assist the law enforcement community with resources to crack down on violence, drug smuggling and other crimes.
On hand for the discussion were members of the Southwest Border Sheriffs Coalition (SWBSC) from Texas and other border states, including Sigifredo González, Jr., of Zapata County, Texas —Chairman of the SWBSC Intergovernmental Relations Committee. Leaders of the Texas Border Sheriffs Coalition and the National Sheriffs Association also participated.
"We must provide those who work on the front lines of border security every day the resources they need to do their jobs," Cornyn said. "I will continue working closely with law enforcement officials and other local leaders on the border as we work to improve border security and reform our broken immigration system."
Cornyn reiterated his support for the State Criminal Alien Assistance Program (SCAAP), which reimburses states and counties for the costs of detaining illegal immigrants arrested in connection with crimes other than immigration violations.He said Congress must provide adequate funding for the program. In addition, Sen. Cornyn co-sponsored an amendment last year to provide $50 million for border law enforcement.
Cornyn said reforming our immigration laws and securing our borders is among the top priorities this year for Congress. "We've taken some needed steps to improve border security, but we can and must do more," he said.
The Southwest Border Sheriffs Coalition unites sheriffs' departments in counties along the border in Texas, New Mexico, Arizona and California in their law enforcement efforts.
Earlier this year, Sen. Cornyn hosted a similar meeting in Laredo with Texas border mayors, county judges and Secretary Chertoff.That meeting came as a follow-up to a discussion in Washington co-hosted by Cornyn and Sen. Kay Bailey Hutchison, R-Texas.
••••••
Sen. Hutchison address border issues with Southwestern Border Sheriffs Coalition
By GEOFF EMBLER
Senator Kay Bailey Hutchison (R-TX), Chairman of the Republican Policy Committee, on Wednesday, April 25, hosted a meeting with the Southwestern Border Sheriffs Coalition in her Washington, D.C. office to address border security issues and federal funding for costs associated with immigration enforcement.
"We must support and gather input from border sheriffs who are on the ground working to secure our borders," Hutchison said. "Local officials dealing with these threats must be part of the solution, and I am committed to providing them with the resources they need to safeguard our nation."
Hutchison has long advocated federal support for border security duties carried out by local officials.
In September 2006, Hutchison announced the Texas Border Sheriffs Coalition would receive a $4.9 million grant from the U.S. Department of Justice to provide equipment and supplies for the Operation Linebacker Task Force. She has consistently backed measures that provide funding for increased border security personnel and infrastructure, including the $250 million Border Law Enforcement Relief Program and the State Criminal Alien Assistance Program.
Hutchison hosted a February 9, 2007 meeting with Cornyn, U.S. Department of Homeland Security Secretary Michael Chertoff and border mayors and local leadership to give them an opportunity to provide local input on border fencing concerns.
••••••
House approves bill by Rep. Gonzáles to set up "Genuine Texas" branding program for industry
By RICARDO LÓPEZ-GUERRA
State Rep. Verónica Gonzáles, D-McAllen, on Thursday, April 26, saw passage by the House of Representatives of one of her legislative initiatives, the so-called "Genuine Texas" branding program.
Gonzáles is one of five joint authors of the measure, which calls for the establishment of a branding program to be named "Genuine Texas" for products manufactured in the state.
The legislation, which still has to clear the Senate, would develop a campaign to provide a competitive edge for Texas manufacturing industry by creating the logo for Texas-made goods for consumers to identify.
"The 'Genuine Texas' campaign will be the 'Don't Mess With Texas' of this century," said Gonzáles. "I am excited for this bill's potential to encourage consumers to support Texas manufactured goods. We have seen the effective efforts through the Texas Parks and Wildlife anti-littering campaign; 'Don't Mess With Texas' and I look forward the implementation of this program that will further fuel Texas manufacturing."
Under the measure, House Bill 3446, a fee of up to $100 can be charged for the right to use the exclusive state logo, "Genuine Texas". The branding program would also establish product quality standards for Texas manufacturers, set penalties for violations of improper use of the logo by manufacturers and create an advisory board of members.
"Texans have a long honored legacy of state pride and this bill promotes state pride through support of the manufacturing industry here at home," said Gonzáles."While the manufacturing sector is a strong contributor to the State's economy, the branding program would keep the state competitive against increased cheap labor available overseas which could take manufacturing jobs away from Texas."
••••••
Sen. Lucio says Senate ready to act on Rep. Flores' bill to exempt travel trailers from property taxes
By DORIS SÁNCHEZ
Sen. Eddie Lucio, Jr., D-Brownsville, author of the Senate legislation that would exempt certain recreational vehicles from ad valorem taxation, announced on Friday, April 27, that the bill has gained full approval from the House and will soon be considered by the entire Senate.
Rep. Kino Flores, D-Palmview, authored the companion bill to Lucio's in the House.
The bill specifies that because recreational vehicles (RVs) are not real property and are not substantially affixed to real estate or permanent fixtures, owners of these RVs must pay sales taxes on their units and maintain current auto vehicle registrations. Therefore, this property tax has created a hardship for many of these occupants, especially since their average age is 69. Eighty percent of Winter Texans live in mobile RVs.
"This unfair tax impacts so many of our Winter Texans because they are generally the people who own the kind of recreational vehicle that is currently assessed this tax," said Lucio. "My bill primarily ends the practice of subjecting to ad valorem taxation those travel trailer owners who are not local residents and are not offered the right to participate in local government, like real property owners."
The Rio Grande Valley benefits from the $450 million in revenues these visitors inject into the economy. However, the usual 150,000 Winter Texans who visit every year is down 20 percent from 2002, when the tax became effective. A constitutional amendment in 2001 inadvertently allowed counties to impose a tax on RVs.
"The increased sales tax revenue and tourism dollars generated by the influx of visitors as a result of lifting this tax will far outweigh any property tax revenue loss in those counties, and as a result there will be no quantifiable harm to school funding," added Lucio. "Since only a few counties in Texas, including Cameron and Hidalgo, tax these trailers as real property, there should be no significant loss to general revenue."
This bill also provides a narrow definition of park model travel trailers for taxation purposes that conforms to the existing definition already in state statute, and is also the nationally recognized standard. This bill clarifies that structures that are primarily used for temporary living arrangements, built on a single chassis, and less than 400 square feet are exempt from ad valorem taxation.
The senator added, "We are looking to protect park model travel trailer purchasers from unjust double taxation. Passage of this bill will encourage tourism and economic activity in the state of Texas and help local businesses by encouraging more people to stay in Texas for an extended period of time."
••••••
Senate passes Sen. Zaffirini's SB 1052 to provide financial incentives for community college students
By NICK ALMANZA
The Texas Senate on Tuesday, April 24, passed Senate Bill 1052 by Sen. Judith Zaffirini, D-Laredo, which would provide financial incentives for students who complete core curriculum requirements at community colleges to transfer to four-year institutions.
Providing incentives for students to transfer from two- to four-year institutions would increase college accessibility and affordability while helping increase attendance and participation at universities throughout Texas. The bill significantly would help close educational gaps within the state and promote student success and institutional excellence.
"The rapid growth of our state, coupled with the goal of enrolling another 600,000 students in higher education, require planning and incentives," Zaffirini said. "By promoting transfers from two- to four-year institutions, we increase students' options for success. SB 1052 is essential to closing the gaps in higher education by providing an incentive for students to transfer from two- to four-year institutions."
The bill must be passed by the House of Representatives before it can be sent to Gov. Rick Perry for final approval.
••••••
Gov. Perry announces drop in border crime as a result of Operation Wrangler III
Gov. Rick Perry on Tuesday, April 24, announced the reduction of crime by 30 percent in the El Paso area during a recent border security operation known as Operation Wrangler III. Operation Wrangler III was a high-intensity surge operation that lasted 30 days in the El Paso border region.
"The success of this border security surge operation demonstrates once again that more boots on the ground, working together as a team, increases our safety and border security," Perry said. "When criminal organizations are forced to shut down their smuggling activities, our communities are safer, and the quality of life improves for all Texans."
As in previous state-led surge operations, the objective of Operation Wrangler III was to shut down organized smuggling activity between the Ports of Entry to prevent the illegal crossing of drugs, contraband and people into Texas. Local sheriffs' offices and police departments worked side-by-side with their state and federal partners in three Texas counties (El Paso, Hudspeth and Culberson counties) and two New Mexico counties (Dona Ana and Luna counties) to deny Mexican criminal organizations and transnational gangs entry into the U.S.
A key benefit of securing the border is crime reduction. Operation Wrangler III resulted in the overall reduction of crime by 30 percent during the 30 day period of operation. The El Paso Sheriff's Office documented an 82 percent reduction in aggravated assaults and 43 percent reduction in robberies. The El Paso Police Department reported a 16 percent reduction in robberies and 26 percent reduction in sexual assaults during the period of this operation.
"We are sending a clear message that an increased law enforcement presence is the key to securing our border," Perry said. "Working with numerous state, federal and local agencies we can reduce drug trafficking, human smuggling and other crime in a significant way."
In addition to the successes of Operation Wrangler III, border-wide surge operations have had a sustained impact on crime along the entire Texas-Mexico border. With 13 of the 18 border counties reporting, January-April of this year saw a 20 percent decrease in overall crime along these border areas compared to the same period of time last year. The 13 counties include Brewster, Culberson, Dimmit, El Paso, Hidalgo, Hudspeth, Maverick, Pecos, Star, Terrell, Val Verde, Zapata and Zavala.
The statistics from local law enforcement agencies in these 13 counties comparing January-April, 2006, to January-April, 2007, revealed the following overall results:
• Criminal Mischief reduced 34 percent
• Theft reduced 30 percent
• Burglary reduced 13 percent
• Aggravated Assault reduced 16 percent
• Sexual Assault reduced 59 percent
• Murder reduced 15 percent
••••••
South Texas Border Contracting Expo Expo to bring contracting opportunities to South Texas businesses
By ELIZABETH MARTÍNEZ
The 2007 South Texas Border Business Contracting (STBBC) Expo will be held on June 20-21 at the new McAllen Convention Center located at 700 Convention Center Blvd. The expo will offer area small businesses and manufacturers an opportunity to obtain contracting awards by government buying agencies, federal prime corporations and other corporate purchasers.
Honorary Co-Chairs of the 2007 STBBC Expo are Congressman Ruben Hinojosa (District 15) and Congressman Henry Cuellar (District 28).
The McAllen Hispanic Chamber of Commerce President and Chair of the STBBC Expo Planning Committee Cynthia Sakulenzki is expecting approximately 150 exhibitors, such as Lockheed Martin, Boeing, the University of Texas System Office of Facilities,
Planning and Construction, Texas Department of Transportation, Texas Lottery
Commission, Texas Transportation Institute, Texas Workforce Commission, Texas Health and Human Services Commission, and the University of Texas Health Science Center San Antonio.
This exciting event will not only include an exhibit hall filled with agencies and corporations looking to do business with South Texas businesses, but will also include match-making sessions, and four different training tracks that incorporate several seminars that will help businesses succeed in obtaining contracts. Networking events and optional Valley excursions, such as a Maquila Tour, a golf tournament at Palm View Golf Course, and lunch in Progreso, Mexico will be available to help participants acquaint themselves with each other and the region.
To register or for more information on how you can participate in the 2006 STBBC Expo, please call the McAllen Hispanic Chamber at 928-0060 or visit http://www.borderbusinesscontractingexpo.com. Conference cost for small businesses is $50 per person. Sponsorship opportunities are available. Deadline to register is June 1, 2007.
The 2007 STBBC Expo Planning Committee includes representatives from the following organizations: Texas State Technical College, U.S. Small Business Administration, S.C.O.R.E., the University of Texas-Pan American Veterans Business Outreach Program, UTPA Texas Manufacturing Assistance Center, McAllen Chamber of Commerce, Southwest Community Investment Corp., Texas Department of Agriculture Rural Economic Development Division, Rio Grande Valley Partnership, The Business Times of the Rio Grande Valley, Thomas/Price & Associates, Time Warner Fable, Office of Hidalgo County Judge, UTPA Small Business Development Center, Texas Department of Agriculture, Central & South Texas Minority Business Council, and the UTPA HUB Program.
•••••
Senate passes Sen. Zaffirini's bill to protect against "botnets," cybercrimes
By NICK ALMANZA
The Texas Senate on Thursday, April 26, passed Senate Bill 1009 by Sen. Judith Zaffirini, D-Laredo, which combats the use of "botnets" — networks of compromised computers used to perpetrate cybercrime.
Senate Bill 1009 will prohibit the creation of botnets and penalize convicted violators with significant fines.
"Botnets are being used by criminals around the globe to steal bandwidth from hijacked computers and make money from nefarious Internet activity," Zaffirini said. "They are used primarily to send messages or software without the user's knowledge, to make a computer resource unavailable to its intended users, to commit click fraud or to steal personally identifiable information. My bill combats the use of botnets by updating Texas' cybercrime statute and strengthening laws to protect valuable Texas e-commerce."
SB 1009 clearly will define the term "botnet" as a collection of computers that become compromised without the knowledge of the owner or operators. Compromised computers either run under a command and control infrastructure or are used to forward transmissions, including unsolicited e-mails and viruses, to other computers with online access. What's more, the bill would authorize civil penalties for using botnets, including a cause of action for victims, and provide injunctive relief and the recovery of actual damages or $500,000 per violation.
The bill must be passed by the House of Representatives before it can be sent to Gov. Rick Perry for final approval.
••••••
House passes Congressman Hinojosa's amendment to improve America's science laboratories
By ELIZABETH ESFAHANI
Congressman Rubén Hinojosa D-Mercedes, on Tuesday, April 24, applauded the passage of legislation that will help reinvigorate and modernize America's ailing high school science laboratories. The House of Representatives overwhelmingly passed the "10,000 Teachers, 10 Million Minds Science and Math Scholarship Act," which included the Partnerships for Access to Laboratory Science amendment that Hinojosa introduced earlier this year.
"For more than 150 years, lab experiments have been an essential ingredient in a comprehensive science education," said Hinojosa. "Unfortunately, the quality of today's laboratory instruction is woefully under-par in most schools. Our future scientists and engineers are attending institutions that lack the resources required to develop their talents."
Specifically the amendment authorizes a $5 million grant to establish a laboratory science pilot program at the National Science Foundation. Projects funded by the grant will go toward enhancing the quality of instruction and developing models for redesigning laboratories in high-poverty high schools.
Hinojosa's legislation could not have come at more critical time: The National Research Council recently released a report concluding that the current state of laboratory experiences is poor for most students. The group also found that schools with higher concentrations of non-Asian minorities and higher concentrations of poor students are less likely to have adequate lab facilities than other schools. In fact, the latest Nation's Report Card revealed an astonishing figure: only one in four Black or Hispanic students take the three major laboratory sciences – biology, chemistry, and physics – needed to pursue science, technology, engineering, and mathematics (STEM) majors during college.
"With these types of statistics, it should come as no surprise that we are losing our edge in producing experts in math, science, and engineering," said Hinojosa."We must redouble our efforts to engage young people in these fields early on in their academic careers. Our nation's future competitiveness depends on it."
••••••
Senate passes SB 1234 to enhance Texas' higher education master plan
By NICK ALMANZA
The Texas Senate on Thursday, April 26, passed Senate Bill 1234 by Senators Judith Zaffirini, D-Laredo, and Kirk Watson, D-Austin, which would redefine planning for higher education. It would require the Texas Higher Education Coordinating Board (THECB) to redirect its higher education master plan to prepare students to participate effectively in the state's public affairs and in the global economy.
To meet the goals of closing the gaps in higher education, SB 1234 would provide greater specificity as to how the Coordinating Board develops its plan and would ensure that the state is best able to address the needs of its students and institutions.
"SB 1234 combines three effective bills that will enhance greatly the state's ability to create higher education excellence," Zaffirini said. "In Closing the Gaps, Texas established an ambitious plan to ensure that more students are able to receive an outstanding college education. My and Sen. Watson's bill improves this plan by directing the Coordinating Board to consider more detailed and more specific issues leading to statewide higher education success."
"This legislation offers a roadmap to make Texas a force in the 21st Century economy," Watson said."Texas can and must do a better job of preparing future generations for the possibilities and challenges that lie ahead.Here, we will approach higher education through a long-range lens, and that holds great promise for our children and our state."
The bill would require THECB's master plan to define the missions and roles of public institutions of higher education consistently with state needs and goals; establish more effective methods for funding higher education; establish a coherent long-term financial aid strategy that takes into account both needs and merit; strengthen collaboration between two- and four-year institutions; and develop and institutionalize long-term collaboration between primary, secondary and higher education.
What's more, it includes provisions from SB 1055 by Zaffirini, which would direct the THECB to consider the number of new faculty members needed to achieve the goals of Closing the Gaps, as well as the disciplines in which these faculty members would be needed; the number of qualified persons available to serve as faculty members in Texas and throughout the nation and the demand for their services; and the capacity of institutions in Texas to prepare future qualified faculty members.
SB 1234 includes provisions from SB 1919 by Watson, which would charge the THECB with considering the state's allocation of and need for resources for medical education, including graduate medical education; geographic distribution of these resources; and the value of associating a medical school with a top-tier academic campus.
The bill also includes provisions from SB 1772 by Watson, which would charge THECB with discovering incentives and requirements for seamless student transitions between and among high schools, community and technical colleges, universities, and health-related institutions, including concurrent enrollment and dual credit; examining the current and projected capacity concerns of The University of Texas at Austin and Texas A&M University in College Station; methods for ensuring that these institutions maintain their competitiveness with other flagship universities; the creation of additional flagship public research universities; alternative methods of funding universities and community colleges, in particular whether and how research universities should be funded; and a new component of the TEXAS Grant program to include a work study program that targets students in grades P-12 to ensure that they become college ready.
The bill must be passed by the House of Representatives before it can be sent to Governor Rick Perry for final approval.
••••••
Congressman Cuellar announces $4 million renovation of Falcon Dam
By LAUREN SMITH
Rep. Henry Cuellar, D-Laredo/McAllen, on Friday, April 27, announced that a $4 million federal grant has been awarded for the renovation of the facilities at Falcon Dam. Located near the dividing line between Starr and Zapata Counties, the Falcon Dam facilities will be renovated internally and externally.
"The renovation of facilities at our international borders is vital to increasing the efficiency and security of our border communities. In Congress, we are working hard to make sure that citizens in these communities benefit from federal funding and resources," said Congressman Cuellar.
Originally constructed and dedicated on Oct. 19, 1953, the federal facilities at Falcon Dam serve as a point of entry between Mexico and the United States. President Dwight D. Eisenhower and Mexican President Adolfo Ruiz Cortines originally dedicated the facilities and spoke of a lasting international friendship.
"I want to thank Elsie Acevedo from the General Services Administration and Chris Cantú from the Customs and Border Protection for their efforts in making the renovation of Falcon Dam a reality, and I also commend the partnership between federal and local agencies," said Cuellar.
"Securing federal funds for vital projects in Texas' 28th District is a key priority of mine. When our communities prosper and grow, all of South Texas and our friends across the border reap the benefits," said Cuellar. "Enhancing trade and tourism while maintaining and improving border security is a critical issue in border communities, and I will continue work hard to increase access to federal aid for projects in these areas."
••••••
Senate Passes SB 120 by Sen. Zaffirini to help preventing online solicitation of minors
By NICK ALMANZA
The Texas Senate on Monday, April 23, passed Senate Bill 120 by Sen. Judith Zaffirini, D-Laredo, which would help protect children from online solicitation and exploitation by establishing a clearinghouse of educational resources related to Internet safety at the Texas School Safety Center.
The bill also would direct school districts to update their discipline management programs to prevent the use of the Internet for sexual solicitation and would increase the penalty for an adult convicted of online sexual solicitation of a minor.
"Children are especially vulnerable to victimization over the Internet," Zaffirini said. "More and more children are using the Internet on a daily basis, which provides offenders with easy and anonymous means to find and exploit them. SB 120 addresses this growing problem by increasing the educational resources regarding online solicitation that are available to families and schools and by providing school districts with programs designed to combat and prevent online solicitation of minors."
SB 120 works in conjunction with Zaffirini's SB 6, which the Senator passed in March. SB 6 increases the penalty for sexually explicit on-line communications with a minor who is from 14 to 16 years old from a state jail felony to a third degree felony and increases the penalty for on-line sexual solicitation of a minor who is from 14 to 16 years old from a third degree felony to a second degree felony.
SB 6 also will require internet service providers (ISP) to respond immediately to subpoenas, search warrants or other court orders during an emergency; will allow prosecutors to seek consecutive prison sentences for the online solicitation of a minor; direct the Crime Stoppers Advisory Council to use state rewards programs to emphasize reporting and apprehending predators and criminals; and create a clearinghouse of ISP contact information in the Attorney General's office so prosecutors can access important information necessary to prevent online predatory behavior.
The bills must be passed by the House of Representatives before they can be sent to Governor Rick Perry for final approval.
••••••
University of Texas-Pan American moves spring graduation to new McAllen Convention Center
By MELISSA VÁSQUEZ
This spring semester, The University of Texas-Pan American will be changing the venue for the commencement ceremonies, scheduled for Saturday, May 12, from the UTPA Fieldhouse to the new McAllen Convention Center, located on South Ware Road and Expressway 83.
The University's decision to move the commencement venue was prompted by the increase in UTPA graduates and their guests over the years said Dr. Ana María Rodríguez, chair of the Commencement Committee and senior vice provost for undergraduate studies. This semester, the 1,452 prospective candidates for degrees include 1,103 for bachelor's degrees, 336 candidates for master's degrees and 13 for doctoral degrees.
"Our fieldhouse can only accommodate so many people. When we began to issue a limited number of tickets to students, they began to request that we look at holding commencement at a location where we could accommodate more people. Therefore, the administration's decision to change the venue was made in response to student needs and with a great deal of student input. The safety of graduates, their families and guests was also an issue that was considered," Rodríguez said.
The McAllen Convention Center will seat 528 graduates and 4,894 guests, while the UTPA Fieldhouse seats between 450-500 graduates on the floor and 3,700 guests on the bleachers.
The committee took two years in exploring several venues around the Rio Grande Valley before settling on the $62 million facility she said. The committee found the UTPA commencement calendar, which is planned three to four years in advance, and the convention center calendar were a good match for this academic year.
"The McAllen Convention Center is a new venue in the Rio Grande Valley that is able to accommodate a large number of people for one event," she said. "The staff at the convention center has worked well with us in planning and designing the event, since an event such as this will be a first. There is also ample parking spaces available to accommodate the guests."
This semester, prospective graduates will be allotted 12 tickets for their family members and guests to comply with the Fire Marshal's Code of maximum seating capacity for the convention center. In previous semesters they were designated six tickets each. Guests attending the commencement ceremonies will be required to present a ticket to be admitted.
"Graduates, their families, guests and audience can expect grand ceremonies, solemn and celebrative, as they have always been at the UTPA Fieldhouse, but now held in a brand new majestic center," Rodríguez said.
Also this semester, the University will go to a three-ceremony format starting at 9 a.m. with the College of Education, which features 393 prospective graduates, the largest group in any of the six colleges. At 1:30 p.m. the College of Business Administration (224) and College of Health Sciences and Human Services (240) will share the arena. The final ceremony of the day at 5:30 p.m. will combine the College of Arts and Humanities (223), College of Science and Engineering (218) and College of Social and Behavioral Sciences (154).
Serving as the 2007 spring commencement speakers will be Noé Hinojosa Jr., president and CEO of Estrada Hinojosa & Company, Inc., who will be speaking at 9 a.m.; Edward H. Muñoz, principal of Muñoz Group, who will be addressing the 1:30 p.m. ceremony; and Sylvia M. Courtney, vice president of engineering for Raytheon Company, will speak at 5:30 p.m.
For more information or special accommodations, contact the Office of the Registrar at 956/381-2389 no later than Thursday, May 10.
••••••
Congressman Ortíz details frustrations faced by veterans because there is no VA Hospital in RGV
U.S. Rep. Solomon Ortíz, D-Corpus Christi, testified Thursday, April 26, before the U.S. House Committee on Veterans' Affairs'Committee's Subcommittee on Health about the plight of veterans in South Texas who have to travel many hours for health care services that are not available to them near where they live.
Several members of the Veteran's Alliance of the Rio Grande Valley were in attendance, showing committee members the faces of veterans in need. Veteran's Alliance members attending the hearing were: José María Vásquez, Rubén Córdova, and Max Belmarez, Polo Uresti, Frank Albiar, and Félix Rodríguez.
Ortíz's testimony:
Mr. Chairman, thank you for this opportunity to speak on behalf of South Texas veterans and help this subcommittee understand the urgent need for a veterans' hospital for the men and women who fought for us.
Here with me today are members of the Veterans Alliance of the Rio Grande Valley/America's Last Patrol – so you can see the faces of the South Texans affected by the lack of a hospital. Here with me are: José María Vásquez, Córdova, and Max Belmarez … and Mr. Félix Rodríguez.
My legislation gives the government flexibility in establishing a way to deal with hospital services in South Texas… but the only real solution for the area is a hospital. Bottom line: veterans' in-patient health care must be available where the veterans live, not several hours away. These guys have fought, bled and sacrificed for this nation – they need something that belongs to them … a hospital that gets them the care they need where they live – not five hours away.
We know the VA plays the numbers game – but the numbers do not reflect the need… particularly in the Rio Grande Valley. When the VA commissioned their CARES study they recognized the Far South Texas area was in need of acute inpatient care. They decided to meet this demand through contracting or leasing beds in local communities, an approach simply not working. Veterans are still traveling in large numbers to Audie Murphy in San Antonio for care, and for many who are treated for emergencies at area hospitals, the bills go unpaid by VA.
Many veterans are so disgusted by the level of VA health services, they simply do not sign up for VA health care. You have heard me describe the conditions of South Texas Vets; today I want to show you experiences of veterans themselves … veterans who shed blood for our nation … veterans whose health care is utterly inferior. South Texas veterans regularly travel five hours there and back to a 15 minute appointment that took months to get.
Sometimes they need to stay overnight in San Antonio… sometimes, veterans find after the strenuous trip, their appointment has been canceled. We've scrubbed the names to prevent any retaliation for truth telling…. And my time will run out before I'm done, but want you to hear the stories I hear:
1) A 21-year-old Iraq war veteran came home badly wounded in his spine. He's now at Audie Murphy in San Antonio. He was being moved by hospital staff from the bed to a wheelchair – but they moved too quickly and damaged his spine even more. He has a lifetime of going back and forth to San Antonio for treatment … and his family has a lifetime of committing to take him there regularly.
2) One veteran underwent emergency heart surgery; his wife called the local clinic and she was directed to call 911; he was admitted for the emergency surgery locally. His benefits coordinator told him to follow up with a local cardiologist to chart his progress since there wasn't a cardiologist at the clinic. He did, but VA did not pay and on the third visit, the cardiologist's office told him to pay up front for all services.
The VA clinic then told him he should have gone to a cardiologist in San Antonio. By now, his sutures were infected and leaking. Eventually, he got an appointment to see a VA cardiologist five weeks later. The stress from all this prompted his psychiatrist to increase the dosage on his meds.
When he got to San Antonio, the cardiologist was surprised to learn he had surgery. He was prescribed more high blood pressure medication. That made him faint from low blood pressure, panicking his wife … she called a home health nurse who suggested stopping all meds and going immediately to the hospital.
He did not want to go the hospital because they had not been paid and he might be refused. He was poor – so the nurse recommended that he drink a coca cola with crackers, which helped temporarily. Due to a faulty medical records system, he was prescribed too much medication. Since then, he travels to San Antonio to monitor his heart.
He travels five hours, has a ten minute procedure done, and once was told to return in 48 hours. He did not qualify for lodging so he returned to the Valley. After two days he returned for a procedure that took under five minutes. That equals two trips to San Antonio in two days … traveling about 25 hours … to be seen a total of 15 minutes.
3) A retired disabled veteran is in the midst of several surgeries to correct service injuries, in numerous visits to San Antonio, the nearest VA hospital to the Valley. When he had shoulder surgery, he spent the night in his car so the anesthesia could wear off… and he didn't take any pain medication so he could make the four hour drive back home. He had to stop several times along the way to vomit from the pain. He also had to sleep once slept in his car in San Antonio to make an early appointment because by the time he arrived in San Antonio all the rooms available for veterans had been taken.
4) A constituent's brother had a triple by pass done in San Antonio Audie Murphy Veterans Hospital in 2005. During the course of his recovery at home, he developed complications that needed to be monitored closely. The VA medical provider told him that he needed to be monitored closely; then later that day, got a call from the VA Clinic that he needed to go to the nearest hospital taking Veterans.
Once there, he was moved by ambulance to another area hospital, where he was admitted after advising the hospital he was a Veteran and showed his ID Card. The hospital got the clearance from San Antonio VA and admitted him. His medical bills there have not been paid because the VA is claiming that "VA facilities were feasibly available to provide the care."
The VA said his brother could have traveled to San Antonio under the dangerous medical problems he was having. His brother does not want to "rock the boat" because of his heart condition and other medical problems. In a sense, he is held hostage by our government.
5) A family member said this: Congress should also hear about the hardship that the vet's family must also endure. She has a full time job but must miss work, taking leave, to take a loved one to San Antonio. She cannot let him go by himself whenever they do procedures that require anesthesia or manipulation of his neck or spine.
He is usually in so much pain and/or drowsy with medication that he cannot drive. He has a hard time sitting for long periods, and San Antonio is five hours away. They must also make arrangements for the kids if they are not getting back before school's out. A couple of times he's had to go alone because she couldn't leave work or find another driver. Then she is so worried about him driving that she cannot function at work, going out several times to call to make sure he is OK.
She also notes the travel pay is woefully insufficient, given gas prices. They have to fill up twice to get there and back, plus pay for meals. She notes that hospitalized vets would be better off near friends and family to keep them in good spirits.
6) A Vietnam vet still being treated for post-traumatic stress disorder; has two sons, both active-duty military, who have served multiple tours in Iraq. After a late-night phone call from a son saying that he'd been hurt in an IED explosion, his Post Traumatic Stress surfaced … when he called to see the psychiatrist, he was told the soonest appointment was in six months.
7) The district director for the Veterans of Foreign Wars in the Valley says VA provides good medical care. The doctors and staff do the best they can with what they have. The problem is getting into the system to get the care. He says, "We believe we've earned the right to see a doctor where we live."
8) State Rep. Aaron Peña says what isn't spoken is the sense that veterans are being ignored despite the long history of Hispanics' service to the U.S. military. We've fought in almost every American war … and we're still being ignored.
9) The disabilities of a Port Isabel veteran who served 2 tours in Viet Nam are made worse by a round trip on a crowded van, and an overnight stay in a dirty hotel. 14 months ago he went to a private emergency room, which then sent him by ambulance to San Antonio to treat a kidney infection. VA still has not paid for the emergency visit – ironically today, April 26, is his deadline to pay the local hospital $10,000 since VA won't pay.
10) An Iraq veteran is haunted by some of the terrible things he saw in combat leading to depression and thoughts of suicide. His friend got him to go to the VA office … where he was referred to the VA hospital in Waco for evaluation for post-traumatic stress. He was told him he needed to begin regular sessions, and said he'd get an appointment in the mail. Three weeks later, he got a letter from VA that he could see the doctor in eight months.
11) Another veterans notes: "It's hard to hold a job when you have to miss work four or five times a month to travel to San Antonio for medical appointments."
12) One veteran has utilized the V.A. health care systems in Reno, Nevada and Fargo, North Dakota, and he reports both were very good. Conversely, his experience with the clinics in Harlingen and McAllen are "ongoing nightmares." Lately he's been trying to get an appointment with the psychiatrist in Harlingen. Every time he calls, he's put on hold and eventually hangs up after waiting and waiting. He was not alone among veterans who suspect some manner of "federal racism" when our nation is only anxious to send border patrol agents, but no hospital to treat military veterans who live here.
13) A daughter who misses her dad says her father served in the U.S. Army and came home needing psychological care catered to what a veteran experiences – and taking into consideration the stigma a Hispanic man feels with depression. She lost her father to suicide and wishes that care was available.
14) Another veteran learned the VA now accepted that Agent Orange could have affected sailors in the Tonkin Gulf. The VA did not respond to him since he was not a "wounded veteran." He also has diabetes for which they will not treat him. He believes they want to wait until he cannot care for himself at all rather than helping him prevent the devastation of diabetes while he can.
15) A former military wife said her ex husband and daughter now live in San Antonio and her son has plans of retiring there too – merely to be closer to military medical facilities. Veterans are forced to choose between living near home and family, or living near health care.
16) Another veteran notes many Soldiers from the Valley can not afford the trip, much less the expense it takes to visit these facilities. He notes many veterans have died never getting the Medical attention they needed. He calls the VA health system in South Texas a "disastrous situation."
17) A former sergeant says: the cruel irony of extra stress on various disabilities caused by traveling 5 hours to a VA hospital makes conditions even worse. And like several others I heard from, he issued an invitation for any of my colleagues here today to join them the 5 hour ride to SA in the van.
18) A retired Major notes local access would promote early diagnosis and early cure for ailments that would otherwise generate higher treatment costs if left untreated. He also has the novel suggestion of using hospital ships as a veteran's hospital.
19) A retired Air Force sergeant – who is covered by Tricare benefits – knows he is lucky to have access to local Medical facilities. Always a soldier, he volunteered to drive the van to San Antonio. He would drive from Raymondville to Brownsville to pick up veterans at 6 a.m. then to San Benito then Harlingen and then back Raymondville, where the actual trip to San Antonio commenced.
He reiterated what many people said: It's not a straight five-and-a-hour trip since they had to stop various times for rest rooms breaks. And he was prohibited from helping the vets in and out of the van out of liability concerns. Most Veterans he drove had to wait hours to be seen for just a 15 minute visit, then they began the long trek back.
20) The widow of a Vietnam-era vet said he died nine years ago of a heart attack and almost certainly from a lung problem associated with his exposure to Agent Orange. He never pursued a diagnosis because the San Antonio facility was too far and he was not able to make the trip. The one time he did for hearing loss from a mortar concussion while in Viet Nam, he found that the number of people they were trying to serve was too great for quality care. He never went back again.
21) A Captain with the 1st Cav in Iraq was wounded in 2003 by IED that ruptured both ears drums and left his right side littered with pieces of shrapnel, many still remain. He plans to retire in the next four years. He said he's gotten good treatment while on active duty, but worries about the time when he retires, and no local VA Hospital in the area. He talks regularly with local Veterans that can not afford to make the drive to San Antonio because they can't afford the gas or can't drive or have no one to take them.
22) Another veteran echoes many voices in saying south Texas veterans should be treated by local medical resources. He lives in Corpus Christi, but worries about what the cost of transportation does to an aging veteran's population with higher poverty rates in the Rio Grande Valley. Extended trips place unnecessary physical stress on veterans, it places a financial burden on valley veterans and their families as well.
He sustained a head injury, which resulted in a visible dent in the skull. After headaches and memory issues, the V.A. physician sent him to Audie Murphy for a CT scan; and he had no option but to drive the 300 mile round trip to the VA facility. That trip not only put him at risk, but the safety of other drivers as well.
23) Another veteran invites all of us to come experience the long and painful ride from South Texas to San Antonio to visit a doctor.
24) A South Texan speaks on behalf of friends married to veterans; she is incensed that for health care they must be inconvenienced financially (gas, food, overnight stays for vets and families) and time-wise, which interferes with their jobs.
25) The brother of a constituent is medically retired from the Air Force and must travel to San Antonio every month for his medical treatments. It takes a day out of his life and requires a long ride back and forth.
26) Another retired veteran chooses the expense of private care over the time it takes waiting at the local clinic or taking the time to travel to San Antonio.
27) Another veteran also speaks to the trouble and time consuming nature of going so far for procedures. He knows that by the time you arrive your problems just seem to increase.
28) A Corpus Christi Veteran laid out the context of getting treatment in San Antonio: she said it is a 12 hour ordeal to get to San Antonio, get tended to at Audie Murphy, and return home. It costs two gas tanks and a whole day of work. The $26.00 dollars for travel does not cover nearly the cost.
29) Plácido Salazar, State Veterans' Affairs Officer of The American GI Forum of Texas tells me that Valley were recently in San Antonio for three days of appointments; they told him that a manager at the associated hotel would not release a room to them until 6:00pm, (using very abusive language); with one of the veterans not getting a meal in more than 24 hours.
Solomon P. Ortíz is member of Congress for the 27th Congressional District in Texas. A Democrat, Ortiz resides in Corpus Christi. He is also an Army veteran.