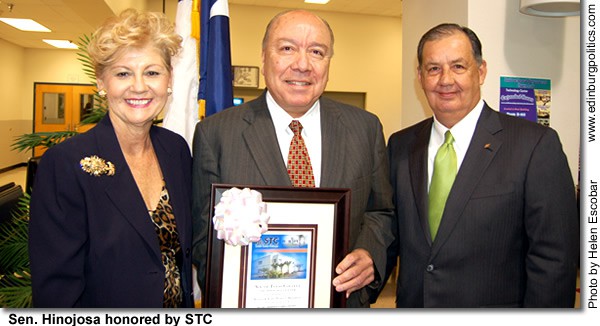 Sen. Juan "Chuy" Hinojosa, D-McAllen, featured center, was recently honored by South Texas College and McAllen Mayor Richard Cortéz for Hinojosa's key role in creating and promoting the development of South Texas College into the largest higher education institution in the Valley. "Education is the greatest equalizer," said Hinojosa, whose many political achievements also include successfully carrying legislation that resulted in the creation of the University of Texas Regional Academic Health Center in the Valley and the merger of Pan American University into the UT System. Featured with Hinojosa are STC President Dr. Shirley Reed and Cortéz.
••••••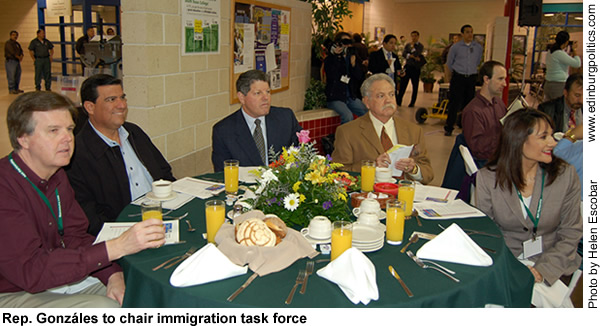 Rep.Verónica Gonzáles D-McAllen, attending a recent legislative breakfast in McAllen sponsored by South Texas College, was appointed on Thursday, February 1, to lead the Mexican American Legislative Caucus Task Force on Immigration in the Texas House of Representatives. "Coming together as a task force on immigration allows us to organize, arm ourselves with accurate information and have our voices heard on this important and complicated issue," said the House District 41 lawmaker, whose district includes southwest Edinburg. "I am honored that my colleagues would place trust and confidence in me to head up this group of talented and informed members from throughout the state," she added. The Mexican American Legislative Caucus is a bipartisan group of Texas House members who are of Mexican-American descent or who represent districts with a large population of Hispanics. The members of the caucus are committed to working together to improve the lives of Latinos in Texas. "The immigration debate invokes issues of humanity, economics, border security and the American Dream," Gonzáles noted. "Reform must be practical and comprehensive to successfully address our state and nation's realities and needs." In a related matter, Sen. Dan Patrick, R-Houston, featured left, has filed a measure to add a fee to the money wire transfers sent outside the country, with those fees to be used to bolster homeland security measures in Texas. See story on Patrick's plan later in this posting. Featured in this photograph from left are: Patrick; Sen. Eddie Lucio, Jr.; D-Brownsville; Paul S. Moxley, president and secretary of the board of directors for Texas State Bank; South Texas College trustee Gary Gurwitz of McAllen; and Gonzáles.
••••••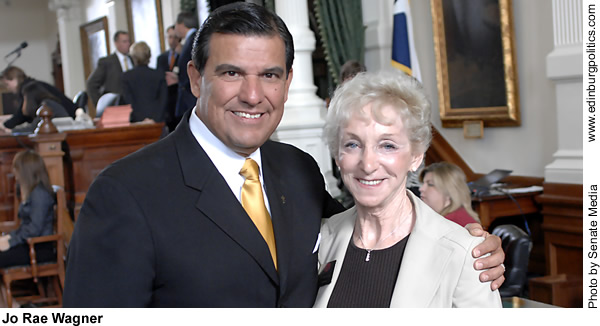 Jo Rae Wagner, the national president of the Plumbing, Heating and Cooling Contractors Association for 2006-2007, was honored on Tuesday, January 30, with a resolution in the Senate Chamber presented by Sen. Eddie Lucio, Jr, D-Brownsville. "Ms. Wagner is a fine example for other women to emulate," said Lucio. "I am proud to know that she resides in my Senatorial District, and her leadership and dedication to involving more women in the construction industry is indeed admirable." Wagner, a mechanical contractor in Harlingen, is the second woman to serve as the president of the national association since its inception in 1883. She has worked in the construction industry for 34 years and is currently president of CTO, Incorporated, a Harlingen company. She is a strong proponent of women serving in the construction industry and encourages women to become more involved in their profession. To help further her goals of bringing more women, minorities and young people into the industry's associations, ensuring educational and certifications programs are up-to-date, and focusing on legislative issues, such as tort reform, Wagner also serves on numerous other boards, including the Harlingen Construction Board of Adjustments and Appeals and the Rio Grande Valley Apprenticeship Program.
••••••
Edinburg recorded "phenomenal year" in 2006, future remains bright for 2007, says Mayor Ochoa
Another record-breaking year in 2006 for the city's economy, made possible in large part by significant expansions in the medical and retail industries, the continuing high-quality of local public and higher education, and a 30 percent growth of Edinburg's population since 2000, bodes well for the future of the three-time All-America City, says Mayor Joe Ochoa.
"Edinburg has great health care facilities and professionals, excellent educational opportunities, a great place to shop and eat, and is a beautiful city to raise families," Ochoa told more than 250 residents during his State of the City address at the ECHO Hotel on Wednesday, January 31. "The year 2006 was another phenomenal year for the city, and I see a great future for Edinburg."
Ochoa said the positive gains for the city were the result of local government policies and citizen participation that began almost a decade earlier, and he shared the credit with elected leaders going back to the early 1990s.
"Ten years ago, a foundation was established by a group of citizens named the Edinburg 2020," he said. "A vision was established to improve the quality of life to attract more commercial development, to lower unemployment, to beautify our community, to attract new families, and allow our children to want to stay, or entice them to come back as they left to get a higher education elsewhere.
"Today, we are seeing the fruition of dreams of many people," the mayor observed. "I congratulate the past and the present leaders for their commitment to this community."
Tradition of leadership
The consecutive years of positive growth for the city goes back to Ochoa's first years as mayor, back in 1993, through the administration of Mayor Richard García from May 2003 to May 2006, and again through Ochoa's latest term in office, which began in the spring of 2006.
Former mayor García continues his public service to the city, serving as president of the board of directors of the Edinburg Economic Development Corporation, which is the jobs-creation arm of the city council.
Members of the Edinburg City Council and the EEDC, along with the Edinburg school board, were in attendance for Ochoa's remarks, including Mayor Pro Tem Noe Garza, Councilmember Alma A. Garza (no relation to the mayor pro tem), and Councilmember Gene Espinoza; Edinburg school board vice president Carmen González, school board member Greg García, and school board member David Torres; and EEDC board of directors members Fred Palacios and Mike Govind.
Key milestones in 2006
Among the highlights for 2006 reported by Ochoa were:
•Edinburg has passed Harlingen as the third largest city in the Valley, with a population approaching 65,000;
•Total construction activities in 2006 set a record with more than $192 million, with the value of new residential and commercial construction leading all categories, coming in at more than $70 million and more than $79 million, respectively;
•South Texas Health Systems and Doctors Hospital at Renaissance began or completed additions or expansions to their respective campuses valued at an estimated $180 million, which are expected to create more than 1,000 new jobs;
•Bank deposits in 2006, a reflection of economic growth in the community, averaged $640 million;
•More than 400,000 square feet of new retail space was began or was completed in 2006, led by the opening of the Wal-Mart Supercenter on South McColl Road and adjacent stores, the opening in January of Lowe's, and the ongoing construction of the Trenton Crossroads shopping complex. Combined, these retail additions will wind up creating 1,000 jobs;
•The Texas Department of Transportation in 2006 authorized spending $175 million for six major state roadway projects in Edinburg, including the continuing expansion to federal interstate highway standards of U.S. Expressway 281;
•Major new public building projects are approaching completion within the next 18 months, including a new city hall, a new library, and a new water plant;
•The city government is embarking upon numerous commercial roadway and neighborhood street improvement and paving projects;
•Unemployment rates in Edinburg continued to be among the lowest in the Valley, with the city reporting a 4.2 percent jobless rate in December 2006, the best showing of all cities in deep South Texas; and
•The city leadership will take an active role in the current state legislative session to increase state funding for key education, infrastructure, and economic development initiatives.

Citizen volunteers encouraged
Ochoa continued to reach out to the community, encouraging residents to sign up to serve on any of numerous city boards and panels which make policy recommendations to the city council.
"We need volunteers," the mayor said. "We have advisory boards, and we are planning on building other committees to help us continue planning vision, and to continue fulfilling the dreams of many of us as business people, as citizens, and as families. I encourage you to volunteer, to sign up for these committees, to help your community continue to grow."
Elva Jackson-Garza, a director for the Edinburg Chamber of Commerce who served as mistress of ceremonies for the State of the City speech, shared Ochoa's optimism for the future.
"The January issue of Fortune Magazine recognizes the Mission/McAllen/Edinburg area as one of the best places to live in the country," Jackson-Garza told the gathering. "So not only locally are we realizing the potential of this region, but others throughout the United States are looking for land, for commercial investment opportunities right here in our back yard."
Mark Magee, the chairman of the board of directors for the Edinburg Chamber of Commerce, said the public affairs luncheons, such as the one that featured Ochoa, mean a lot for all citizens.
"This showing we have here today is a clear indication that this program this past year is very successful and has been received very, very well," Magee said. "This is the third in a series of four that we will have on an ongoing basis every year to allow you, the membership, and the community, to remain in touch with your leaders so that you know what is going on, and so you have the opportunity to visit with them."
By DAVID A. DIAZ

Legislativemedia@aol.com
For more information on the people and politics that impact Edinburg, please log on to http://www.EdinburgPolitics.com
••••••
Rep. Aaron Peña one of several Valley lawmakers with generous contributions from GOP heavyweight
Famed Houston homebuilder Bob Perry, equally renowned as one of the biggest financial contributors to Republican causes, has given $5,000 to the campaign funds of several Valley state lawmakers, including Rep. Aaron Peña, D-Edinburg.
The contribution, made on September 21, was the largest received by the veteran lawmaker during the second half of 2006, according to his campaign finance report submitted to the Texas Ethics Commission.
The full report is available online at http://www.ethics.state.tx.us/php/filer.php?acct=00051164coh
Peña's campaign finance report, along with the campaign reports of all state lawmakers, cover the period between July 1 and December 31, 2006.
For that six-month period, Peña, who faced no opposition in the 2006 Democratic Party primary or in the November general election, raised more than $24,000, while spending more than $26,000.
Perry is not related to Gov. Rick Perry, a Republican, although Bob Perry has been a strong financial supporter of the incumbent governor for many years, including making more than $500,000 in contributions to the governor through 2003.
But Bob Perry has also shared money with lawmakers on the other side of the political aisle, including a $1,000 contribution to former State Rep. Debra Danburg, a liberal Democrat from Houston, while she was still in office.
In addition to Peña, who helped Republican Speaker of the House Tom Craddick survive a challenge from a fellow Republican and a Democrat earlier this year, Perry also was generous with Rep. Ryan Guillen, D-Rio Grande City, Rep. Ismael "Kino" Flores, D-Palmview; Rep. Armando "Mando" Martínez, D-Weslaco, and Sen. Eddie Lucio, D-Brownsville.
Perry gave Flores a $10,000 campaign contribution last fall, while he donated $5,000 apiece to Guillen, Flores, and Martínez.
Sen. Juan "Chuy" Hinojosa, D-McAllen, Rep. Verónica Gonzáles, D-McAllen, and Rep. René Oliveira, D-Brownsville, did not report any contributions from Perry in their latest campaign finance reports.
Bob Perry political involvement
According to Wikepedia, the Internet free encyclopedia:
Political donations
527 groups
In the 2004 election cycle, Perry gave $4.45 million to Swift Vets and POWs for Truth (formerly Swift Boat Veterans for Truth), a 527 group; he was the largest single donor.[4]
In that cycle, Perry also donated $3 million to Progress for America Voter Fund. In all, he donated almost $8.1 million to 527 group in 2003-2004.[4]
In mid-2006, Perry donated $5,000,000 to found a new 527 group, the Economic Freedom Fund.
The $5 million makes the group one of the top ten in the 2006 election cycle.[5] He also appears to be the sole donor to Americans for Honesty on Issues. These groups have primarily paid for negative advertisements targeting Democratic Party candidates in the 2006 United States general election.
Other
Perry contributed $46,000 to George W. Bush's 1994 and 1998 campaigns for Texas Governor. He was the largest individual contributor to the Texas Republican Party during the 2002 election cycle (calendar 2001 & 2002) giving $905,000.[6]
Perry gave $165,000 in the 2002 election cycle to Tom DeLay's Texans for a Republican Majority political action committee (TRMPAC) giving $165,000 in the 2002 election cycle. In October 2002 they contributed $95,000 to Delay's Americans for a Republican Majority political action committtee (ARMPAC)[7] Perry and his wife also contributed $10,000 to DeLay's legal defense fund.[8].
Peña campaign information
Peña listed his wife, Monica, as his campaign treasurer, and her address, along with his candidate/officeholder address, were listed as 404 South McColl Road in Edinburg.
In addition to homebuilder Perry, Peña's second largest campaign donation came from BG Distribution Partners of Houston – a beverage distributor – which gave him $3,000 on November 21.
R.L. Glazer, chairman of the board of The Glazer Companies, a Dallas-based wine, spirits and malt beverage distributor, donated $1,500 on November 15 to Peña.
Five individuals or firms each donated $1,000 to Peña:
•McAllen homebuilder Alonzo Cantú on August 17;
•Texas Trial Lawyers Association of Austin on October 10;
•Texas Automobile Dealers Association of Austin on October 10;
•Texans for Lawsuit Reform of Houston on December 4; and
•TREPAC, which represents realtors, of Austin on December 5.
One $800 contribution was made to Peña's campaign on November 15 from the Texas Optometric PAC of Austin.
$500 contributions were each given to Peña from nine individuals or firms:
•Texas Gas Services of Austin on October 12;
•Texas Manufactured Housing Association of Austin on October 12;
•Texas Federation of Teachers of Austin on October 17;
•Wells Fargo Bank of Texas – Brownsville, on October 23;
•Larry Safir, a media executive with Univision in McAllen, on December 2;
•Allied Waste PAC of Austin on December 2;
•La Joya Federation of Teachers on December 5;
•ACC Capitol Holdings, representing mortgage interests, of Austin on December 8; and
•TSCPA PAC, representing certified public accountants, of Dallas on December 13.
$300 contributions were each donated to Peña from the following firms:
•Texas Credit Union League PAC of Dallas on September 12;
•American Collectors Association of Austin on October 10; and
•Trinity Industries PAC of Austin on October 23.
$250 contributions were each donated to Peña from the following individuals or firms:
•Bickerstaff Heath Pollan and Caroom of Austin on October 10;
•Merk Employee PAC of Washington, D.C. on October 10;
•Motorola PAC of Washington, D.C. on October 10;
•Hughes and Luce of Austin on October 10;
•Deborah Ingersoll of Austin on October 10;
•Independent Insurance Agents of Texas on November 13;
•Verizon Good Government of Austin on November 16;
•Texas Association of Mortgage Brokers of Houston on November 27;
•Texas Farm Bureau of Waco on November 27;
•Edward Thomas of Austin on December 1; and
•Chris Bell Campaign of Houston on December 1.
$100 campaign contributions to Peña came from the following individuals or firms:
•Al Beltran of McAllen on September 12;
•Texas Probation Association of Beaumont on October 16; and
•Texas Federation of Teachers of Austin on December 5.
Peña's largest campaign expenditures – totaling more than $16,000 – were made out to him in the form of repayments for personal loans he gave to his campaign.
His campaign expenditures follow:
•$4,000
Aaron Peña, Jr. of Edinburg for a campaign loan repayment on October 9.
•$4,000
Aaron Peña, Jr. of Edinburg for a campaign loan repayment on July 14.
•$3,000
Aaron Peña, Jr. of Edinburg for a campaign loan repayment on October 30.
•$2,000 each
Aaron Peña, Jr. of Edinburg for a campaign loan repayment on November 11; and
Aaron Peña, Jr. of Edinburg for a campaign loan repayment on October 24.
•$1,623.27
CP&L of Tulsa, Oklahoma on October 16 for utilities at his Edinburg district office;
•$1,500
AT&T of Dallas for telephone service on December 11.
•$1,341.49
505 Media, 1204 Sandpiper Avenue of McAllen for website service on July 10.
$1,200
Aaron Peña, Jr. of Edinburg for a campaign loan repayment on October 11.
•$1,086.83
Wolf Camera of San Antonio for a camera and equipment on December 7.
•$1,000
Juan Escobar Campaign of Kingsville for a political contribution on December 5. Escobar is a state representative from Kingsvile whose legislative district includes Willacy County.
•$900
Aaron Peña, Jr. of Edinburg for a campaign loan repayment on October September 29.
•$831.94
Cornerstone Bar and Grill of Edinburg for events catering on July 7.
•$716.65
Double Tree Guest Suites in Austin for lodging on October 16.
•$542.82
Verónica Bernal of McAllen for contract labor on October 13.
$150
Circle K of 1611 S. Closner of Edinburg for gasoline.
$105
Clarion Inn of Austin for lodging on October 9.
$89.91
Ciro's of 4634 S. Expressway 281 in Edinburg for constituent lunch on October 14.
By DAVID A. DIAZ

Legislativemedia@aol.com

For more information on the people and politics that impact Edinburg, please log on to http://www.EdinburgPolitics.com
••••••
Rep. Flores' influence to remain high with reappointment as House chairman, plus selection to Ways and Means, Redistricting panels
Rep. Ismael "Kino" Flores, D-Palmview, has been appointed for a third time to serve as chairman of the House Licensing & Administrative Procedures Committee by Speaker of the House Tom Craddick, R-Midland.
Flores' appointment builds on an impressive leadership portfolio that includes four years on the House Appropriations Committee, which develops the state budget for action by the House of Representatives.
Flores was also appointed to serve on the Ways & Means and Redistricting committees.
"I'm honored to once again serve in a committee leadership capacity and take the trust that my colleagues in the House have in me very seriously," said Flores. "My appointment as chair of an important committee, coupled with my experience in the legislature, places me in a tremendous position to bring meaningful benefits to the citizens in my district and the area."
Flores added: "My constituents send me to Austin to be their voice and secure results in a very competitive environment. Quality committee assignments and experience are critical to being effective in the legislature and help me meet the demanding goals I set each session to support the Valley."
Following are roles and responsibilities for the committees assigned to Flores:
• Licensing and Administrative Procedures — Studies legislation and has oversight on issues related to businesses, industries, general trades and occupations regulated by the state;
• Ways & Means – Studies legislation and has jurisdiction over many state revenue and tax issues;
• Redistricting – Studies legislation and has jurisdiction over all matters concerning any changes or amendments to legislative and/or congressional districts.
Flores represents District 36, which includes parts or all of the Cities of Hidalgo, Granjeno, McAllen, Mission, Palmview, Penitas, and Pharr.
••••••
Rep. Gonzáles reelected secretary of the House Democratic Caucus
The Texas House Democratic Caucus has reelected State Representative Verónica Gonzáles, D-McAllen, as secretary for the 80th legislative session. The Caucus serves to promote Democratic leadership in the state legislature.
Gonzáles, whose House District 41 includes southwest Edinburg, said she was pleased to be re-elected to her second term as the Democratic Caucus secretary.
"My colleagues' confidence in my ability to continue to serve the Caucus makes me proud," she said.
Gonzáles is the only member from the Rio Grande Valley to hold an officer position.
"I am honored that my colleagues have shown confidence in me and I am eager to move Texas forward with good policy that benefits, not only my constituents in the Rio Grande Valley, but all Texans," she reflected.
Rep. Jim Dunnam, D-Waco, was re-elected to serve as Caucus Chair.
Rep. Jessica Farrar, D-Houston, was elected Vice-Chair, while Rep. Terri Hodge, D-Dallas, was also reelected as treasurer for the Democratic legislative group.
••••••
ECISD sets new school boundaries for 2007-2008 school year
The Edinburg CISD school board has approved a comprehensive rezoning plan that goes into effect in the 2007-2008 school year.
Gilberto Garza Jr., interim superintendent of schools, said the opening of the district's fifth middle school next fall and the construction of classroom wings at Canterbury, Escandón, Zavala, Guerra, Kennedy, Truman and Lincoln elementary schools, have made the new boundaries necessary as the school district attempts to address the continued new student growth.
Garza said the new boundaries will enable the school district to evenly distribute students with regard to building capacity.
The boundary changes will directly affect 19 of 27 elementary schools; the four middle schools and the high schools, said Garza. The elementary schools that will not be affected are Austin, Brewster, Cano-González, De la Viña, Guerra, Hargill, Jefferson, Lee, Travis and Truman schools.
Garza said a 13-person Rezoning Committee met nine times to study several different possible new boundary options. The criteria the committee used in order to arrive at a recommendation for the school board included:
•To keep within the neighborhood school concept as much as possible
•To take the building capacity into consideration
•To maintain a workable and safe student membership at each affected campus
•To minimize as much as possible the number of students impacted by the rezoning.
Central Administrative staff took a final recommendation to the school board in early January for approval. The changes will become affective for the 2007-2008 school year, said Garza.
As it stands currently, the Edinburg school district has grown by 1,333 students over the 2005-2006 school year, Garza said.
He said the elementary totals show 15,359 students (an increase of 674 students) in 27 elementary schools. Of that total, Garza said, Ávila, Eisenhower, Escandón, Treviño and Villarreal elementary schools are well over the 700 mark and rapidly approaching 800 students. Additionally, Betts, Freddy González, Guerra and Truman elementary schools are bordering on the 700 student mark.
The new boundaries will impact the middle school levels the most, Garza said. The district has 6,441 students in its four current middle schools. The opening of the district's fifth middle school, Francisco Barrientes Middle School, in August, will enable the district to more evenly distribute middle school students, Garza said. Barrientes MS is currently under renovation to accommodate middle school students. The middle school should be ready by June 2007.
The impact to the high schools will be minimal, said Garza. Although the three schools will be somewhat impacted by the new boundaries, Garza said, the boundaries at the high schools will not be as impacting as at the middle schools where the growth has been greater.
For any questions regarding individual school boundaries, contact the school principals.
••••••
Congressman Cuellar introduces bill to grant parity to laser visa holders from Mexico
On Monday, January 29, Congressman Henry Cuellar, D-Laredo, introduced the Secure Border Crossing Card Entry Act of 2007.
A companion bill was introduced by U.S. Sen. John Cornyn, R-Texas, earlier that day.
The bill mandates that Mexican nationals with laser visas, a machine-readable border crossing card, be given the same length-of-stay opportunities as Canadian visitors. Currently Mexican nationals with laser visas are allowed to enter this country for up to 30 days, while Canadian visitors, who do not use laser visas, are allowed to stay for up to six months.
"This bill addresses what I believe to be a serious imbalance in the way our government treats foreign guests," said Cuellar. "We must strive to treat all of our foreign guests fairly, regardless of their national origin. Mexican nationals that hold laser visas have already undergone a rigorous vetting and screening process and are screened again as they enter the United States. To treat them differently than our Canadian visitors, who do not undergo such a vetting process, would be unfair."
Secure Border Crossing Card Entry Act of 2007:
• Amends the Immigration and Nationality Act to ensure that Mexicans with laser visas who have completed security screening receive the same period of time in the U.S. as Canadians—six months.
• Retains the Secretary of Homeland Security's authority to set the length of time such individuals can be in United States.
• Grants the Secretary of Homeland Security the authority to modify admission periods on a case-by-case basis if good cause exists.
• Bars eligibility for the six-month admission period if the foreign national is inadmissible, has previously violated his or her nonimmigrant status, or the laser visa was not processed through a machine reader at the U.S. port of entry.
Cuellar continued, "I strongly believe that we must work to build and maintain secure borders with both of our neighbors. However, we must also work to ensure that we do not unduly impede the travel of those who are here for legitimate reasons. Our nation is the predominate global power because we have always strived to maintain an open and free exchange of capital and knowledge; this bill helps us maintain that flow."
Cuellar is a member of the House Homeland Security, Small Business, and Agriculture Committees in the 110th Congress; accessibility to constituents, education, health care, economic development, and national security are his priorities. Congressman Cuellar is also a Majority Senior Whip.
••••••
Following visit to the Valley, Houston Sen. Patrick files wire transfer fee to help fund border security
Sen. Dan Patrick, R-Houston, spent four days in late January on a fact-finding tour of the Texas border as a guest of the Rio Grande Valley Chamber of Commerce, Sen. Eddie Lucio, D-Brownville, and Sen. Juan "Chuy" Hinojosa, D-McAllen, along with Texas House members representing the Valley.
During the trip, Patrick visited with members of the Border Patrol, several area mayors, business leaders, school superintendents and concerned citizens.
"I'm coming away from this trip with great optimism we can find a solution to the issue of illegal immigration in a bi-partisan manner," said Patrick. "I believe there is a perception by conservatives in our big cities and suburbs that the people on the border are not as concerned about border security. I also think there is a perception by Texans on the border, where almost 90% of the population is Hispanic, that border control advocates are anti-Hispanic and want to kick out 12 million people or build a wall from Brownsville to El Paso."
The Houston lawmaker added, "I found Valley residents want a secure border as much as any Texan. The crime rate is up in the Valley and schools and hospitals are having to service non-citizens at great costs to local governments. They are also concerned about the negative economic impact if cross border commerce is disturbed.
"I explained to our friends on the border that most Texans understand we cannot bus millions back across the border but at the same time we cannot have millions more coming to our state and country. I believe we need fencing (walls) around our major entry points as well as a major boost in manpower to protect our border. We should begin to put into place a guest worker program that identifies who is coming to our country so we can stop drugs and criminals at the border and at the same time bring the workers to Texas that our economy needs. Everyone I talked to in law enforcement in the Valley told me they need more manpower and better equipment to protect our border," he continued.
To that end, Patrick on Monday, January 22, filed Senate Bill 268, which would place a fee on money wired out of Texas to any foreign country. The fee, 10% of the amount wired under $5,000, would be collected to provide funds for border security.
While the bill was filed to just provide funds for border security, Patrick said he looks forward to working with Lucio and Hinojosa to expand the application of the funds to cover the costs associated with illegal immigration such as indigent health care and the strains on our education system.
••••••
Congressman Hinojosa statement of proposed federal fee hike for immigration services
Congressman Rubén Hinojosa, D-Mercedes, on Wednesday, January 31, issued the following statement regarding the proposal by the U.S. Citizenship and Immigration Services to raise fees for services:
"We all want better service from our immigration agency, but raising fees by 66 percent on average strikes me as an unreasonable fix to the backlog and red tape. I am highly skeptical of this proposal since it will most likely place an unfair burden on all the hard-working families complying with our country's regulations. These fees also will be a serious hardship to many people in my district who are only trying to play by the rules.
"Currently, a person filing for legal permanent resident status must pay $325 to submit an application; under the new proposal, the fee would go up 178 percent to $905. For those applying for citizenship, the fee would be raised from $330 to $595-an 80 percent price hike. These proposals are too much to ask anyone to pay. Not only that, but applicants will be forced to pay for improvements that they will probably never enjoy since changes will no doubt take years to implement. It is important to reduce processing times, but we should not price people out of realizing the American dream."
••••••
Senate Transportation Committee unanimously approves SB 61 by Sen. Zaffirini to improve emergency preparedness
The Senate Committee on Transportation and Homeland Security on Wednesday, January 31, unanimously recommended to the Senate that it pass Senate Bill 61 by Sen. Judith Zaffirini, D-Laredo, which authorizes Texas counties to adopt an internal plan for delegation of administrative authorities, chain of succession to cover essential county functions and meeting procedures during a catastrophic event or declared disaster.
The bill significantly would assist county government officials who, under current law, are bound by statutory requirements that may not allow them to mitigate significant administrative hindrances during a declared emergency or catastrophic event.
"This bill can help improve state public safety by ensuring local governments are unfettered during a catastrophe," said Zaffirini. "I truly am pleased that the Senate Transportation and Homeland Security Committee reported SB 61 favorably to the full Senate, and I look forward to working with my colleagues toward its final passage."
Current law does not explicitly authorize local governments to adopt and implement internal emergency plans for delegating administrative authorities, designating chain of succession, and meeting procedures during a declared emergency.
What's more, quorum requirements for county commissioners courts are set fourth in state statutes and provide no exceptions to the requirement that "three members of the commissioners court constitute a quorum." County governments would have to meet in violation of state law if a disaster incapacitated enough members to constitute a quorum in a commissioners' court.
SB 61 will allow county governments to increase response times, guarantee the operational status of essential services and assure their constituencies that local government facilities are fully functional and working to protect public safety and the county infrastructure.
"In the wake of hurricane evacuations that affected several counties across central Texas and heightened security levels issued from federal and state homeland security agencies, legislators must do everything possible to allow our communities to prepare for all contingencies," Zaffirini said.
"Families rely upon their local governments to keep them safe and to provide essential information and guidance during a catastrophe," she added. "SB 61 ensures that, during an emergency, the last thing county governments will have to worry about are statutory requirements that prevent commissioners courts from meeting and developing emergency plans to keep families in their counties safe."
••••••
Gov. Perry proposes $50 million disaster contingency fund
Gov. Rick Perry on Tuesday, January 30, proposed the creation of a $50 million Disaster Contingency Fund to ensure that state and local governments have the ability to forcefully respond in times of great public emergency.
"As we have learned from disasters like hurricanes Katrina and Rita, as well as recent wildfires and floods, we can never be too prepared," Perry said. "The Disaster Contingency Fund will allow state and local government to respond with all the necessary resources in the face of a disaster and better manage the cost to taxpayers."
The fund will be used to pay costs associated with pre-positioning state resources in anticipation of disasters; reimburse local jurisdictions for disasters that do not meet federal disaster declaration standards; provide up-front funding to smaller jurisdictions that lack the necessary resources to conduct large-scale emergency operations; and pay the federal matching fund obligations that are required for reimbursement from the Federal Emergency Management Agency (FEMA).
Various disaster situations would merit the allocation of these funds. For example, the Fire Management Assistance Grant Program under FEMA does not reimburse local jurisdictions for fighting wildfires before they become a threat to communities. Also, as part of Gov. Perry's hurricane evacuation plan, the state pre-deploys substantial resources to support local communities as a hurricane's projected path includes the Texas coastline. If a hurricane turns and misses Texas, as Hurricane Ernesto did in 2006, FEMA will not reimburse funds for the pre-deployment of resources.
"There is no question that Texas is prepared to step up to the plate and meet a disaster head-on," Perry said. "I encourage the Legislature to support this $50 million fund, so we may continue to coordinate our emergency response efforts and protect our communities without being financially penalized."
If approved by lawmakers, these funds will be available September 1st for the 2007-2008 biennium and will be distributed by the Governor's Division of Emergency Management to eligible applicants
••••••
Sen. Hinojosa, Sen. Lucio, Sen. Zaffirini co-author resolution to permanently place motto "In God We Trust" in Senate chamber
A Senate resolution calling on the the motto "In God We Trust" to be permanently placed in the Senate chamber was unanimously adopted on Tuesday, January 30, by the Senate.
The measure, filed by Sen. Dan Patrick, R-Houston, was co-authored by Sen. Juan "Chuy" Hinojosa, D-McAllen, Sen. Eddie Lucio, Jr., D-Brownsville, and Sen. Judith Zaffirini, D-Laredo.
The resolution requires the Senate to post the motto of "In God We Trust" immediately on the reader board and by September 1, 2007 to permanently affix the motto on the "white portico located over" the Lt. Governor's podium. Immediately upon the Senate's adjournment, the newly adopted Senate motto was displayed on the reader board in the Senate chamber.
"The purpose of this is that it sends a message to everyone who comes in here that this Senate stands for Judeo-Christian values," Patrick stated on the Senate floor. "We can look at the words to get us through those tough times in the days and months to come."
A week earlier, State Rep. Richard Raymond, D-Laredo, introduced a similar measure in the Texas House of Represenatives that passed 141-3.
In addition to Patrick, Sen, Rodney Ellis, D-Houston, and Sen. Florence Shapiro, R-Plano, spoke in favor of the resolution and almost all the senators signed on as co-authors of the resolution.
Following the favorable remarks, Senators voted unanimously in favor of the resolution.
"I am pleased my first legislative victory will forever recognize our creator and am equally honored to have all of my colleagues support the measure," Patrick offered. "The constant reminder will offer us guidance in the many tough decisions that face us," Senator Patrick remarked.
On April 22, 1864, the United States Congress adopted "In God We Trust" as their official motto.
••••••
Popularity of STC's bachelor's program drives expansion of eligible applicant pool
As South Texas College's Bachelor of Applied Technology (BAT) in Technology Management gains steam, the need to further open the program opportunity to additional students continues to expand. Recently the college's Board of Trustees, after receiving formal approval from the Southern Association of Colleges and Schools (SACS), approved three more associate's degree feeders to the program.
Students earning an Associate of Applied Science degree in Computer Aided Drafting and Design, Manufacturing Technology, Precision Manufacturing, Culinary Arts, Radiological Technology, Nursing, and Child Care and Development will all be eligible to apply for acceptance into the BAT Program. These new feeders are in addition to Business Administration, Paralegal, Business Computing Systems and Administrative Office Careers, which were the first groups of students eligible for the program since its inception in 2005.
"More and more students are inquiring about the program, so we took a look at which fields of study that these students were from, reviewed the curriculum and found that many of them would be good candidates for the BAT," said Dr. Ali Esmaeili, associate dean for Bachelor Programs and University Relations. "We currently have more than 100 students pursing a bachelor's degree in this program and anticipate that the number will only continue to rise every semester. Technology is a fast growing field and we are training the leaders that are needed in the maquila and other industries that are becoming the cornerstone of the Valley's fast-paced growth."
Students enrolled in the program will be prepared for a variety of career opportunities, including office management, paralegal management, plant supervisor, loan officer and supply chain management. Through the program, students have access to free tutoring in a variety of subjects, flexible course schedules, financial aid, a student support club, leadership activities, internships, mentorships, business networking events, job placement and a variety of other resources to ensure their academic and personal success.
"Although the BAT Program is still in its infancy when compared to other bachelor's programs in the area, it is vital to breaking down the economic and social barriers that many of our students face," added Dr. Esmaeili. "We hope that they will attain their bachelor's, get into the field, gain some experience and we hope they understand that education is a lifelong process, so we also encourage them to go on to earn their MBA at The University of Texas–Pan American. They are great candidates for that program and well prepared to accept the challenges faced in industry and a master's program. The first of our BAT students will graduate this spring and that will mark a major milestone of success, providing a light at the end of the tunnel for our current and future program students and providing the leadership needed in this vital field."
For additional information about South Texas College's BAT Program visit http://www.southtexascollege.edu/ba/BAT or call 872-7270.
••••••
Gov. Perry calls for higher education reforms
Gov. Rick Perry on Wednesday, January 31, proposed an ambitious higher education reform plan, directing responsible investment in the academic rigor and future success of Texas' students and universities.
"Today I am proposing major reforms to higher education that will reward colleges and universities for every student that earns a degree, lead to more degrees awarded in critical fields like computer science and nursing and increase financial aid by $360 million," Perry said. "If lawmakers adopt this plan, the ultimate result will be a higher education system that is more affordable, more accountable and more focused on meeting the needs of tomorrow's global marketplace."
The comprehensive higher education reform plan includes measures to:
• Increase higher education funding by $711 million in general revenue ($1.7 billion all funds).
• Increase financial aid by 60 percent, or $362 million.
• Fully fund the higher education operations formula.
• Substantially change the funding mechanism by eliminating "special items," or earmarks, so funding increasingly follows students instead of schools.
"While our two largest university systems have been ranked among the best values in the country, we must do more to improve access to a college education for students of all income levels," Perry said. "If students have proven themselves in high school and need financial assistance to better their future, Texas should pay their tuition and fees."
Budgetary allocations will provide for an incentive program for well-performing universities and colleges, an increase in need-based and performance-driven financial aid, and the creation of alternative programs to address nursing shortages statewide.
The governor also repeated his call for transparency in budgetary expenditures today, recommending the Legislature eliminate vague lump sum appropriations to higher education institutions.
••••••
Statement from Sen. Zaffirini regarding Gov. Perry's higher education agenda
"I applaud Gov. Rick Perry and his efforts to produce a positive higher education agenda for the 80th legislative session. The governor's proposals regarding increases in need- and performance-based financial aid, increases for my B-on-Time zero-interest higher education loan program and efforts to improve graduation rates certainly are steps in the right direction.
"I am concerned, however, with the funding reallocations that would accompany the governor's proposals, especially the across-the-board cuts to University Special Items. The governor's proposal details more than $614 million in reductions to special items, which includes institutional enhancements such as the South Texas Border Initiative. The South Texas Border Initiative was adopted in 1989 by the Texas Legislature to provide additional funding for border universities to help them achieve parity with other Texas institutions. Several institutions in my district and in surrounding areas within South Texas, including Texas A&M International University, the University of Texas-Pan American and Texas A&M Corpus Christi, would be impacted adversely by this proposal. It is still too early to estimate exactly how this reduction in special items will affect individual institutions, but I plan to examine closely the Governor's proposal to ensure the Senate Higher Education Subcommittee is best informed and prepared to make the appropriate recommendations.
"I look forward to working with Gov. Perry, Lt. Gov. David Dewhurst and my colleagues in the House and Senate so we may provide Texas with a higher education agenda that promotes both access and excellence."
••••••
Injured workers may be eligible for legal counsel
By Sen. Eddie Lucio, Jr.
Currently in Texas, people injured on the job are at an unfair disadvantage in the court room. Their inability to work affords them little or no income to pay for legal representation.
In many cases, insurance carriers opt to file in district court when injured employees are awarded income and/or medical benefits at the administrative level because they are aware that injured individuals are often unable to obtain legal representation. Consequently, these cases often result in default judgments.
Generally insurers are at an advantage because the cost is less for legal fees than for payment of benefits. And in instances when injured employees choose to represent themselves in court, insurers routinely prevail because they have legal counsel.
I have filed a bill that will help level the playing field for both parties. Senate Bill (SB) 287 will provide district courts the authority to appoint an attorney to represent injured employees who have won approval throughout the administrative claims process.
During the 79th legislative session, we passed House Bill (HB) 7, which eliminated the Texas Workers' Compensation Commission and moved workers' compensation under the regulatory authority of the Texas Department of Insurance (TDI). HB 7 also created an independent agency to protect the interests of injured workers and advocate on their behalf. It is called the Office of Injured Employee Counsel (OIEC).
This department has identified claims cases that clearly demonstrate how the current system is failing some injured employees. SB 287 is a response to these findings. If injured employees are guaranteed the right to legal counsel, insurance carriers who are currently electing to appeal in court will be more judicious in determining when to pursue legal action.
In cases where the injured worker prevails in court, HB 7 already mandates the carrier to pay for the employee's legal fees. However, injured employees have difficulty obtaining attorneys to represent them since they face the prospect that they may not be paid. SB 287 would guarantee that an injured employee's attorney would be rightfully compensated for reasonable legal fees in cases where the injured employee loses the case. The fees would be reimbursed from the Subsequent Injury Fund (SIF), an account with a balance of over $40 million. The fund is maintained with taxes paid by insurance companies and is administered by TDI.
My bill would more fairly utilize the funds insurance companies are already required by law to pay into the SIF.
No one should have to forfeit a court case with merit because of the lack of money to hire an attorney. Our judicial system should be based on equity, and through SB 287, I want to ensure fairness to both sides in workers compensation cases.
••••••
Congressman Hinojosa works on federal legislation to clean up former meth labs in homes
Congressman Rubén Hinojosa, D-Mercedes, is helping communities across Texas clean up methamphetamine labs and the toxic mess they leave behind. This week, Hinojosa added his support to House Resolution 365, a bill that charges the Environmental Protection Agency with the development of guidelines to assist state and local authorities in the clean-up of former meth production sites.
"The volatile, poisonous chemicals used to make methamphetamines leave behind a toxic residue that threatens the health of anyone exposed to it," Hinojosa said. "This is especially worrisome when you consider that most labs are mom-and-pop operations located in houses, apartments, and hotel rooms."
In 2005, The Drug Enforcement Administration shut down over 260 meth labs in Texas and seized 2,140 pounds. The agency estimates that for every pound of meth produced, five pounds of toxic waste is created. The average direct cost of clean-up ranges from $2,000 to $3,000 per lab.
However, the true damage done by meth production is compounded when one takes into account the thousands of innocent children that authorities have discovered at these labs. Nationwide, 1,660 children were affected by, injured, or even killed at meth labs in 2005, according to the El Paso Intelligence Center.
"Virtually no corner of this country has escaped the rampant rise in meth production," said Hinojosa. "It is imperative that we shed light on this issue and help our local communities safely clean up these hazardous sites."
In addition to establishing those guidelines, the bill would also:
• Direct the National Institute of Standards and Technology to consult with the EPA in developing technologies to detect meth labs, emphasizing in field test kits for law enforcement
• Require the National Academy of Sciences to study the long-term health impacts of meth exposure on first-responders and on children taken from meth lab sites
The Methamphetamine Remediation Act is expected to be considered soon by the full U.S. House.
••••••
Gov. Perry orders creation of Criminal Justice Analysis Center to provide assessment of criminal justice efforts
Gov. Rick Perry on Monday, January 29, issued an executive order establishing the Texas Criminal Justice Statistical Analysis Center (SAC) to provide objective analysis and assessment of state criminal justice programs and initiatives.
"By providing objective reports on statewide criminal justice trends, the Statistical Analysis Center will help policymakers develop effective and efficient criminal justice programs that will keep Texans safe," Perry said. "This center will help us manage our prison population better and attract more federal funds for crime prevention and criminal justice initiatives."
Under the governor's order, the SAC will collect, analyze and report statewide criminal justice statistics; evaluate the effectiveness of state-funded initiatives; and disseminate analysis results to practitioners, policy-makers, researchers, and the public in order to enhance the quality of criminal justice and crime prevention at all levels of government.
Perry's directive also designates the SAC as the state's liaison to the U.S. Department of Justice on criminal justice data reporting and research. This designation will make Texas eligible for additional federal criminal justice funding.
The SAC will be housed within the Office of the Governor and will have access to data maintained by the Department of Public Safety, the Texas Department of Criminal Justice, the Texas Juvenile Probation Commission, the Texas Youth Commission, the Texas Department of State Health Services, and other relevant agencies as needed.
Perry designated Janna Burleson as director of the Center. Previously, Burleson served as the governor's policy advisor for criminal justice issues. Prior to that she was a top policy advisor to Sen. Royce West, D-Dallas.
••••••
Lt. Gov. David Dewhurst, child safety advocates launch 'Texas First!' partnership
Lt. Gov. David Dewhurst on Monday, January 29, was joined by John Walsh, host of the FOX Television program "America's Most Wanted," and Julie Clark, co-founder of The Safe Side Company, to announce the 'Texas First!' initiative, a public/private child safety partnership. At a State Capitol news conference, Dewhurst highlighted the initiative and explained how it will help K-2 students learn how to stay safe around strangers.
"Texas First! truly does put Texas Children First," said Dewhurst. "This public/private partnership will provide every Texas school district–more than a thousand–with a curriculum that teaches our children vital safety information about strangers."
Under the Texas First! initiative, The Safe Side Company, co-founded by Walsh and Clark, is donating more than 1,000 Stranger Safety Resource Kits to Texas school districts. The kits have two components–a curriculum that includes lesson plans and activities for classroom use, and a media library that includes 25 copies of the Stranger Safety DVD for take-home use.
Texas is the first state to participate in the program, which is focused on educating children between the ages of 5 and 10 about dangerous predators online, in schools, and in their neighborhoods.
Dewhurst has made child safety a top priority during the 80th legislative session by proposing a package of measures to protect Texas children from sexual predators, to combat illegal steroid use in high school athletics, and to equip public schools with life-saving automatic external defibrillators (AEDs).
The centerpiece of Dewhurst's Texas Children First plan is the nation's toughest Jessica's Law proposal, which would require a 25-year to life sentence for first-time violent sexual offenses, and give prosecutors the option of seeking the death penalty for repeat violent sexual offenses. Dewhurst's proposal also would double the statute of limitations on sex crimes against children from 10 to 20 years.
To learn more about the Texas First! initiative, visit the Lt. Governor's web site at http://www.ltgov.state.tx.us or the Safe Side web site https://www.thesafeside.com/texasfirst/.
••••••

Sen. Lucio files bill to provide vital services for autism, a brain disorder which affects children
Sen. Eddie Lucio, Jr, D-Brownsville, on Thursday, February 2, filed Senate Bill 419 to improve the outlook of children afflicted with Autism.
Autism is a disorder of brain function that appears early in life, generally before the age of three. Children with autism have problems with social interaction, communication, imagination and behavior. Autistic traits persist into adulthood, but vary in severity. Some adults with autism function well, earning college degrees and living independently. Others never develop the skills of daily living, and may be incorrectly diagnosed with a variety of psychiatric illnesses. The cause is unknown.
"On behalf of thousands of Texas families affected by Autism Spectrum Disorders (ASD), I am extremely excited to announce new legislation that will help assure vital services are provided for children and adults diagnosed with this condition" said Lucio.
The language in SB 419 is the culmination of six years of research on how to most effectively and affordably serve individuals with ASD in Texas. SB 419 defines autism as a neurobiological disorder and includes language to prevent insurance companies from denying routine coverage to enrollees diagnosed with autism. SB 419 will ensure that individuals in need of routine services are equally covered by their health plan, regardless of whether they have an autism diagnosis.
SB 419 will also add Texas to a list of 17 states that require early intervention treatments for children with autism. According to Lucio, "Twenty-five years of research demonstrates that when autistic children are provided with a comprehensive set of intensive services at an early age, more than 40 percent are able to enter and succeed in regular classrooms, and another 40 percent make remarkable gains in functional ability."
SB 419 requires that health plans cover all services included in a physician prescribed treatment plan for children with autism ages 3 to 5 years and encourages them to continue covering treatment as long as necessary.
Numerous studies indicate that early interventions for children with autism could cut associated lifelong costs by two-thirds. "Early intervention can mean the difference between helping a child achieve the ability to engage in a conversation with a parent and a child incapable of even maintaining eye contact," explained Sen. Lucio.
The United States currently spends $90 billion on ASD related services each year, 90 percent of which is used for adult services.
"With ASD rates growing between 10 and 17 percent per year, we as a state and a nation must do everything in our ability to offset the impact, starting by ensuring that young children get the services they need," added Lucio. "By refusing key services to children with autism, we are condemning them and their families to a lifetime of unnecessary hardship and social isolation."
The staff member handling this issue for Lucio is Ms. Katharine Volti, policy analyst, 512-463-0127.
••••••
Gov. Perry establishes HPV vaccination program for young women

Gov. Rick Perry on Friday, February 2, issued an executive order directing the Health and Human Services Commission (HHSC) to adopt rules requiring all girls age 11 and 12 to receive the Human Papillomavirus (HPV) vaccine prior to entering sixth grade, effective September 2008. The executive order also directs HHSC and the Department of State Health Services (DSHS) to make the vaccine immediately available to eligible young females through the Texas Vaccines for Children program for young women ages 9 to 18, and through Medicaid for women ages 19 to 21.
"The HPV vaccine provides us with an incredible opportunity to effectively target and prevent cervical cancer," said Perry. "Requiring young girls to get vaccinated before they come into contact with HPV is responsible health and fiscal policy that has the potential to significantly reduce cases of cervical cancer and mitigate future medical costs."
HPV is the most common sexually transmitted disease in the United States. Today, approximately 20 million people in the nation are infected, including one in four 15 to 24 year olds. Certain strains of HPV cause most cases of cervical cancer. Texas has the second highest number of women suffering from this devastating disease in the nation. In 2006, there were 1,169 new cases and nearly 400 deaths from cervical cancer in the state.
Parents may choose to opt out of mandatory vaccinations for reasons of conscience, including religious beliefs. The governor's executive order directs DSHS to ease the opt out process by providing exemption request forms online.
••••••

Sen. Cornyn presses DHS to ensure border officials' concerns are heard during US-VISIT implementation
U.S. Sen. John Cornyn, R-Texas, and ranking member of the Immigration, Refugees and Border Security subcommittee, said on Wednesday, January 31, that implementation of the US-VISIT program must target threats, facilitate legitimate travel and include input from the border community.
Cornyn, a member of the Judiciary Committee's Terrorism, Technology and Homeland Security subcommittee, served as Ranking Member during a hearing of that panel, which received testimony from Department of Homeland Security (DHS) officials and other witnesses. The hearing was titled: "US-VISIT: Challenges and Strategies for Securing the U.S. Border."
"DHS must continue working hard to ensure that it continually receives the input of the public and interested stakeholders, such as officials along the Texas border, on any expansion efforts," Cornyn said. "Southern border businesses and officials are concerned with the increased delays at border-crossing checkpoints and the impact of the delays on the local economy. As we continue working toward additional security measures, we need to develop a quick and efficient process to identify those who may be a threat to national security while allowing legitimate, law-abiding travelers to enter and exit the U.S. in a timely manner."
Cornyn addressed border leaders in the Rio Grande Valley on Saturday, January 27, and hosted a meeting with Texas border mayors and other leaders in his Washington office in mid-January to discuss these and other issues. In addition, he has met with DHS Secretary Michael Chertoff and other officials to make sure the border community's concerns are heard.
Witnesses who testified at the hearing included: Robert A. Mocny, Acting Director, US-VISIT, Department of Homeland Security and Richard Barth, Assistant Secretary, Office of Policy Development, Department of Homeland Security.
On a related note, on Monday, January 29, Cornyn introduced legislation permitting laser visa holders—temporary, fully-screened travelers from Mexico—to stay in the United States up to six months. The Secure Border Crossing Card Entry Act of 2007, S. 422, extends the length of stay for these visitors from 30 days to six months, or parity with Canadians.
••••••
Edinburg City Council to meet at 7 p.m. on Tuesday, February 6

EDINBURG CITY COUNCIL
CITY OF EDINBURG,
HIDALGO COUNTY, TEXAS
Location: University of Texas – Pan American
International Trade and Technology Building
1201 West University Drive
300 Block, Dr. Miguel Nevarez Drive
FEBRUARY 06, 2007
REGULAR MEETING AGENDA 7:00 P.M.
I. CALL TO ORDER, ESTABLISH QUORUM.
A. Prayer.
B. Pledge of Allegiance by Gene Espinoza, Mayor Pro Tem.
II. CERTIFICATION OF PUBLIC NOTICE.
III. PUBLIC COMMENTS.
IV. MAYOR'S REPORT.
V. CITY MANAGER'S REPORT.
VI. PRESENTATIONS.
A. Presentation of Proclamation Recognizing February 2007 as National Children's Dental Month, as Requested by Dentists Who Care, Inc.
B. Presentation of Proclamation Recognizing Joaquin Rodriguez, Boys & Girls Clubs of Edinburg-Rio Grande Valley "2007 Youth of the Year."
C. Proclamation Presentation Recognizing February 2007 as Arbor Month, as Requested by the Edinburg Environment Committee.
D. Presentation on Fiesta Edinburg, as Requested by the Edinburg Chamber of Commerce.
E. Presentation, as Requested by the South Texas Agricultural Roundup (STAR).
F. Presentation on Rio Metro Transit Services by Tom Reyna, Assistant Director of Transit Services, Lower Rio Grande Valley Development Council.
VII. PUBLIC HEARINGS/ORDINANCES.
A. Consider Ordinance Providing for a Temporary Special Use Permit for a Carnival to be held from February 19 to February 25, 2007 at the Edinburg Municipal Park, on the south half of Lot 11, Section 268, Texas-Mexican Railway Company Survey, located at the intersection of Raul Longoria Road and East Sprague Street, as requested by Edinburg Chamber of Commerce.
B. Hold Public Hearing and Consider Ordinance Providing for the Renewal of a Special Use Permit for an On-Premise Consumption of Alcoholic Beverages for Fast Eddie's, on Lot 2 and the west 20 feet of Lot 3, Block 1, Vector Addition, located at 815 North Closner Boulevard, as requested by Robert Wilson, representing 815 Eddie, Inc.
C. Hold Public Hearing and Consider Ordinance Providing for a Special Use Permit for an On-Premise Consumption of Alcoholic Beverages for Candela Bar, on Lot 3, Trenton Crossroads Plaza Subdivision, located at 2101 West Trenton Road, as requested by Victor S. Haddad, representing Seju Capital Investments, L.P.
D. Hold Public Hearing and Consider Ordinance Providing for the Rezoning Request from R-A1, Single Family Residence District to C-2, General Business District, being 1.062 acres out of Lot 10, Section 276, Texas-Mexican Railway Company Survey, located approximately 950 feet east of McColl Road on the south side of University Drive, as requested by Rasec, L.L.C.
E. Hold Public Hearing and Consider Ordinance Providing for the Rezoning Request from R-A1, Single Family Residence District to R-A2, Single Family Residence District, All of the 40 acres, Wisteria Heights Subdivision, located on the southeast corner of Schunior Road and Hoehn Road, as requested by Hector Guerra.
VIII. AWARDING OF BIDS/CONTRACTUAL.
A. Consider Awarding Bid No. 2007-28, Installation of the Geosynthetics, to Texas Environmental Plastics, LTD., from Houston, Texas, in the Amount of $271,099.50.
B. Consider Awarding Bid No. 2007-30, Computer Technology Equipment (Computers and Laptops) from Valley Network LLC, CDWG and Dell Computers for Various Departments Within the City, in the Amount of $49,517.97.
C. Consider Awarding Bid No. 2007-46, Street Asphalt Recycling, to Mission Paving Company, Inc., in the Amount of $145,000.
D. Consider Awarding Bid No. 2007-47, Reconstruction of One (1) Residence in the Housing Assistance Program to Benchmark Construction.
E. Consider Awarding Bid No. 2007-48, Reconstruction of One (1) Residence in the Housing Assistance Program to Benchmark Construction.
F. Consider Purchase of One (1) S185 Bobcat Skid-Steer Loader to Bobcat Company of West Fargo, ND, in the amount of $19,044.
G. Consider Authorizing Interim City Manager to Enter Into An Inter-local Agreement for Cooperation and Joint Sponsorship with the Lower Rio Grande Valley Development Council for Rio Metro-Edinburg Bus Shelters.
IX. CONSENT AGENDA.
A. Consider Authorizing the Interim City Manager to Renew the Farm Lease Agreement for Airport Land with L.M.B. Partnership, LTD., For a One (1) Year Term Beginning January 16, 2007, through January 15, 2008.
B. Consider Authorizing the Interim City Manager to Enter Into a Rural Emergency Services Contract with the County of Hidalgo for Rural Emergency Services Provided by the Edinburg Volunteer Fire Department.
C. Consider Authorizing Interim City Manager to Enter Into An Engineering Agreement With Golder Associates, Inc. for Construction Quality Assurance for Cell SD8 for Permit 956B at the Edinburg Regional Sanitary Landfill.
D. Consider Transfers of Funds in the Fiscal Year 2006-2007 Budget Within the Following Accounts:
1. Airport: From Streets Account to Professional Services Account, in the Amount of $1,125.
2. Planning and Zoning: From Personnel Services Account to Office Supplies Account, in the Amount of $2,636.36.
3. CDBG: From Various Accounts to Colonia Rodriguez Sewer Hookups Account and Contractual Rehabilitation Housing-32nd Year Account, in the Amount of $66,354.83.
4. CDBG: From 31 st Year Entitlement, 30th Year Entitlement, and 29th Year Entitlement Accounts to Reprogrammed Funds 32 nd Year Account, in the Amount of $66,354.83.
X. EXECUTIVE SESSION.
The City Council will convene in Executive Session, in accordance with the Texas Open Meetings Act, Vernon's Texas Statutes and Codes Annotated, Government Code, Chapter 551, Subchapter D, Exceptions to Requirement that Meetings be Open, §551.071, Consultation with Attorney; Closed Meeting.
1. Settlement Proposal Regarding Cause No. CCD-1493-A; City of Edinburg vs. Grande Valley Homes; In the County Court at Law No. 1 of Hidalgo County, Texas.
2. Legal Discussion: Status of Proposals for Professional Services for Collection of Municipal Court Delinquent Fees and Fines.
OPEN SESSION:
The City Council will convene in Open Session to take necessary action, if any, in accordance with Chapter 551, Open Meetings, Subchapter E, Procedures Relating to Closed Meeting, §551.102, Requirement to Vote or Take Final Action in Open Meeting.
XI. ADJOURNMENT.
I hereby certify this Notice of a City Council Meeting was posted in accordance with the Open Meetings Act, at both bulletin boards located at the main entrances to the City Offices of the City of Edinburg, and at the 210 West McIntyre entrance outside bulletin board, visible and accessible to the general public during and after regular working hours. This notice was posted on February 02, 2007 at 6:35 p.m.
By: /s/Myra Garza, City Secretary
City of Edinburg, Texas
[All matters listed under Consent Agenda are considered to be routine by the Governing Body and will be enacted by one motion. There will be no separate discussion of these items. If discussion is desired, that item will be removed from the consent agenda and will be considered separately.]
IF ACCOMMODATIONS FOR A DISABILITY ARE REQUIRED, NOTIFY THE CITY SECRETARY DEPT. AT 383-5661 PRIOR TO THE MEETING DATE. WITH REGARD TO ANY ITEM, THE CITY COUNCIL MAY TAKE VARIOUS ACTIONS; INCLUDING BUT NOT LIMITED TO RESCHEDULING AN ITEM IN ITS ENTIRETY FOR A FUTURE DATE OR TIME. THE CITY COUNCIL MAY ELECT TO GO INTO EXECUTIVE SESSION ON ANY ITEM WHETHER OR NOT SUCH ITEM IS POSTED AS AN EXECUTIVE SESSION ITEM AT ANY TIME DURING THE MEETING WHEN AUTHORIZED BY THE PROVISIONS OF THE OPEN MEETINGS ACT.